Back to

Prices & Markets
Subscribe to The Weekly e-newsletter
For in-depth red meat market news, information and analysis.
SIGN UP
China top beef destination in July
July was a huge month for Australian beef exports, with China topping the charts for the first time ever and edging past Japan by 700 tonnes. The rise of China has been rapid; back in July 2017, it accounted for 9.5% of all Australian beef exports - last month it was 24.5%.
On the whole, July was a sizeable month for Australian beef, with a whopping 115,000 tonnes of beef exported. This was Australia's biggest month since July 2015 and is representative of strong export demand, a weak Australian dollar and high levels of slaughter across the country.
Australian beef exports (year-to-July)
Japan: 169,000 tonnes, down 9% on 2018
US: 147,000 tonnes, up 7% on 2018
China: 146,000 tonnes, up 65% on 2018
South Korea: 96,000, up 5% on 2018
Indonesia: 33,000 tonnes, down 9% on 2018
For the calendar year-to-June, beef exports have totalled 684,000 tonnes swt, an increase of 7% on last year. With producers destocking higher levels than normal, much of this growth can be attributed to elevated availability of product. If a break in the weather occurs, expect this growth level off as producers look to restock.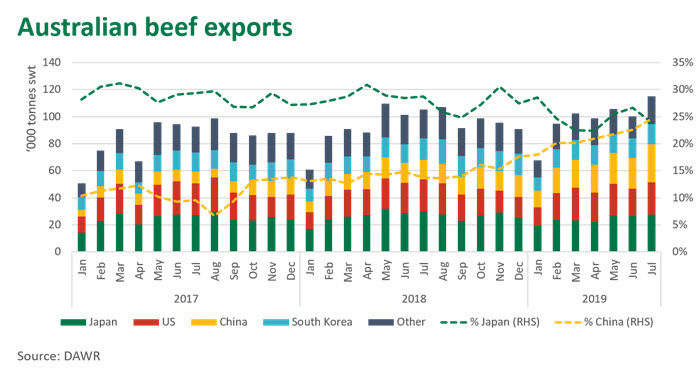 The rise of China
While Japan and the US have traditionally been the most prominent destinations for Australian beef, in July China was the top market on a volume basis, reaching 28,200 tonnes swt. On the back of huge volumes over the past twelve month, shipments to China were up 96% on year-on-year in July, almost 700 tonnes (2.4%) higher than Japan.
Global export demand is primarily being generated from China, with June marking a new record for the most beef imported in a month by a single country, at 133,700 tonnes swt (import data for July not yet available). China is seeking alternative meat proteins to fill the space left by the ongoing African Swine Fever (ASF) epidemic and resulting nationwide pork shortages. However, increasing middle-class household incomes and shifting taste preferences are underpinning demand for higher quality meat, such as Australian beef.
Tightening regulations from Chinese government officials has resulted in less meat coming in from grey channels (such as Vietnam and Hong Kong), particularly Indian buffalo meat. As a result, Chinese buyers are actively pursuing key world exporters for direct supply. Argentina has emerged as a leading supplier of beef to China, as the devaluation of the Peso and loosening of export controls have made their product increasingly competitive, while a temporary self-imposed ban on Brazilian beef to China in June (discussed here last week) proved just a minor speed bump.
Top suppliers of beef to China (Year-to-June)
Argentina: 151,000 tonnes, up 126% on 2018
Brazil: 149,000 tonnes, up 12% on 2018
Uruguay: 142,000 tonnes, up 30% on 2018
Australia: 126,000 tonnes, up 62% on 2018
New Zealand: 102,000 tonnes, up 85% on 2018
© Meat & Livestock Australia Limited, 2019