Subscribe to The Weekly e-newsletter
For in-depth red meat market news, information and analysis.
SIGN UP
Back to

Prices & Markets
Australia becomes the most valuable beef exporter
Key points:
Australia was the world's most valuable beef exporter in 2019, with total exports generating US$7.5 billion (A$10.8 billion)
Brazil was the world's largest exporter on a volume basis, exporting 1.57 million tonnes swt of fresh/frozen beef
Argentina won the award for most improved, growing their volume of exports 53% year-on-year.
Global export figures for 2019 have been published, with 7.3 million tonnes swt of beef/veal being exported on a global scale last year. Brazil firmly established itself as the top exporter by volume, followed by Australia, India and the US. However, while Australia sits behind Brazil in terms of volume exported, it betters its larger rival when comparing the total value of beef exports.
A 9% increase in export volume, combined with an average US exchange rate of 69.5 cents enabled Australia's beef export value to expand by 17% on 2018. The prominent recipient of this growth was China, who as a single destination for Australian beef, contributed US$1.85 billion for the year, up a staggering US$883 million from 2018. Australia's second most valuable market was Japan, contributing US$1.63 billion, back 3% on 2018.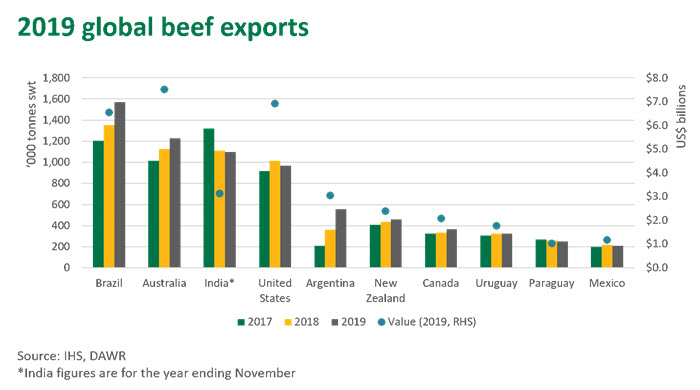 Brazil
Brazil finished 2019 as the top exporter by volume, shipping a whopping 1.57 million tonnes swt, a year-on-year increase of 16%. Export conditions in Brazil are favourable, with low currency rates enticing overseas buyers, while beef production continues to improve, driven by research and development into productivity and a growing feedlot sector. Exports to China fell just shy of 500,000 tonnes swt, up by 54% on 2018 and accounting for 32% of all Brazilian exports in 2019. Hong Kong and Egypt are the other major markets for Brazil, both taking 225,000 tonnes swt and 153,000 tonnes swt respectively. However, significant growth in the Chinese market has meant that Brazilian exports to these other markets has dropped off.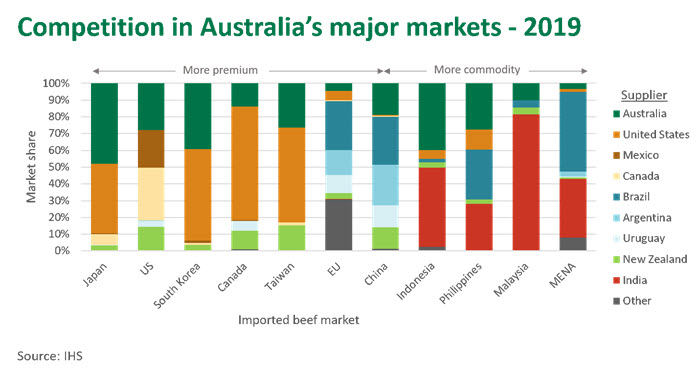 India
India exports frozen boneless carabeef, predominantly serving the South-East Asian markets Vietnam (426,000 tonnes swt), Malaysia (111,000 tonnes swt) and Indonesia (93,000 tonnes swt, year ending November). Supported by a large dairy industry, Indian buffalo meat (IBM) is primarily destined for commodity markets in developing nations. Reports indicate that in 2020, competitive pressure from other nations will negatively impact Indian exports to Vietnam and Iraq, with other markets such as Russia and Jordan expected to pick up their share of IBM.
United States
The United States is a key competitor for Australia, shipping beef to over 130 different destinations, with a significant presence in Australia's high value markets such as Japan and South Korea. South Korea is a major growth market for the US, with beef exports up 8% year on year. The US enjoy a tariff advantage over Australia when exporting to South Korea, with the 2020 tariff set to 16% (and a safeguard volume of 318,000) compared to Australia's 21.3% (safeguard volume of 174,087 tonnes). Looking forward, US beef exports heading to Asia will likely increase with the new agricultural trade agreements with Japan and China opening further opportunities for US beef.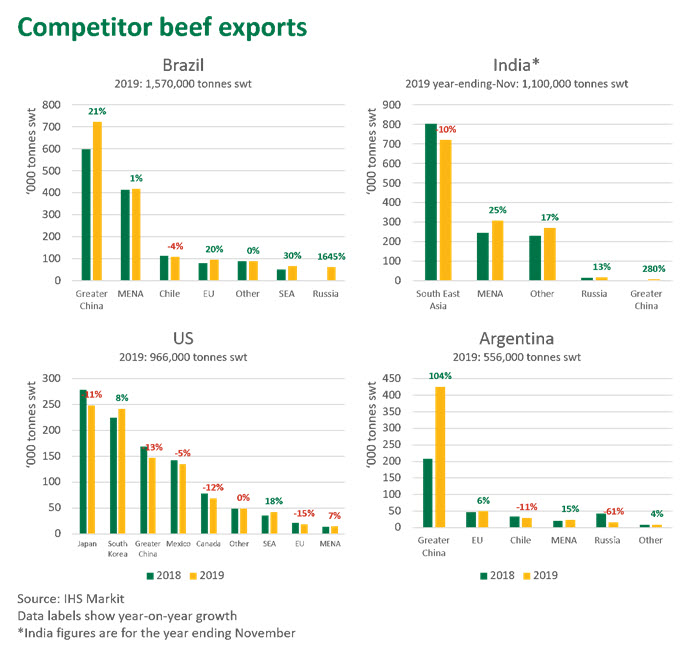 Argentina
Due to significant devaluation of the Peso, Argentina's competitive export position has improved dramatically, drawing product away from the domestic market and lifting total beef export volumes radically in the last two years. Total beef exports lifted 54% last year; Argentina very much making the most of strong demand in China - where beef exports rose by 106% year-on-year to reach 425,000 tonnes swt. 76% of all Argentine beef exports went to China in 2019. Exports to Russia were hurt substantially by the re-entry of Brazil into the market, who have captured back much of the market share obtained by Argentina in 2018 (following 2018 Russian ban on Brazilian beef due to ractopamine use).
New Zealand
Beef exports from New Zealand lifted 6% in 2019, finishing the year at 458,000 tonnes swt. There has been significant swing between market destinations throughout the past few years with strong demand from China capturing much of the beef traditionally destined for the United States. Total exports to the US reached 127,000 tonnes swt, down 31% on 2018, while exports to China were 220,000, a lift of 90%. Chinese buyers were much more aggressive in 2019, willing to pay higher prices, thereby escalating the trend between these two nations. Apart from Japan and certain EU markets, the majority of New Zealand's other destinations for beef experienced negative growth last year, undoubtedly unable to compete with Chinese buyers for price.
All things considered, 2020 is set to be a dynamic and competitive year for Australian beef exports. There are many disruptors in the international market (such as African Swine Fever and coronavirus) and combined with tightening domestic supply and expanding international supply, Australia will need to continue to focus on identifying and developing the most valuable opportunities for various beef cuts within diverse and evolving markets.
© Meat & Livestock Australia Limited, 2020