Back to

Prices & Markets
Subscribe to Prices & Markets e-newsletter
For in-depth red meat market news, information and analysis.
SIGN UP
Brazilian beef gains access to US market but dial will be slow to shift
27 February 2020
USDA grants access
On Thursday last week, the USDA Food Safety and Inspection Service submitted their final audit report on Brazil's meat inspection system, which it concluded was equivalent to that of the US. As such, Brazilian beef was re-approved to enter the US market from 21 February 2020.
Brazil was previously granted access to the US market in 2016 but the few shipments sent failed to meet USDA food safety standards upon inspection. The US imported almost 10,000 tonnes swt of Brazilian beef over the eleven months before access was removed in 2017.
US importance for Australian beef
The US is a very important export market for Australian beef, the third largest in 2019 and critical in balancing carcase trim and as a destination for lean cow beef. The US has also evolved into a high value premium chilled grassfed beef market in recent years. Australia currently competes with the Canada and Mexico (which have favourable access under NAFTA/USMCA), New Zealand and some Central and South American exporters. However, Canada and Mexico primary send beef cuts, while Australia and remaining players compliment the US grinding industry with a lean beef trim.
In 2019, Australia was the largest beef supplier to the US beef market outside North America, exporting 254,000 tonnes swt, including 152,000 tonnes swt of manufacturing product and 63,000 tonnes swt of chilled grassfed primals.
Brazil held back from surpassing Australia's position
Brazil has a product that would fit within the US grinding market however there are currently a number of critical factors that mitigate it from becoming a leading player.
Firstly, the Brazilian beef industry has become heavily geared to China, with shipments to the mainland and Hong Kong accounting for 46% of exports in 2019 and as much as 62% during the final quarter. One risk is that disruption to the China market from covid-19 continues and becomes a longer-term issue – making the market less appealing for Brazilian beef. However, if that were to occur, there would more likely be a rebalancing of New Zealand and Australian beef to the US before Brazil came knocking. Brazil may, in fact, sooner refocus on the recently re-opened Russia market, which accounted for one third of exports between 2005 and 2010.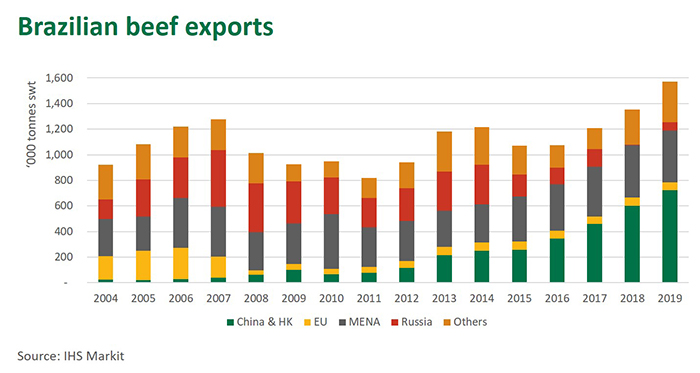 Secondly, without a Free Trade Agreement, Brazilian beef must access the US market within a shared 65,000 tonne swt Most Favoured Nation quota. Brazil would need to compete for limited quota with European and other exporters. However, with the Brazilian Real severely weakened, there could be scope for it to operate outside the quota, remaining competitive even after paying a 26.4% tariff.
A good test as to the US appetite of Brazilian beef may be Argentina, which gained 20,000 tonnes swt access per annum at the end of 2018 but shipped just 1,600 tonnes in 2019. This small volume, however, was recorded during a year in which China had an insatiable appetite for South American beef.
Thirdly, Brazilian beef is yet to win consumer and commercial acceptance and it remains a political hot potato in the US. Given Brazil's historical food safety scandals, many of the big US burger chains may be hesitant to use the product, given their large public exposure and reputational risk to any single issue. Nor is Brazil in any position to target the premium chilled grassfed beef trade.
Brazil's re-entry will not substantially change the market overnight. As under their previous access, shipments will commence in small volumes, testing USDA import inspection. Longer term, however, Brazil's presence in the US will depend on many evolving factors, including China's appetite for Brazilian beef and how much product is available for other markets.
© Meat & Livestock Australia Limited, 2020