Back to

Prices & Markets
Subscribe to Prices & Markets e-newsletter
For in-depth red meat market news, information and analysis.
SIGN UP
Cattle OTH indicators move into record territory
12 November 2020
Key points:
Queensland 100 day grainfed steers and grassfed heavy steers reach record highs
NSW and Victoria grids move into record territory
Elevated competition will continue to support OTH prices in southern markets
Cattle over-the-hooks (OTH) indicators gained momentum in Queensland, New South Wales and Victoria this week, with southern grids edging closer to their northern counterparts. The lift in processor grids across the eastern states reflects domestic supply pressures and a more positive summer outlook, encouraging producers to hold back cattle.
For the week ending 13 November, the Queensland 100 Day Grainfed Steer OTH Indicator moved into record territory at 681c/kg carcase weight (cwt), a 72c spike on year-ago levels. The Queensland Grassfed Heavy Steer OTH Indicator also reached a record high, reported at 664c/kg cwt, edging closer to the 100 Day Grainfed Steer OTH Indicator. For the year-to-date, the spread between these indicators has averaged 20c/kg cwt, compared to the same time last year, which was a 40c/kg cwt margin. A higher portion of grassfed cattle compared to last year has driven this change, while intensifying processor competition has continued to ramp both indicators up to record highs.
Processor grids in NSW and Victoria have also been moving on an upwards trajectory, with fewer available cattle driving up southern prices. Encouraged feeder and restocker buyers continue to maintain strong levels of competition across most categories, with processor grids lifting in response to elevated saleyard indicators. Southern processors traditionally source supplies from saleyards as they have greater exposure to the physical market, hence stronger price incentives are needed to secure available cattle.
For the week ending 13 November, compared to the same week last year:
In New South Wales:
The Heavy Steer OTH Indicator averaged 622c/kg cwt, up 97c/kg cwt and a record high
The Trade Steer OTH Indicator averaged 614c/kg cwt, up 93c/kg cwt and a record high
The Medium Cow OTH Indicator averaged 534c/kg cwt, up 98c/kg cwt and a record high
In Victoria:
The Heavy Steer OTH Indicator averaged 662c/kg cwt, up 102c/kg cwt
The Trade Steer OTH Indicator averaged 663c/kg cwt, up 111c/kg cwt
The Medium Cow OTH Indicator averaged 512c/kg cwt, up 63c/kg cwt and a record high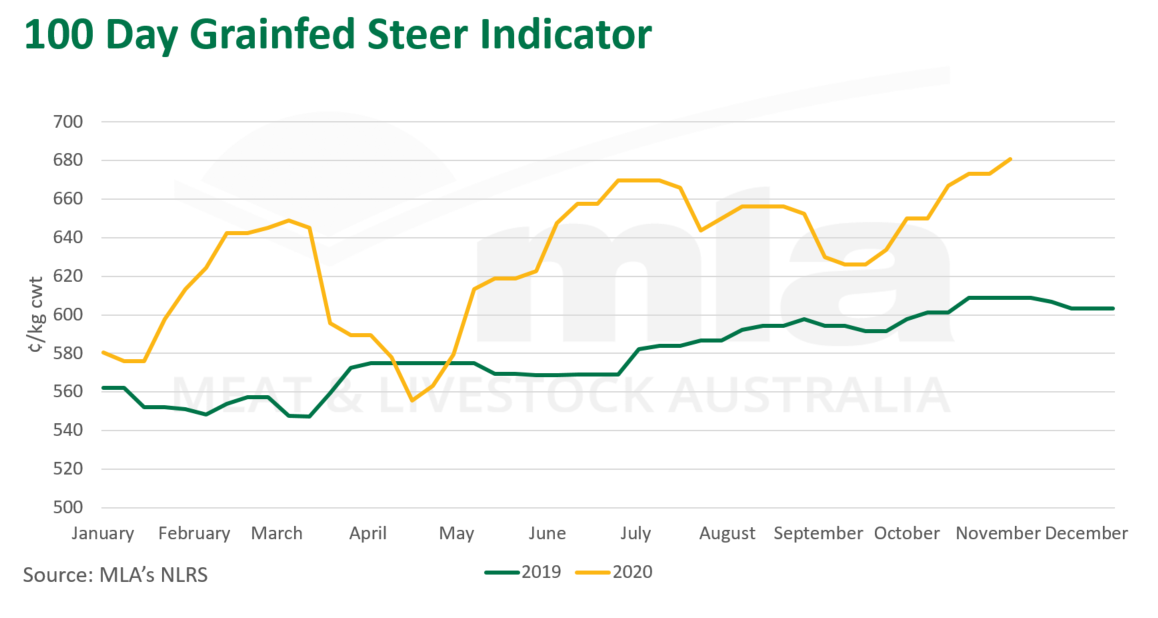 © Meat & Livestock Australia Limited, 2020