Back to

Prices & Markets
Subscribe to The Weekly e-newsletter
For in-depth red meat market news, information and analysis.
SIGN UP
Economic growth in Asia to fuel meat consumption
Key points:
Growth in middle class income across Asia, particularly Vietnam and Indonesia, will fuel meat consumption over the next decade
African Swine Fever induced pork production shortfall will supplement import demand and provide support to export prices in the short-term
There is growing interest in high quality protein sources among affluent consumers
Earlier this month, the Organisation for Economic Co-operation and Development (OECD) and the Food and Agriculture Organisation (FAO) released their collaborative global agricultural outlook. This outlook contains key insights and forecasts across production, consumption and trade, providing an indication of the global trading environment for Australian red meat in the next decade.
Demand considerations
A number of major uncertainties continue to face world agricultural markets such as the spread of African Swine Fever (ASF), the fallout from COVID-19, shifting consumer diets and climatic events. While these influences will certainly impact supply and demand, global demand for beef will continue to be underpinned by a number of key economic fundamentals such as population growth and a rising number of middle-class income households.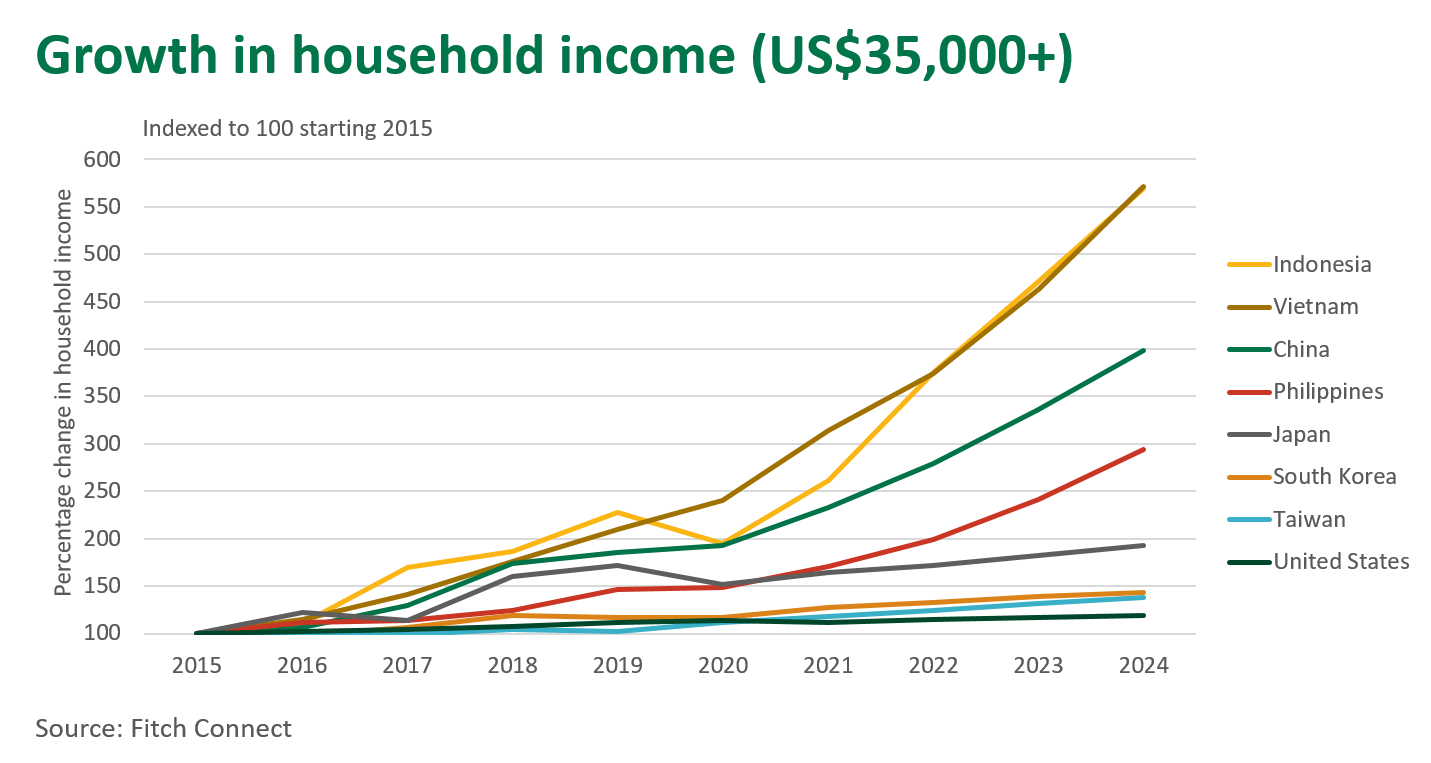 Household income growth remains a major growth factor driving increasing global meat consumption, which is projected to grow at an average rate of 1.2% annually over the next ten years. Trends and consumption profiles will continue to influence meat consumption levels which typically depend on the stage of economic development for the country in question. For instance, many high income countries are reaching saturation levels in terms of per capita meat consumption, with fluctuating consumer preferences leading to a diversification of protein sources. Quality is a key factor which will become increasingly important for consumers in high income countries, as consumers seek flavour and experience over volume.
Meanwhile, income growth in developing countries is expected to drive further demand for meat, as increasing disposable incomes opens up a range of dining opportunities for consumers. This growth means that beef consumption across Asia is expected to grow by 2.7 million tonnes carcase weight equivalent (cwe) over the next ten years – the largest gain across any global region. Within Asia, Vietnam and Indonesia stand out as key import markets, with beef import volumes predicted to grow 24% and 34% respectively. China remains a huge market for beef, however, as the pork industry recovers from ASF, this will likely limit any further growth for meat imports as locally sourced meat becomes more readily available later in the decade.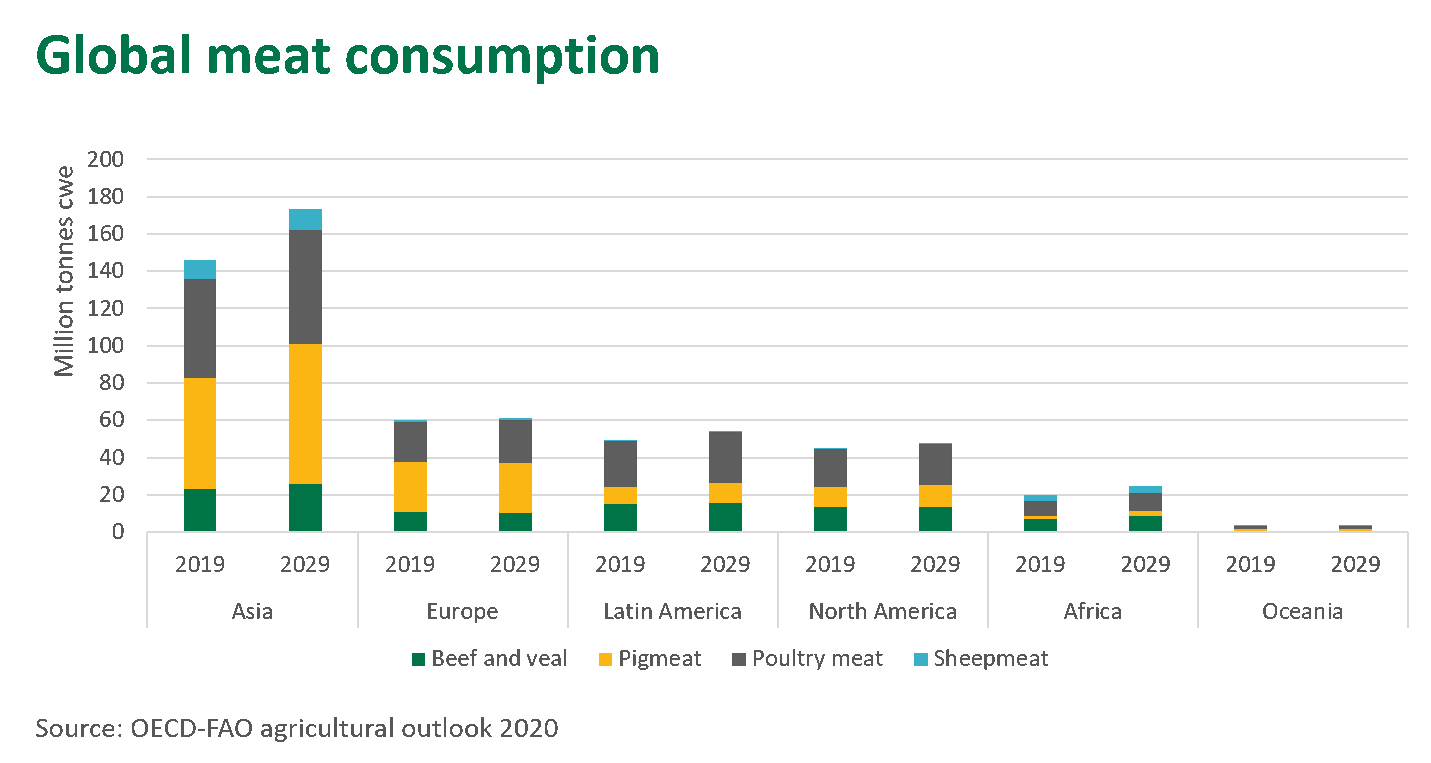 Global meat prices were 6% higher on average higher in 2019 relative to 2018. Beef export prices have been buoyed by strong ASF-fuelled demand, while globally limited supplies of sheepmeat continue to support lamb and mutton prices. During the next few years, prices will be supported by ongoing supply constraints within major Asian meat-producing nations.
Supply considerations
Global meat production fell 2% in 2019, primarily due to a 21% decline in Chinese pork production resulting from ASF. Outbreaks of ASF across Asia through 2020 will likely continue to limit meat production growth in the short-term. However, if further spread of the virus can be contained, long-term pork production appears fairly positive. The outlook assumes a return to typical production levels within the next five years.
Looking ahead to 2029, global meat production will benefit from growth driven predominantly by countries classified as 'developing nations', which are expected to account for 87% of global meat production growth relative to 2019. Pork production in China and Vietnam are key contributors to the growth, as their industries return to typical production levels following the impact of ASF. Additionally, poultry production in India, Brazil and Indonesia will also account for a large proportion of total meat production growth.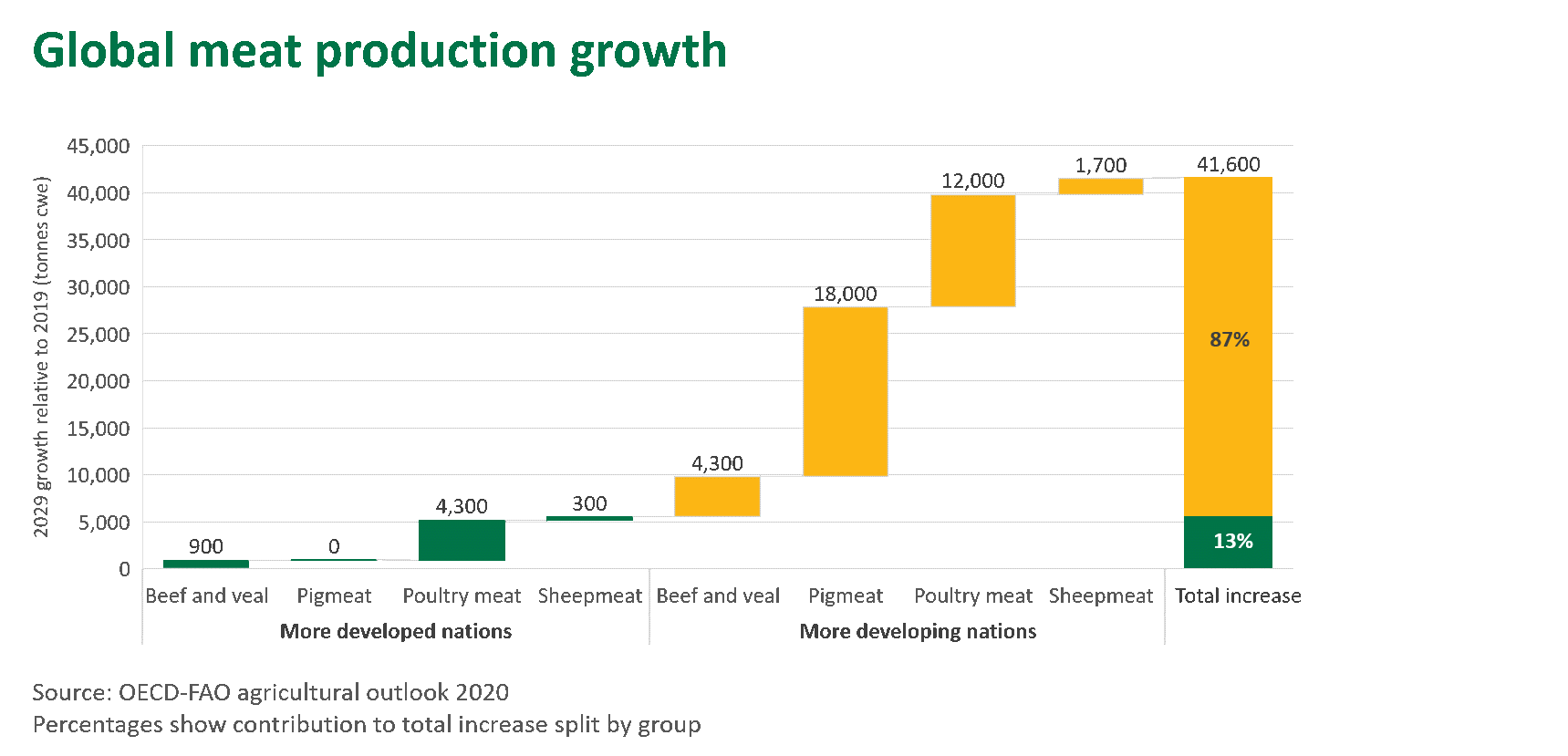 Regarding beef production, global heavyweights Brazil and the United States are both expected to increase production volumes by just over half a million tonnes cwe each by 2029. However, their share of global beef production is not expected to change, as a number of smaller nations, such as Pakistan and South Africa, are set to grow their share of the pie.
Global meat exports are expected to grow at an average annual rate of 0.7% through to 2029, which would take total global export trade volumes to 42 million tonnes cwe. This represents a significant slowdown relative to the past three years, when annual growth averaged 3%. Latin America will continue to account for the largest share of beef exports, driven by ongoing production gains in Brazil and Argentina.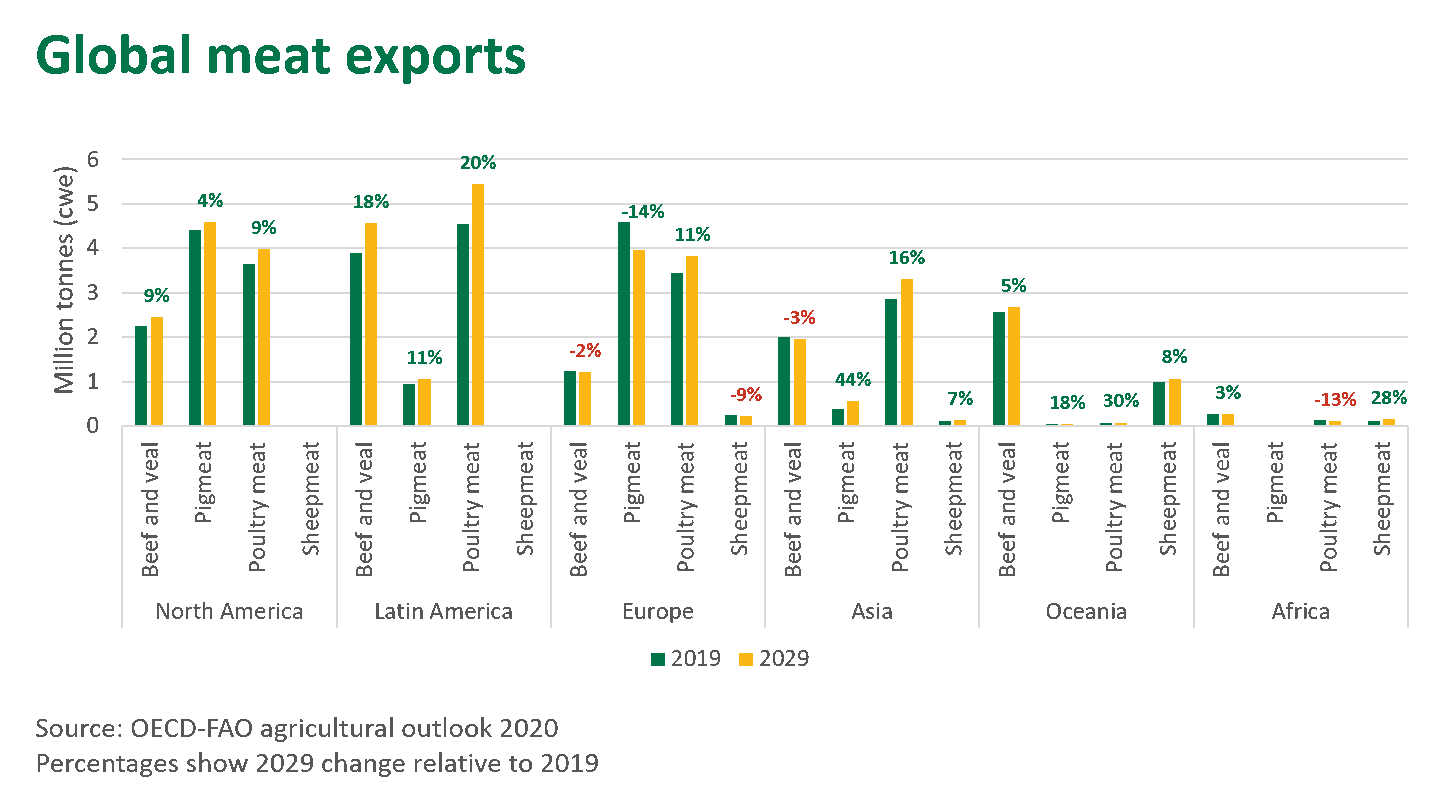 While Australia will continue to represent just a fraction of global production, Australian beef exports are forecast to remain steady and should contribute approximately 16% to global beef trade in 2029. This is encouraging given the large production gains expected across key competitor countries. As consumers in higher income markets look to diversify and seek quality food sources, continuing to target these key markets with a quality offering will remain a key component of success for the Australian industry.
Sheepmeat exports from Oceania are expected to continue benefiting from strong global demand. In particular, shipments to China are expected to remain high as significant growth is forecast for the duration of the ASF outbreak.
For more information, please refer here for the full 2020 outlook.
© Meat & Livestock Australia Limited, 2020