Back to

Prices & Markets
Subscribe to The Weekly e-newsletter
For in-depth red meat market news, information and analysis.
SIGN UP
EYCI surpasses March record
Key points:
The Eastern Young Cattle Indicator (EYCI) reached a new record this week at 772¢/kg cwt.
Eastern states' medium and heavy steer indicators also reached historical highs.
Competition between restockers and feeder buyers continues to put upwards pressure on prices for store cattle.
Young and finished cattle prices continued to gain momentum across the eastern states this week, bolstered by tight supply and strong restocker competition. The Eastern Young Cattle Indicator (EYCI) finished at 772¢/kg carcase weight (cwt) on Wednesday 17 June, up 5¢ from the previous record set in March and now reported 276.50¢ above year-ago levels. Exacerbated by a lower herd base and higher stock retention following average to above-average rainfall across much of the eastern states, cattle prices across all specifications have found strong support. At current levels, the strength of the store market is highlighted with the EYCI sitting 207¢ above the five-year average.
In contrast to last year when feedlots were well supplied, this year has seen greater pressure on feedlot inventory, with competition intensifying for store cattle. Unsurprisingly, eastern states feeder steer prices found support, with the indicator lifting 43% year-on-year to 407¢/kg live weight (lwt) – just shy of the historical highs (413¢/kg lwt) seen in March.
At the heavy end of the market, processors are also competing for the tightening pool of finished cattle, with eastern states medium and heavy steer indicators both reaching record highs. The heavy steer indicator averaged 381.5¢/kg lwt on Wednesday, up 84¢ or 31% on year-ago levels. The medium steer indicator has followed a similar trend, lifting 36% or 90¢ year-on-year, to 369¢/kg lwt. Producers are in a better position to feed for longer and finish to heavier weights, which will lead to a significant contraction in the supply of finished cattle.
With the latest three-month rainfall outlook forecasting average to above-average rainfall for large parts of Australia, producers may be encouraged to retain stock and subsequently tighten the pool of available cattle over the remainder of the year.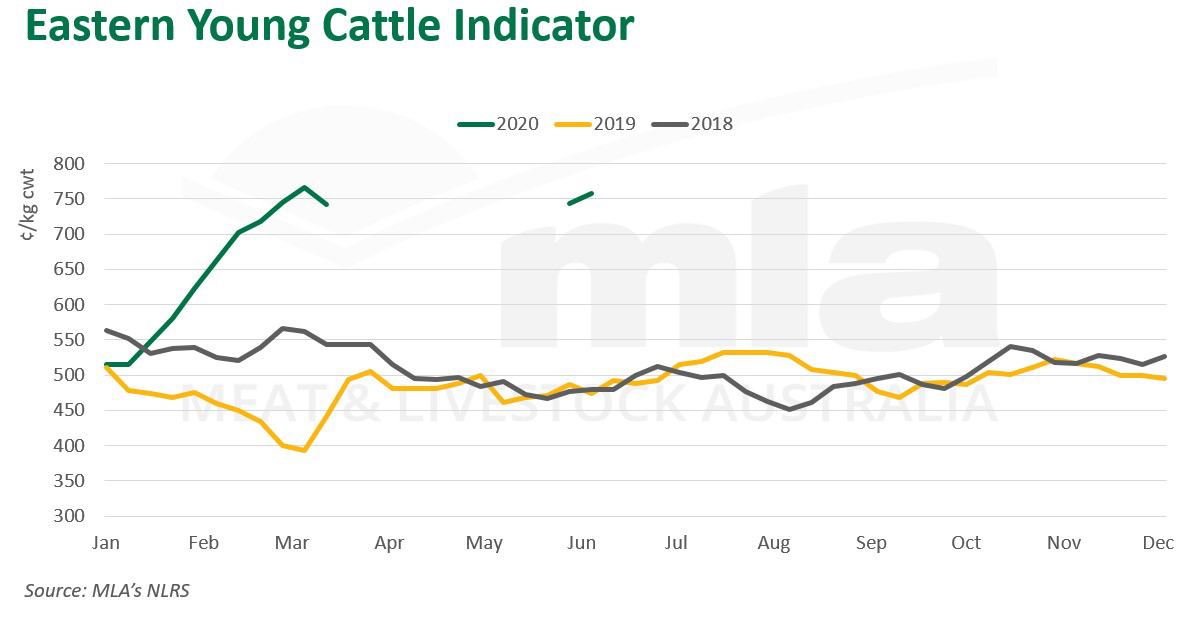 © Meat & Livestock Australia Limited, 2020