Back to

Prices & Markets
Subscribe to Prices & Markets e-newsletter
For in-depth red meat market news, information and analysis.
SIGN UP
EYCI record climbs as feeder throughput increases
08 October 2020
Key points:
Restocker buyers continue to support young cattle prices
Feeder buyers overtake restockers to account for largest portion of EYCI cattle
NSW recorded highest throughput of young cattle in September
On Wednesday, the Eastern Young Cattle Indicator (EYCI) climbed to a record 794.75¢/kg cwt, 310¢ above year-ago levels.
Restockers continued to support young cattle prices through September, operating at a 94¢ premium to processors and a 68¢ premium to feeder buyers, in contrast to September 2019 where feeder buyers were trading at a premium of 53¢ to restockers and 15¢ to processors. In the first week of October, restockers were operating at a premium of 101¢ to processors and 75¢ to feeder buyers.
While prices for young cattle have been buoyed by restocker demand, in September, feeder buyers accounted for the largest portion of EYCI eligible cattle at 43%, up from 35% in August. Restockers followed closely, accounting for 41% of throughput, back from 47% in August, with processors making up the remaining 16%, steady with the month prior. The shift in the buyer breakdown of EYCI eligible cattle through September to favour feeder cattle over restockers illustrates the change in the spec of cattle entering the market. While restocker activity has remained robust in recent months, the supply of EYCI eligible cattle suitable for restocking appears to have started declining, with feeder buyers picking up suitable stock.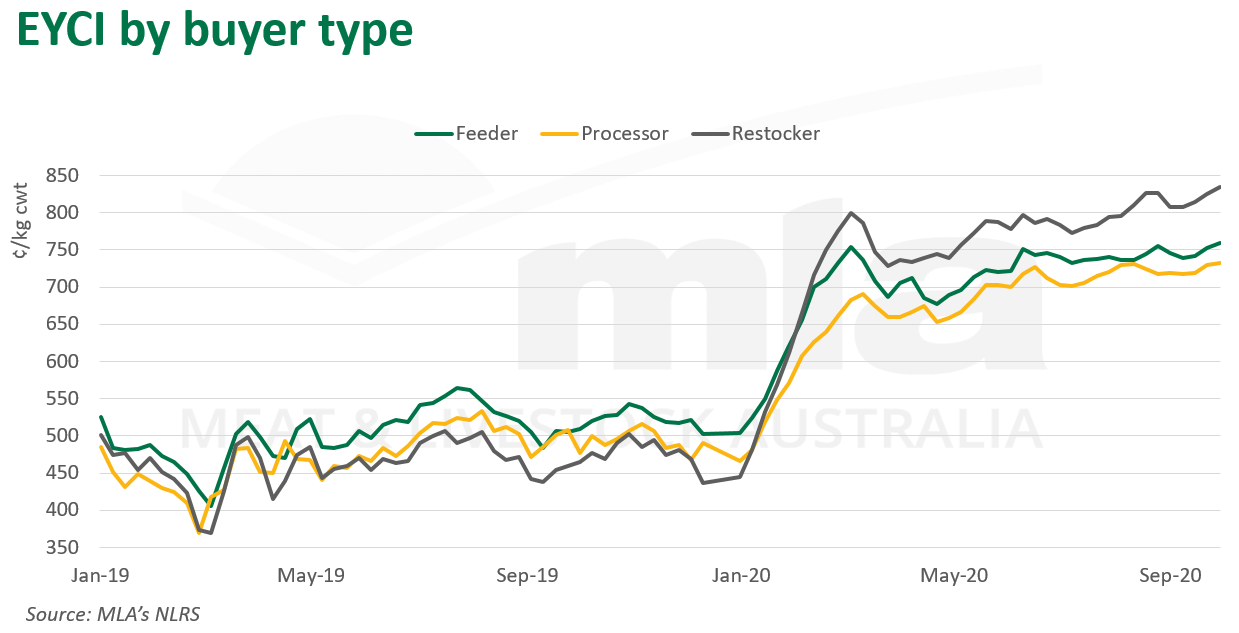 Examining the climate at a state level, the majority of EYCI eligible cattle sold through saleyards in September were sourced from the northern states, with Queensland and NSW accounting for 41% and 53% of total throughput, while Victoria accounted for only 6%. While prices for young cattle in Victoria typically trade at a premium to its northern counterparts, the heightened competition in a depleting supply pool has seen southern buyers operate at a discount in recent months.
© Meat & Livestock Australia Limited, 2020