Back to

Prices & Markets
Subscribe to Prices & Markets e-newsletter
For in-depth red meat market news, information and analysis.
SIGN UP
Female slaughter at 53% for September quarter as production falls
26 November 2020
Key points:
Female percentage of slaughter sits at 53%, with slaughter down 6% from previous quarter
Beef production down 5% from previous quarter
Carcase weights lift to 294kg, up 6kg from previous quarter
Beef production and slaughter continued to decline in the September quarter on the back of tightening supply and impacts of COVID-19.
Slaughter
Processors have continued to feel the pinch of tight supply as the search for finished cattle becomes increasingly tough, decreasing slaughter rates. Male cattle declined slightly by 2% on the last quarter to total 828,590 head with the female portion down by 11%, sitting at 932,926 head. Despite a steady reduction in female slaughter, the female proportion of the total kill is 53%, down 2% from the previous quarter, signifying progression for a herd rebuild. However, further reductions are needed to hit 47%, which signals a full recovery phase.
Many producers have sold off females to cash in on record prices, with the feedlot sector also attaining high numbers on feed. This has resulted in females not being placed back on farm for breeding programs and reducing the potential rate of a herd recovery.
Production
Beef production hit 517,663 tonnes carcase weight (cwt) for the September quarter to decline by 5% on the previous quarter and fall 18% on the same period in 2019. The impacts of tightening supply, high domestic prices and COVID-19 have allowed production volumes to decline steadily as the rebuild progresses, particularly driven by southern producers.
Carcase weights
Increased retention of stock and an abundance of feed in southern states along with significant volumes of grainfed cattle have allowed for carcase weights to increase since the previous quarter by 6kg to 294kg, with males and female rising 3kg and 4kg, respectively.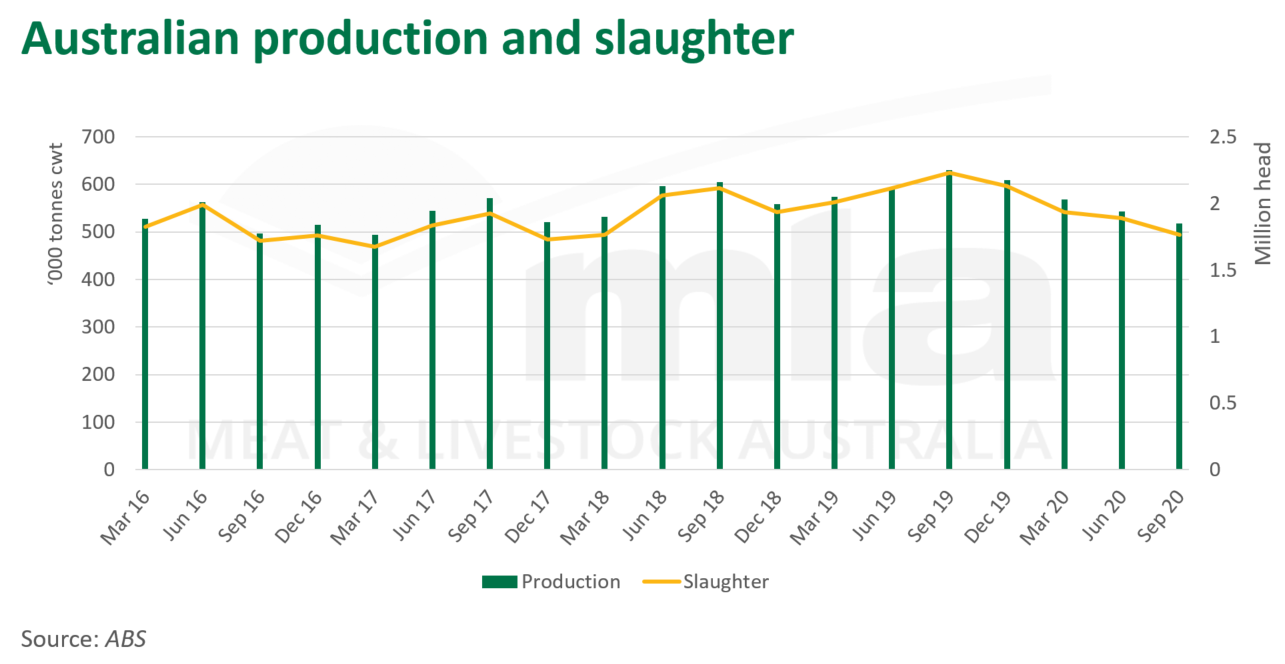 © Meat & Livestock Australia Limited, 2020