Back to

Prices & Markets
Subscribe to Prices & Markets e-newsletter
For in-depth red meat market news, information and analysis.
SIGN UP
Global currencies plummet
26 March 2020
Key points:
The A$ now sits at US0.59¢ after having fallen by 16% since the start of the year
South American exchange rates have also rapidly declined
Competitive pressure may be ramping up as demand uncertainty rises
With nations around the globe reeling from the ongoing impact of Covid-19, this has caused some dramatic currency swings as economic recession threatens countries worldwide. Since the start of the year, the A$ has depreciated in value against the US$ by 16%, falling to a low of 58¢ on March the 18th before rising back to 59¢ on Tuesday. The upside of this shift is that the dollar will continue to support the value of the export industry and will also cushion some of the recent decline in global import prices.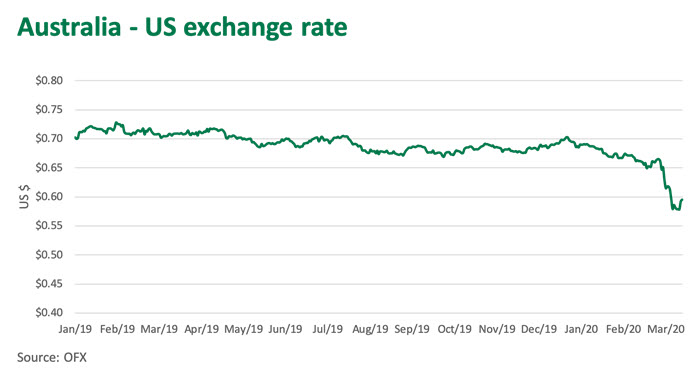 South America is experiencing a similar currency pressure to Australia. Since the start of the year, the Brazilian real, Argentine Peso and Uruguayan Peso have all fallen 21%, 6% and 17% respectively. In particular, the Argentine economy has struggled in the past few years, suffering from mass inflation and political uncertainties. Under present circumstances, South American nations have had a strong presence within global markets over the last few years given the steady depreciation of their currencies.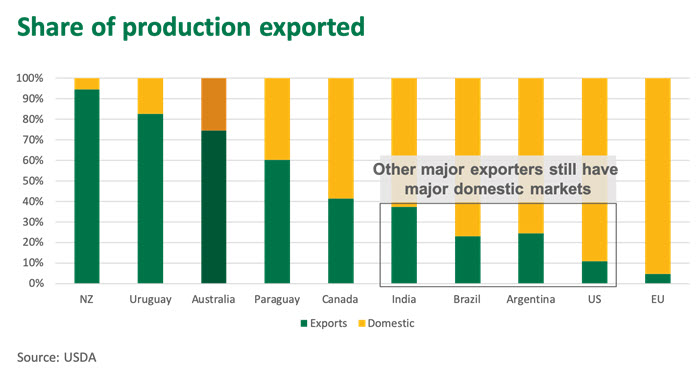 With Australia exporting over 70% of total beef production, shifts in currency play a large role in the competitiveness and value of Australian beef and sheepmeat. Major competitors Brazil, Argentina, and the US all have large domestic markets which they are key suppliers for. When currency rates shift, these nations can either favour their own domestic market or take advantage of export opportunities. This has certainly been the case in the past few years. As South American currency rates fall, their presence within global export markets builds. With the recent dip in exchange rates combined with the poor economic outlook, Australia could be facing a much more competitive export market.
In the coming months, demand from China is expected to re-emerge, while currency rates should steady as economies recover from the initial shock and dismay that accompanied the arrival of the Covid-19 epidemic. Reports indicate that demand through retail channels has been strong as consumers prepare for weeks ahead cooking dinner at home. However, these are unprecedented and volatile times, with foodservice channels around the world being hit hard by social distancing regulations and nationwide lockdowns. The impact on Australian exports will be different in each market depending on the split between retail and foodservice and on factors such as the ability of red meat cuts and products to shift and adapt to the changes in demand.
© Meat & Livestock Australia Limited, 2020