Back to

Prices & Markets
Subscribe to Prices & Markets e-newsletter
For in-depth red meat market news, information and analysis.
SIGN UP
High value market opportunities in Taiwan
22 October 2020
Key points:
Growing beef consumption in Taiwan is a key opportunity for Australian beef exports
Successful COVID-19 control measures see Taiwan foodservice and retail already returning above pre-pandemic levels
Australia is facing intensifying competition from the US, Paraguay and Japan
Taiwan is emerging as a particularly attractive export market for premium beef. In 2019, red meat accounted for approximately 7% of the average Taiwanese diet, with beef consumption averaging 6.8kg per person annually. So far in 2020, Taiwan is Australia's sixth largest market for beef, accounting for 18,000 tonnes shipped weight (swt) of beef for the year-to-September.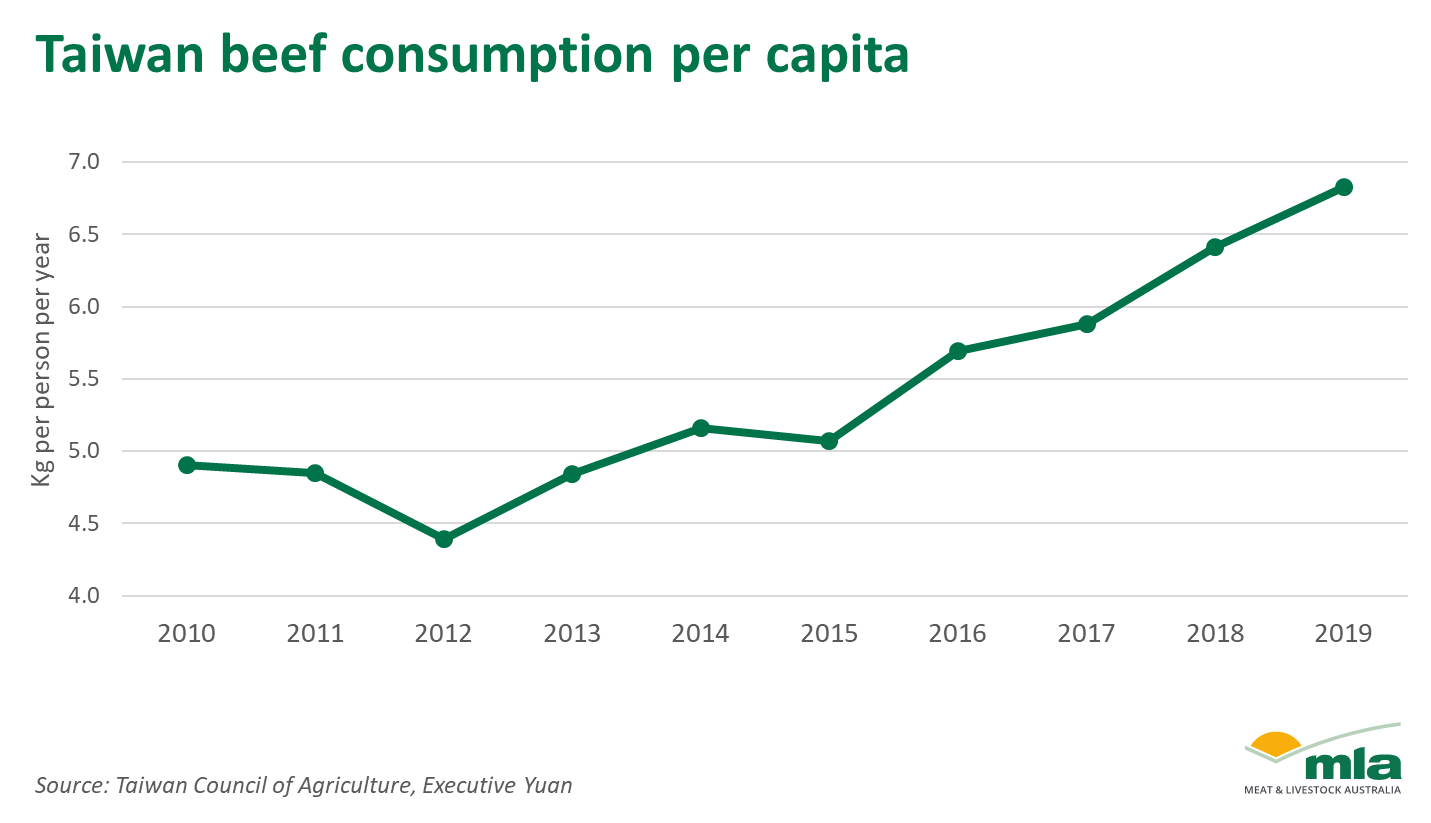 The increasing popularity of beef has been driven by several socio-economic and historical factors. Taiwan has a large young adult population that is both affluent and sophisticated. In 2020, 20–39- year-olds make up 28% of the population, and relative to older generations, these consumers enjoy a wider range of cuisines that often feature beef, such as Western (American and European), Korean and Japanese. Led by this group of affluent young consumers, beef consumption has had an average annual growth rate of 5.8% since 2015, leading the poultry category, which trails at 3.6%.
With only very small levels of local beef production, Taiwan will continue to depend on international suppliers for support. Beef imports currently account for 96% of Taiwanese beef consumption, with forecasts indicating this figure will remain unchanged for the foreseeable future. Total imports of beef are forecasted to grow at a rate of 1.8% through to 2024, tracking closely in line with the expected lift in consumption over the same period, which bodes well for steady levels of import demand from this market.
Taiwan foodservice exceeds pre-pandemic levels
The Taiwanese are avid restaurant diners, enjoying meals out more often than consumers in many other countries. The Taiwanese have among the highest regional per capita spending on restaurants, hotels and food generally, and MLA estimates that around 78% of Australian beef exported to Taiwan is enjoyed by consumers in the foodservice sector.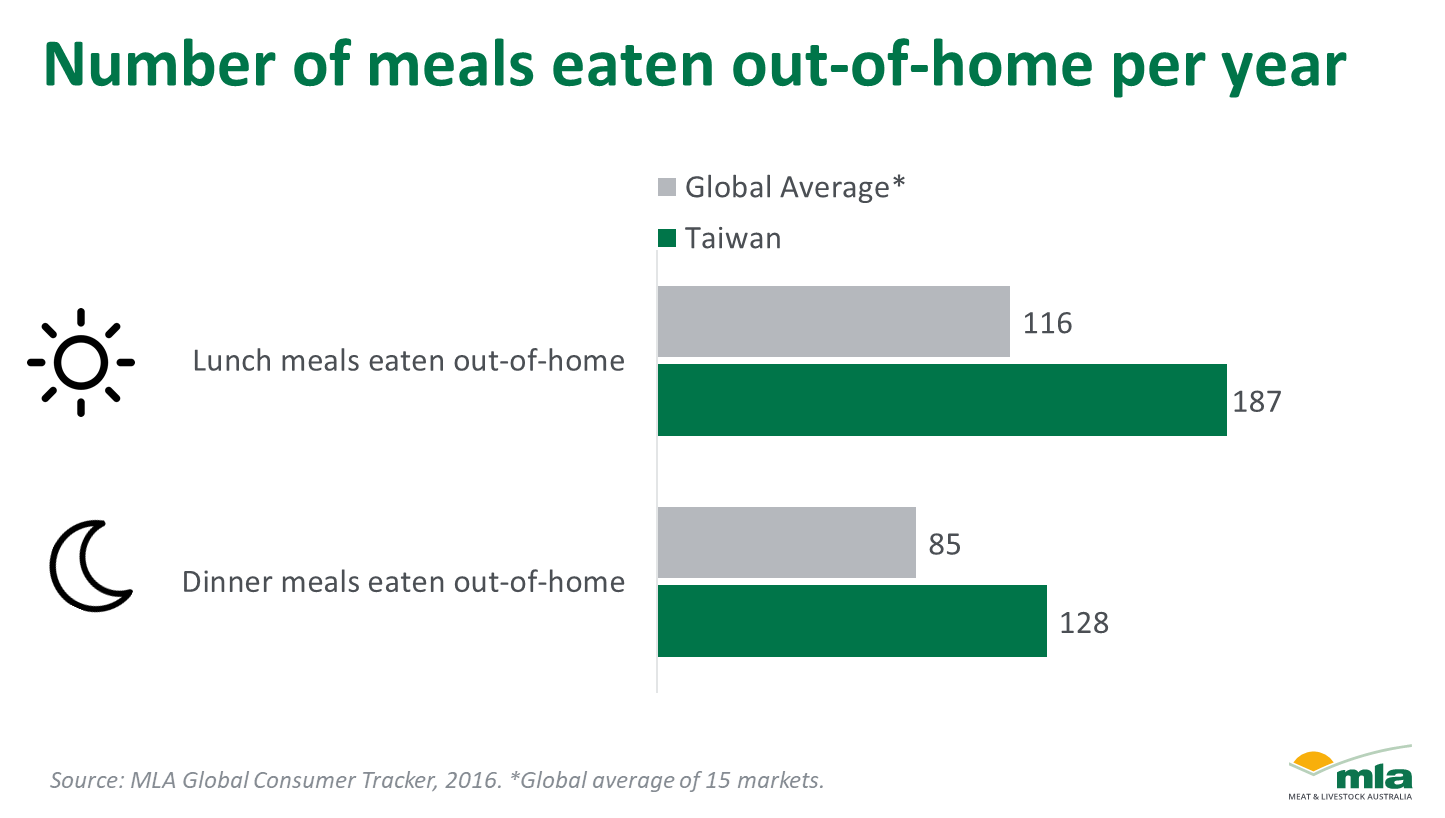 As a result of COVID-19, Taiwan's restaurant sector saw year-on-year contractions from March to June 2020. However, the sector has been in expansion since July, with August turnover up 4.7% year-on-year. Effective COVID-19 control measures enabled a summer domestic tourism boom, which has driven more rapid foodservice recovery. Compared to other Asian markets, dining out and retail activity in Taiwan are now almost back to pre-COVID-19 levels.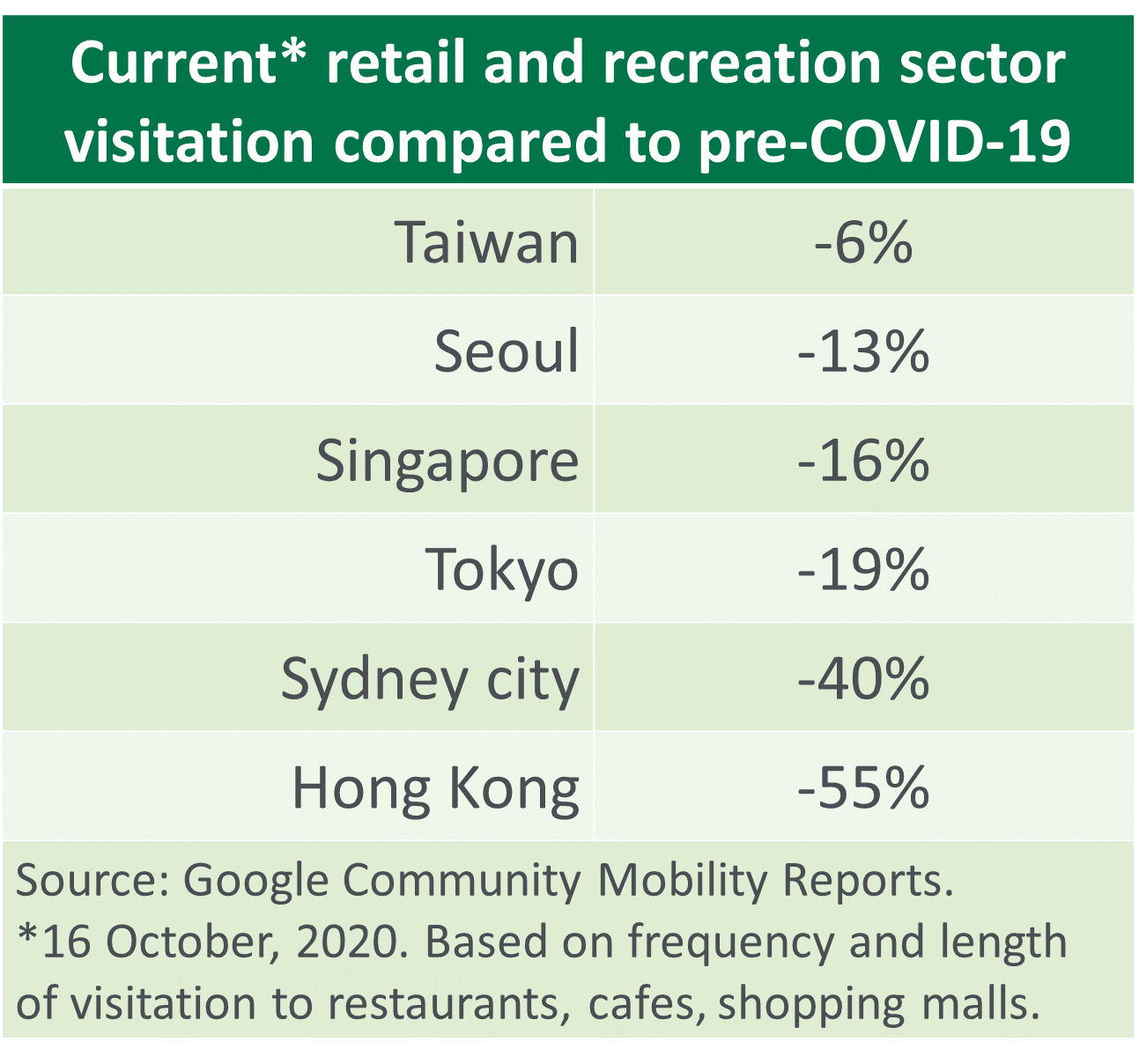 A high value market with ongoing premiumisation
Taiwanese beef import prices are among the highest in the world. For the year-to-August, Taiwan's average chilled beef import price was A$18/kg, 56% higher than the global average, while the price of frozen beef was A$9/kg, 37% above the global average.
Premiumisation in the red meat category is supported by an increasing proportion of affluent households within the population – 26% in 2019 and is forecast to be 34% by 2024. As disposable incomes lift, this will result in higher rates of discretionary spending, likely resulting in more purchases of premium dining experiences.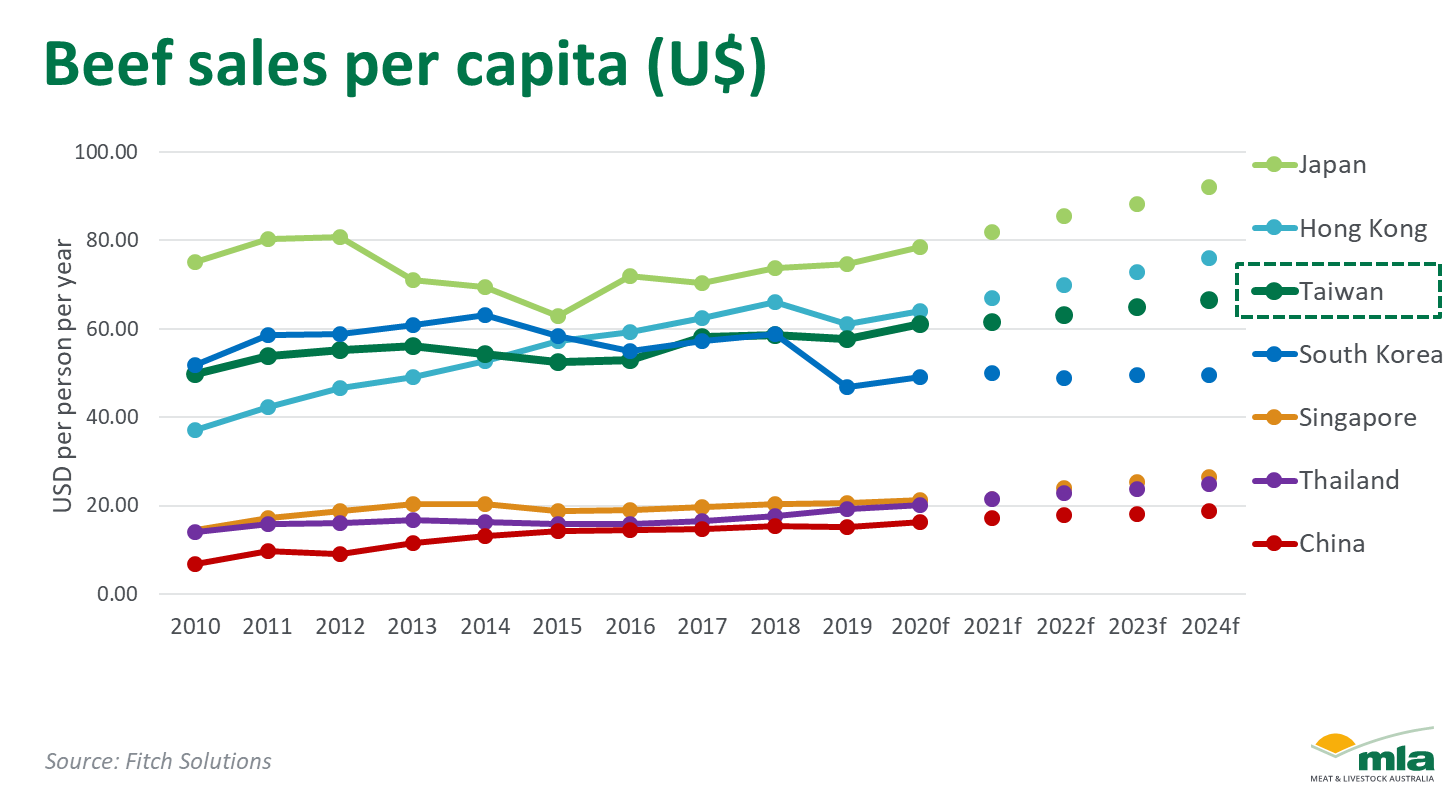 This growth in premium spending is driving Taiwanese imports of chilled beef. Compared to China, where chilled beef volumes accounted for just 1.5% of China's total beef imports in 2019, the chilled category accounted for 23% of Taiwan beef imports.
Australia facing intensifying competition
Taiwan has been among Australia's top 10 beef export markets for over 20 years for both grassfed and grainfed products. As an attractive and growing market, competition has increased in recent years as imports of US, New Zealand, Japan and Paraguay beef have lifted, supported by market access breakthroughs.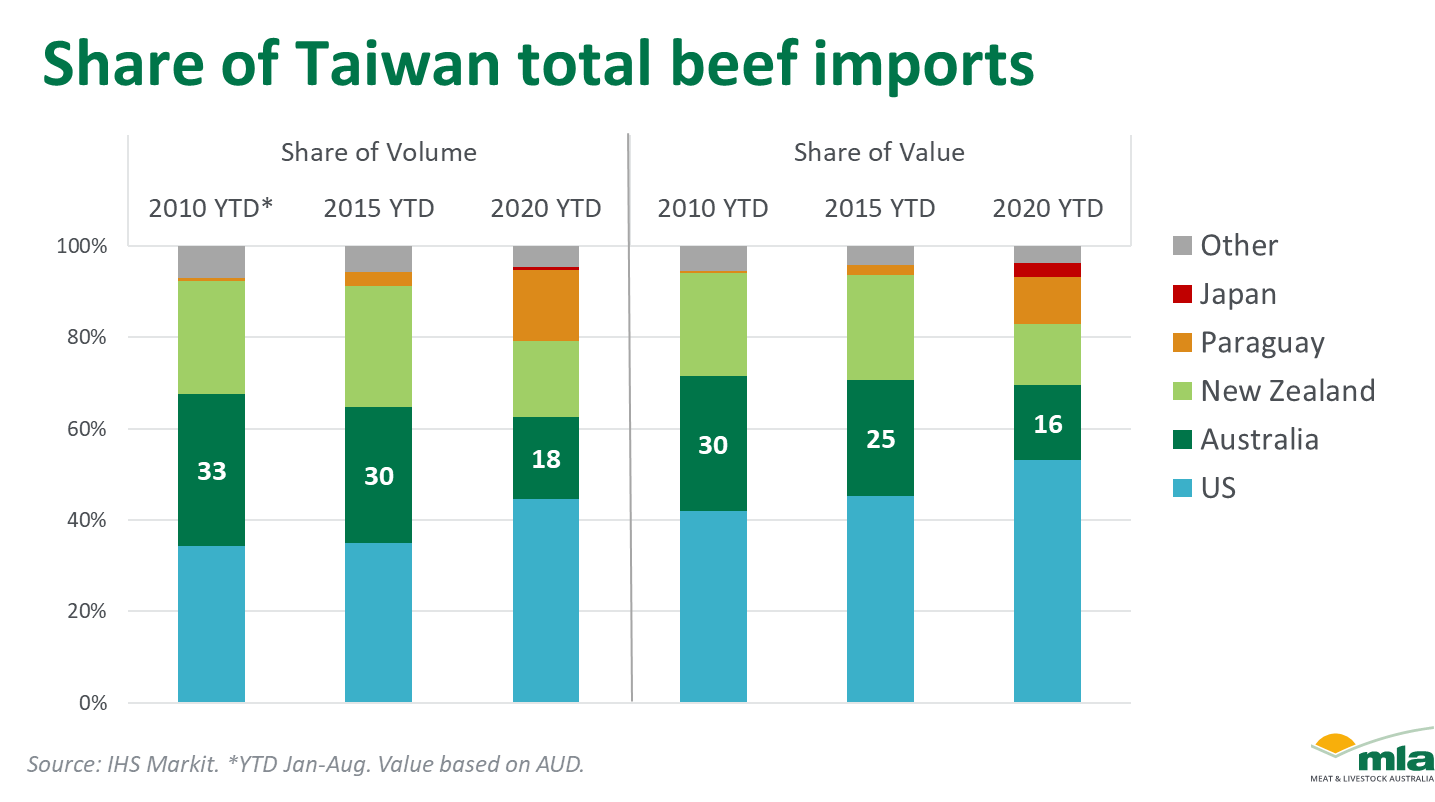 The US is the major beef supplier to Taiwan and has been increasing its presence in the market for the past five years, despite its higher price point compared to Australian beef. Taiwan will lift age restrictions on US beef from 1 January 2021, which had been imposed since 2012 to manage bovine spongiform encephalopathy (BSE) risk. This change is not expected to have a major impact on US export volumes, except potentially offal, but will simplify processing logistics for US plants and hence reduce costs.
Since 2014, Taiwan has progressively increased the beef quota for Paraguayan beef and in March this year, the quota restriction was completely removed and a zero-tariff rate granted. Paraguay is working to grow its share in the mid to high-end sector by investing in the development of its chilled beef supply chains into Taiwan.
In the high-end foodservice niche, imports from Japan have made an impact. Japan regained market access to Taiwan in 2017, and by 2019 Taiwan was Japan's third largest export market, taking 630 tonnes swt of high quality beef for the year. Regardless, Australian Wagyu has held its own, with only a temporary dip in demand as the market adjusted to Japanese product availability.
Despite increasing competition and the current challenges of tighter supply, Australia is achieving notable success at the premium end of the market. For instance, MLA recently achieved a breakthrough for Australian beef in the market, with iconic American restaurant chain, Morton's The Steakhouse, now offering Australian Wagyu on menu in Taipei, a 42-year first for the company who had only used US product until now.
For more information on the Taiwan market, refer to MLA's Australian red meat exports to Greater China for detail on trade statistics, or the Greater China Market Snapshot for consumer and competitor insights.
© Meat & Livestock Australia Limited, 2020