Back to

Prices & Markets
Subscribe to Prices & Markets e-newsletter
For in-depth red meat market news, information and analysis.
SIGN UP
How do Australian lamb prices stack up globally?
30 April 2020
Key points:
Australian lamb prices defy global trend.
New Zealand lamb prices expected to find support as supplies tighten.
Strong China import demand beginning to return.
Since the turn of the year, eastern states lamb prices have crashed through the 800¢ and 900¢/kg cwt mark, breaking records and bringing into focus prospective Australian lamb supply. In the coming months, limited domestic supply and encouraged restockers are likely to continue to support prices.
However, with the impact of COVID-19 restrictions creating an uncertain demand outlook, has Australia remained competitive in the global market?
New Zealand
New Zealand lamb prices have fallen below year-ago levels following a sustained decline in recent weeks. AgriHQ reports that high processing costs and demand uncertainty in high-value exports markets have been the predominant driving force, while dry conditions and seasonally high levels of supply have supplemented the price decline. Prices for lamb flaps and forequarters have strengthened in China, as the country begins to show signs of recovery. However, similar for Australian exporters, foodservice closures in the US, the UK and EU remain a challenge.
Lockdown restrictions have eased this week in New Zealand and this will support domestic confidence. Processors are reported to have several weeks with reasonable supply levels ahead, however, supplies are then expected to contract. Typically, New Zealand lamb prices bottom out at this time of year before finding support during the southern hemisphere winter, given the aforementioned supply expectations.
When it comes to the global sheepmeat market, Australia and New Zealand drive supply and account for 70% of global product traded. With an export focus and particularly into high-value markets, historically Australian and New Zealand lamb prices track each other closely. However, at present, a clear disconnect has emerged given domestic influences in Australia. The Australian trade lamb OTH indicator in April has averaged a 22% premium to its New Zealand counterpart.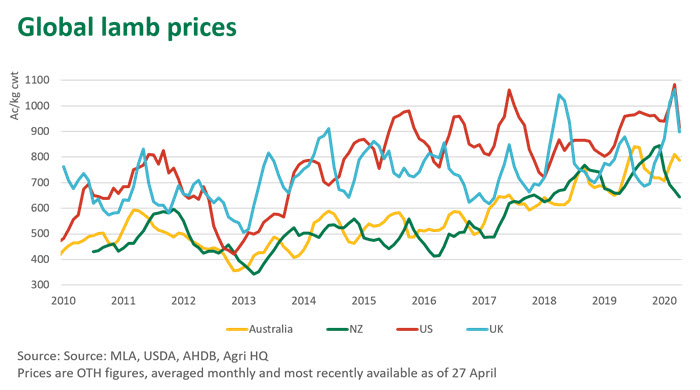 UK
UK lamb prices have eased coming out of Easter, with currency adjustments not enough to offset the decline in Australian dollar terms. Processor throughput has been lower than expected, with demand out of Europe, in particular France, a concern. Foodservice outlets in Europe remain heavily restricted and France is prioritising domestic product over imported animal protein, pressuring demand for UK lamb. Although new season lambs have started entering the market, a reduced number of auctions and demand shortfalls have failed to attract bigger yardings.
Many domestic consumers are reportedly switching to lower quality meats due to financial uncertainty, while foodservice outlets, a major channel for good quality lamb, continue to be affected by social restrictions. Easing restrictions could see lamb sales increase, however, the UK continues to contend with elevated COVID-19 cases.
Looking ahead
Critically, China appears to be emerging from its COVID-19 shutdown, with strong meat import demand beginning to return. This momentum will be critical for both Australia and New Zealand as demand from other international markets remains uncertain. A full-scale return in foodservice demand in the US does not look likely in the short-term. US lamb prices have followed the same trend as the UK and New Zealand, with prices falling on the back on processing concerns and a faltering economy.
In Australia, the progress of winter lamb supply will be pivotal to future price trends. Currently, the Australian lamb market is trending out of step with our main competitor, New Zealand. This largely reflects the improvement in domestic conditions and strong restocker competition, as producers look to rebuild depleted flocks.
© Meat & Livestock Australia Limited, 2020