Back to

Prices & Markets
Subscribe to Prices & Markets e-newsletter
For in-depth red meat market news, information and analysis.
SIGN UP
OTH prices climb higher after rainfall
14 January 2021
Key points:
• Tight supply and improved seasonal conditions push OTH prices higher
• 37¢/kg increase in OTH prices for yearling steers (330–320kg) in NSW
• 17¢/kg the smallest rise in NSW OTH prices, received for MSA yearling heifers.
The over-the-hooks (OTH) prices in NSW rose well above expectations on Tuesday, driven by rainfall over the processing shutdown break that limited the throughput supply of cattle.
The most prominent increases were in yearling and grown steers, particularly in NSW. The yearling steers 300–320kg (0–2 tooth) category experienced a rise of 37¢/kg, while the grown steers 300 to 340kg (0–4 tooth) lifted 35¢/kg.
This lift is correlated to the rainfall that fell over the Christmas period, which has placed downward pressure on the supply of cattle entering processing facilities as producers look to hold onto stock and continue to use the abundance of feed the rain has, or will, provide.
As processing facilities deal with limited supply, the price offered to producers has tracked higher, with the differential between grain and grass-fed prices shrinking.
The spike in OTH prices is indicative of the trend that Australian cattle markets are driven by rainfall, not just at the saleyards but at a processing level, too.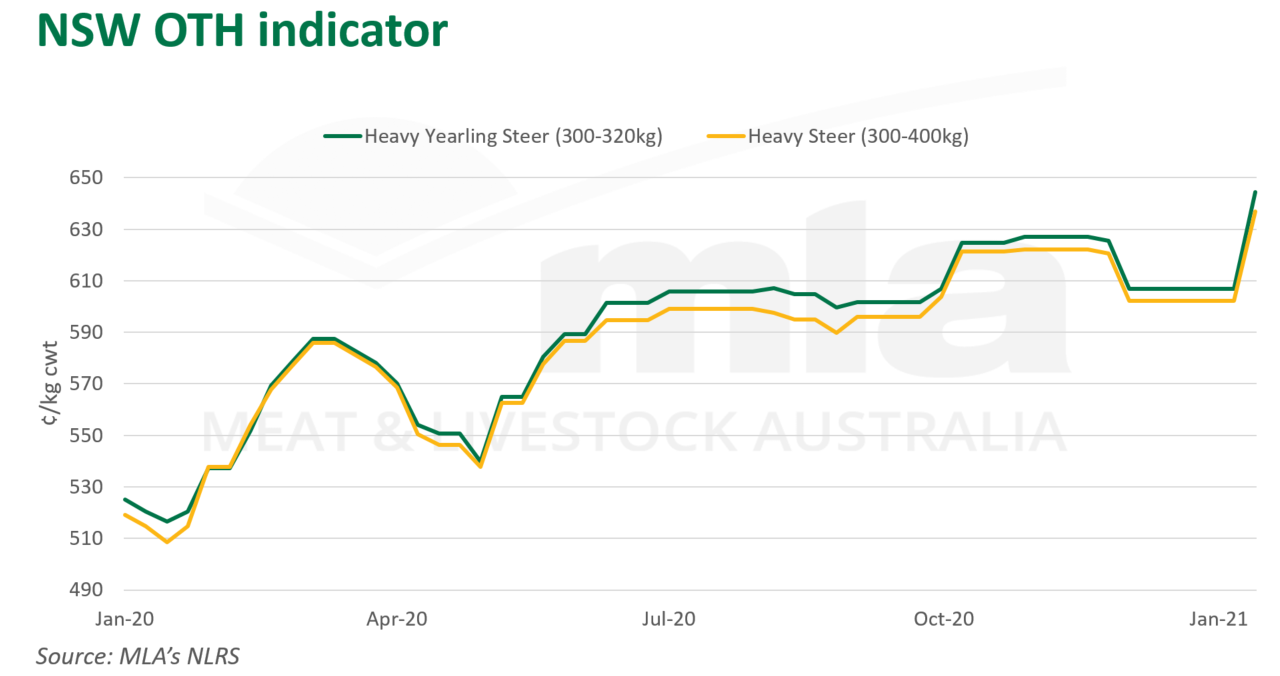 © Meat & Livestock Australia Limited, 2021