Back to

Prices & Markets
Subscribe to The Weekly e-newsletter
For in-depth red meat market news, information and analysis.
SIGN UP
Red meat at risk of global slowdown
Sweeping downgrades to global growth forecasts have been made by various consultancy groups over the last week. After a year mired by trade wars and uncertainty, 2020 was pitched to be a clean slate with brighter growth prospects. The US-China Phase 1 Agreement was seen as the first green shoots of this improved global environment. Initial optimism has switched to mass pessimism as the realities of COVID-19 weigh down the prospects of developed and developing economies alike.
So how may Australian red meat fare in these tumultuous times? Some lessons can be learnt from the impact of the 2008-2009 Global Financial Crisis (GFC) however the beast this time around is vastly different in terms scale, breadth and policy solutions.
Global growth write-downs
While some of the more revered economic forecasts come from institutions like the World Bank and International Monetary Fund, these are often delayed and less frequent. Consultancy groups – such as Fitch Solutions, IHS Markit and the Economist Intelligence Unit, among others – have all weighed in with more current growth projections for 2020 in recent days. The table below contrasts current growth forecasts for 2020 with where they started the year and provides a comparison against the impact from GFC. Clearly, the global economy, and most of Australia's key red meat markets, are facing a significant slowdown or outright recession as a result of Covid-19 disruption.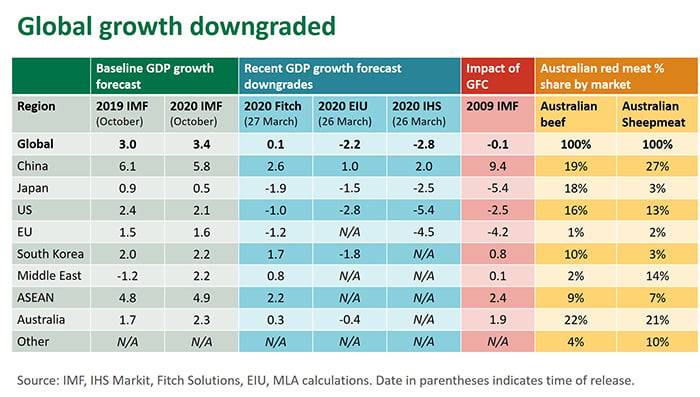 What can be learned from the GFC?
It can be difficult to quantify the impact of macro-economic shocks upon a single red meat category -especially when a broad range of other factors influence prices and trade. However, analysing currency adjusted export prices does reflect a downward shift in demand at the height of the GFC.
As illustrated below, average export prices in the first half of 2019 declined 22% year-on-year for beef, and 5% and 10% for lamb and mutton respectively. Beef export prices, due to their exposure and correlation to the severely hit US market, were impacted by a greater degree than sheepmeat values. While the slowdown triggered by the GFC last multiple years, fantastic Australian rainfall in 2010 and 2011, and the upward pressure from livestock prices, blurred the impact of the prolonged global contraction.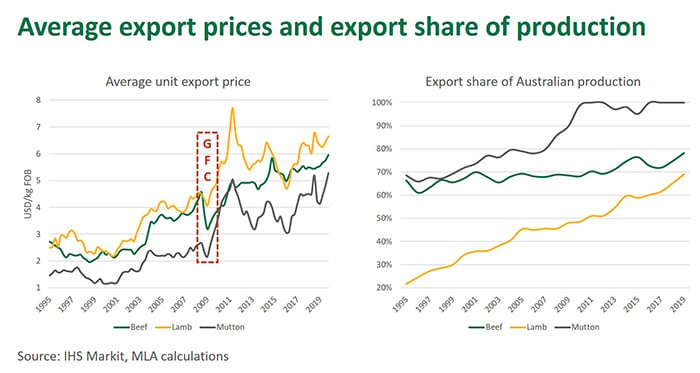 Although the demand impact on Australian red meat was muted and temporary in 2009 that doesn't mean the impact from Covid-19 will pass freely. The nature of the two economic shocks and are vastly different and Australia's reliance on global trade for red meat sales has only increased.
Firstly, the downturn is forecast to be far more severe. The IMF estimate global real GDP declined 0.1% in 2009; some recent forecasts for 2020 have the contraction pegged to be greater than 2%.
Secondly, the contraction in growth in 2020 is impacting both developed and developing economies, notably the addition of China, India and South East Asia this time around. Australia, still the industry's most valuable red meat market, is also pegged to dip into recession after the longest period of uninterrupted growth in history.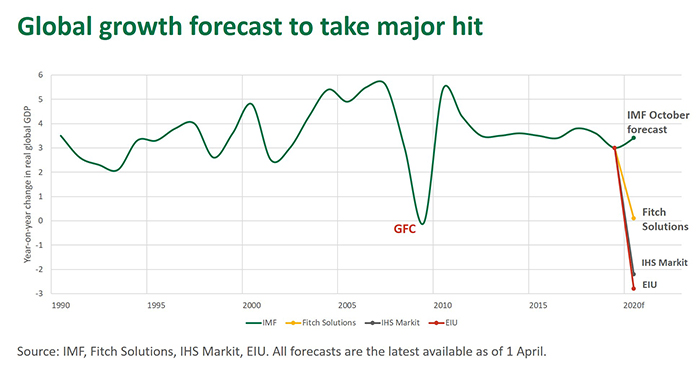 During the GFC, China unleashed a wave of stimulus to ensure the economy ticked over at 9.4% growth in 2009. This time around, China, like many emerging countries, is holding back, burdened with already high debt levels. While March data out of China shows an improvement in industrial production and people returning to work, with a collapse in global demand, China will have reduced export-led growth.
Despite massive stimulus packages announced in the US this week, and big monetary measures anticipated in the EU, most pundits estimate many developed countries will still fall into recession as parts of the economy simply grind to a halt.
Lastly, the recovery from Covid-19 may be slower than the GFC. The risk of reoccurring outbreaks may temper the recovery and the massive fiscal stimulus measures announced to keep business afloat may lead to severe austerity measures in years to come.
Food more sheltered than most sectors
While the impact from covid-19 on Australian red meat demand may be more severe than any economic downturn in recent history, the industry will be more sheltered than most sectors. Primarily, people still need to eat and the surge in retail demand for red meat in the likes of Australia and the US over the last fortnight reflects this appetite.
However, this current slowdown differs from previous recessions given the nature of human interaction and consumption has fundamentally, and in some ways permanently, changed. Foodservice, a critical channel for higher-value beef and lamb cuts, may struggle to return to pre-crisis levels for some time yet. As unemployment rises and household budgets take a hit, many consumers in retail may opt for purchasing more affordable options, such mince instead of steak. The channel and demand shift during this slowdown will continue to make balancing a carcase challenging.
Meanwhile, African Swine Fever remains a critical issue for global protein markets to grapple with. While it has disappeared from headlines, it continues to spread across South East Asia (most recently into PNG) and the massive pork gap it has created in China will continue to bolster global protein markets over the next few years.
The significant markdown in the Australian dollar, currently hovering around 60US¢, is also helping mitigate the price impact from demand uncertainty. This shift in demand is also occurring at a time when Australia's herd and flock are at historical lows, and the forecast contraction in livestock supply over the next couple of years may shelter Australian cattle and sheep prices from global forces.
© Meat & Livestock Australia Limited, 2020