Back to

Prices & Markets
Subscribe to The Weekly e-newsletter
For in-depth red meat market news, information and analysis.
SIGN UP
Brazilian meat processing bracing for COVID impacts
Key points:
US cattle slaughter recovering from May trough.
Daily COVID-19 infection rate in Brazil has risen dramatically over the past two weeks.
Brazilian beef production has slowed, yet exports continue to perform well due to a hungry Chinese market.
Around the globe, countries are at various stages of combatting the COVID-19 pandemic. For global meat supply chains, the impact of reduced processing capacity has been evident across markets and species, as discussed in this recent US update. While US beef production is recovering, other major suppliers, particularly Brazil, are now facing similar difficulties as they attempt to maintain healthy workforces and keep facilities operating.
US beef production improving as processors adopt safety measures
Beef production in the US is recovering after contracting through May, as many plants were forced to temporarily close or slow chain speeds due to COVID-19. Keeping in mind last Monday was the Memorial Day public holiday, US slaughter reached 524,000 head for the week ending 29 May, 19% higher than four-weeks ago but still down 11% on last year. While the US remains in a grim situation, the number of daily new COVID-19 cases is trending downwards. All major beef slaughter plants are now operational, and the improving production figures indicate meat packers are adapting to new safety protocols.
For more detail on the US, please read the weekly US report from Steiner Consulting.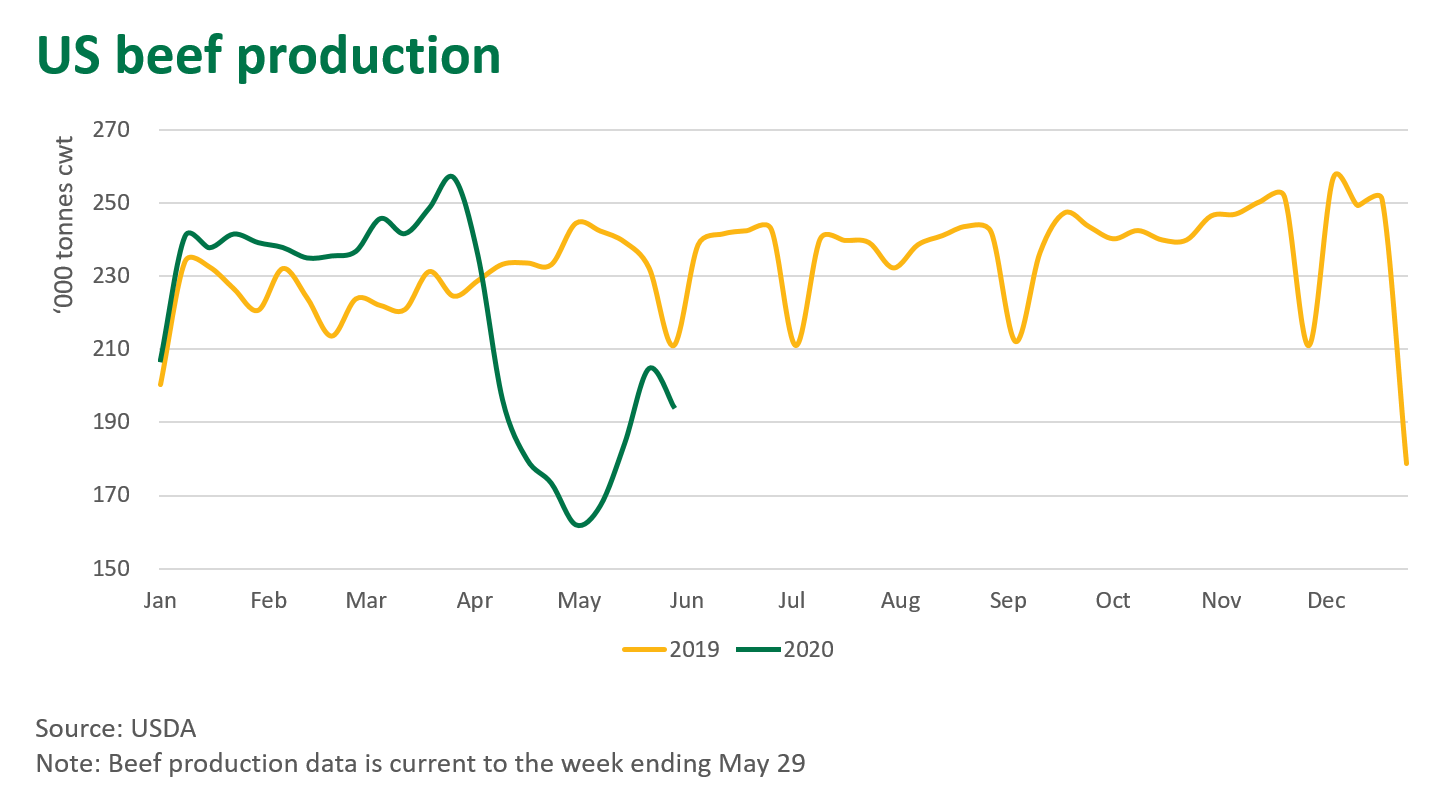 Brazilian COVID-19 cases are on the rise
In contrast to the US, it took until May for COVID-19 to widely spread through Brazil. The Brazilian Minister of Agriculture, Tereza Cristina, stated that Brazilian meat packers have been able to prepare themselves by witnessing developments in the US, allowing them to adapt and tailor their operations in order to give themselves a greater chance of maintaining production levels. As processing plants standardise these new procedures, they will be in a better position to weather the storm. However, many challenges still exist.

The number of daily infections in Brazil has been rising sharply over the past month, peaking at 33,000 on 30 May. Similar to what was seen in the US, as the number of new cases increases, maintaining a well-functioning food supply chain becomes more difficult. While some Brazilian processing plants have closed due to COVID-19 outbreaks, Brazil's meat and poultry industry is not yet facing the degree of disruption seen in the US. However, things could change rapidly if the virus continues to spread. It took the US about seven weeks to get beef production back to near-normal levels and exports are yet to recover.
Brazilian cattle slaughter during the first five months of the year was down by 1.4 million head (or 14%) relative to 2019. While COVID-19 may have closed some plants in April and May, this production slowdown is really the result of a three-year herd liquidation and reduced availability of slaughter cattle. Taking into account the impact of COVID-19, Rabobank have revised their expectations of Brazilian beef production for 2020, now forecasting a 1% decrease, well back from the 3.5% increase projected in December.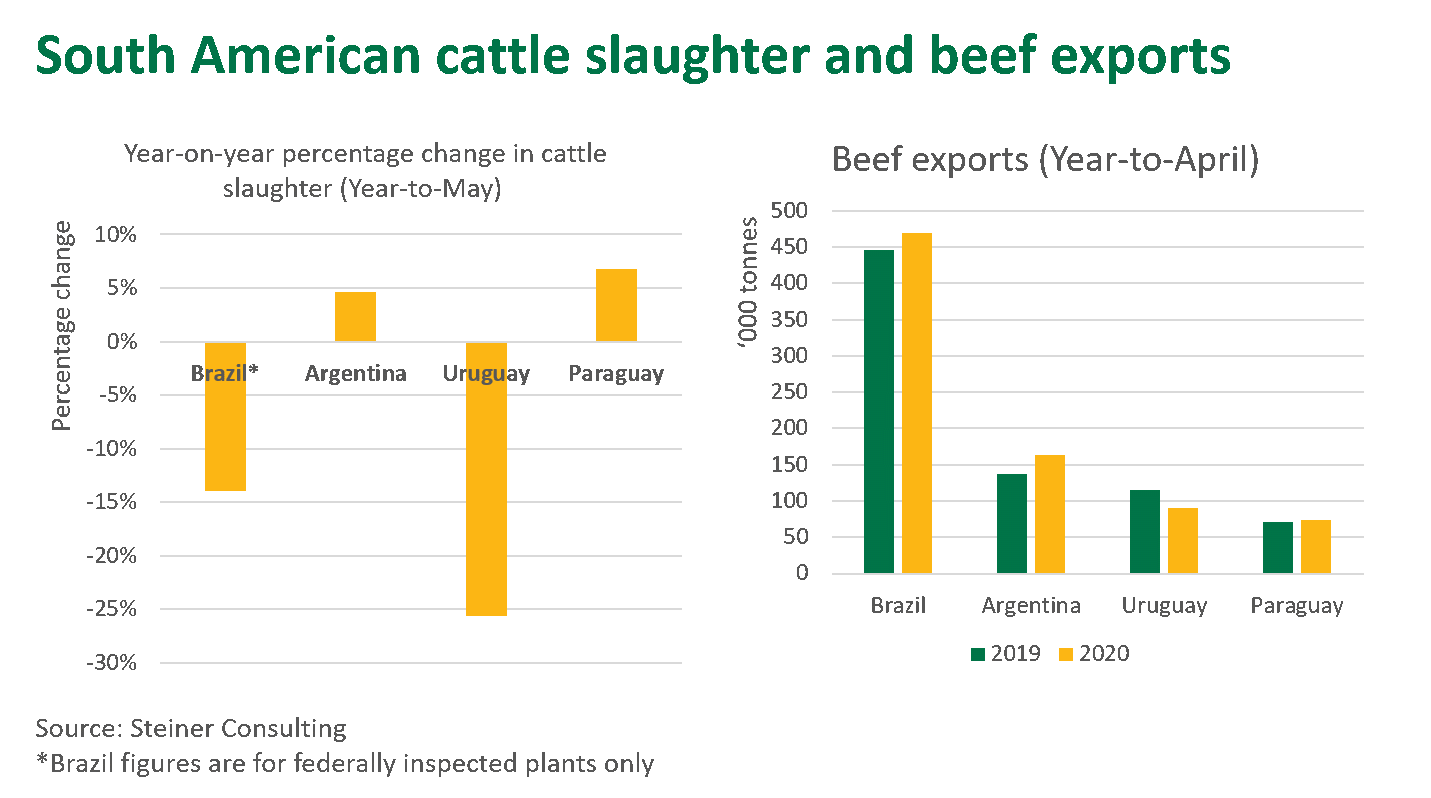 Brazil meat packers have been attempting to balance out meat production by increasing capacity in certain plants, as other operations temporarily close or reduce kills. However, as daily infections continue to rise, it is unlikely Brazil will maintain the traditionally high level of production through the coming month.
Last week a JBS beef plant in Brazil was forced by the state labour prosecutor to close, citing 29 cases of COVID-19 throughout the plant. This closure is expected to last for up to 14 days, or until the company can guarantee the safety of workers. Further instances of plant closures or reduced production capacity are occurring across Brazil, however an industry-wide capacity crunch, like that witnessed in the US, is yet to emerge.
Despite production difficulties, Brazil maintains strong presence in export markets
While Brazil may yet follow a similar supply pattern as seen in the US, the impact on trade may differ. For instance, the US has had robust domestic demand and a strong US dollar, making domestic retail channels more appealing than export markets. On the contrary, Brazilian domestic demand is weak, while the soft value of the Brazilian Real and strong demand from China has favoured exports.
Even though production declined during the first four months, Brazilian beef exports were up 4.5% year-on-year, with shipments to China more than doubling. Initial export figures for May suggest the rate of Brazilian beef exports are yet to slow, with volumes expected to reach 155,000 tonnes swt for the month. Over the year-to-April, Brazil has exported 28% of its beef production, the highest portion since 2007. As a result of this, if Brazilian production declines due to COVID-19 disruptions, the domestic market may bear the brunt of any short-term shortage.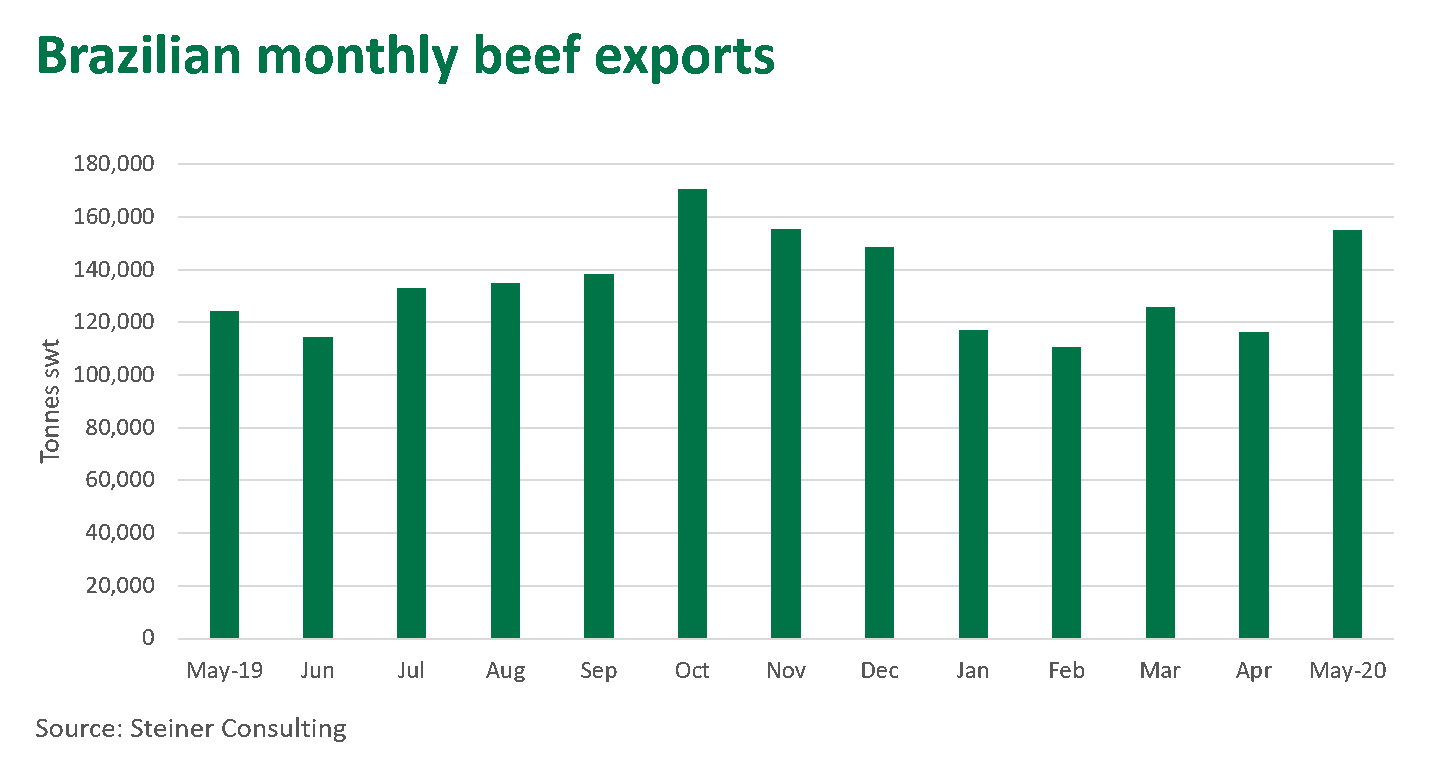 Mixed landscape among other beef suppliers
Slaughter rates in Argentina have actually lifted by 6% relative to 2019 (year-to-April) and beef exports are up 20% over the same period, albeit at a lower price point than last year due to a slowdown in the foodservice sector in Europe. As is the case with Brazil, Argentine beef is very competitive on the global market thanks to a weak currency. The daily number of COVID-19 cases in Argentina has been rising throughout May, however, with the total number of cases sits just over 18,000, far below the levels seen in Brazil.
Cattle slaughter in New Zealand appears to be improving. North Island processing capacity is back to normal, although the South Island still has some further catching up to do. New Zealand appears to be well on the way towards ridding itself of COVID-19 as lockdown measures continue to be rolled back. Reports from Beef and Lamb NZ state that prospects for the rest of the 2019-20 season are positive, supported by strong international demand for red meat led by China.
Indian slaughterhouses have been disrupted heavily by COVID-19, as livestock movements have stopped during the lockdown, which commenced on 25 March. India has exported some frozen buffalo meat over the last couple of months, but this has primarily involved product in cold stores. Parts of the lockdown began easing on Monday, but it is too early to tell how quickly slaughter floors will re-commence processing buffalo.
Even with reduced production levels, South America will continue to have a strong presence within export markets, thanks to weak currencies and lacklustre domestic demand. Meanwhile US beef shipments into North Asia will likely recover in coming weeks. While competitive pressure may ease in some markets, it will likely be temporary.
Look out for a detailed wrap of Australian exports in May in next week's issue of Prices & Markets.
© Meat & Livestock Australia Limited, 2020