Back to

Prices & Markets
Subscribe to Prices & Markets e-newsletter
For in-depth red meat market news, information and analysis.
SIGN UP
Young cattle maintain premium status
10 September 2020
Key points:
The EYCI has maintained a premium over national feeder and heavy steer indicators throughout 2020
Competition between restocker and feeder buyers for young cattle remains robust
National cattle categories remain elevated on year-ago levels
The young cattle market has remained resilient throughout 2020, with the Eastern Young Cattle Indicator (EYCI) moving into record territory multiple times over as restocker and feeder buyers continue to compete for a diminishing pool of young cattle. With the latest BOM outlook forecasting average to above-average rainfall for key cattle producing regions of the country through spring, producers may look to hold onto stock, which could sustain prices in the store market.
Since the start of the year, young cattle have maintained a premium to finished cattle, albeit both are tracking above year-ago levels. On Tuesday 8 September, the EYCI was reported at 767¢/kg carcase weight (cwt), a 15% premium to the national heavy steer indicator, which was reported at 654¢/kg cwt. For the same week last year, heavy steers were trading 14% above the EYCI, a flow-on effect from consecutive drought years which resulted in dwindling finished cattle supplies.
Improved conditions this year have unsurprisingly resulted in greater demand for young cattle, with restockers better positioned to increase stocking rates and feeder buyers rallying for supply to increase backgrounder inventory.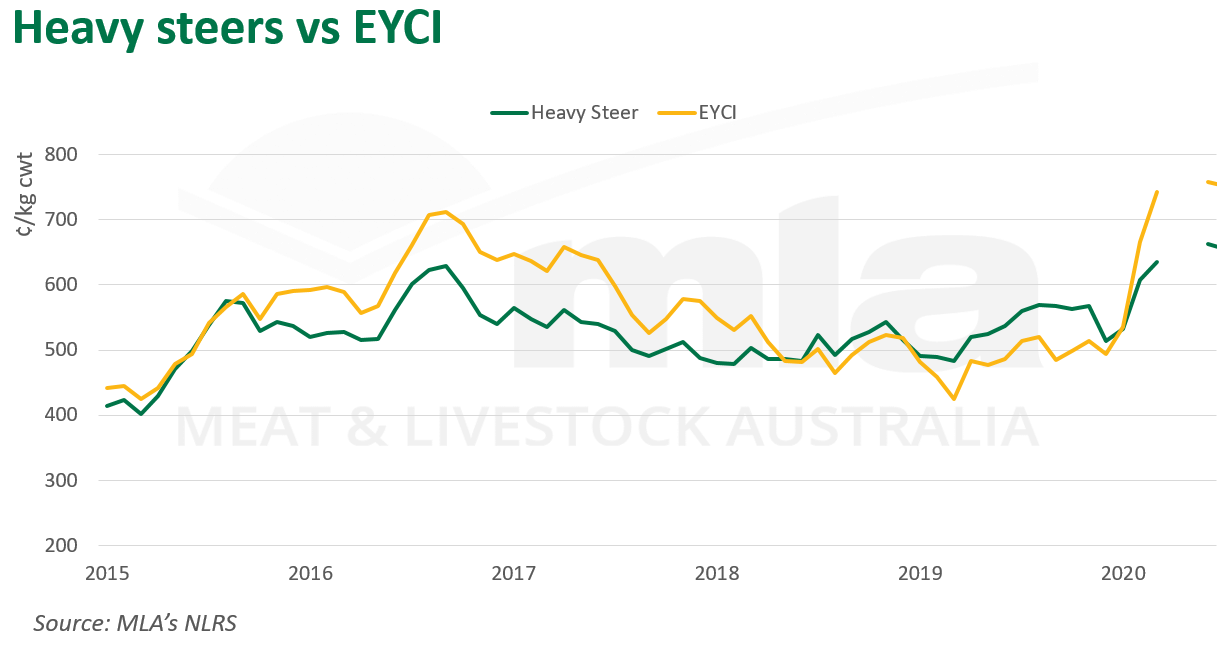 The feeder steer indicator has tracked closer to the EYCI since March, reported at 755¢/kg cwt on Tuesday 8 September, with the spread between the two currently reported at 12¢/kg cwt in favour of the EYCI. This is in contrast to 2019, when feeder buyers traded at an average premium of 48¢ to the EYCI for the year, before restocker buyers entered the market with vigour this year and outbid feeder buyers for EYCI eligible cattle.
Typically, young cattle prices lift in a good season as increased confidence to finish stock on pastures leads to greater retention of young and breeding stock, resulting in larger numbers entering the market at finished weights. While this has been the case in 2020, coinciding factors such as the historically low herd level and improving offshore demand have supported prices across all categories. This week saw the national heavy steer indicator lift to 88¢/kg cwt above year-ago levels while the national feeder steer indicator tracked up 212¢/kg cwt year-on-year.
© Meat & Livestock Australia Limited, 2020