Back to

Prices & Markets
Subscribe to Prices & Markets e-newsletter
For in-depth red meat market news, information and analysis.
SIGN UP
Why is Korea buying more Australian red meat?
10 June 2021
Key points:
Korea has maintained its place as Australia's second largest beef export market for the calendar year to May 2021.
Korea has one the highest per capita beef consumptions in Asia at approximately 13kg per head*, which is forecast to continue to grow.
Sheepmeat is growing in popularity, with chilled lamb exports reaching record highs for the year to May despite ongoing COVID-19 disruptions.
Beef exports to Korea remain firm
Korea is one of the top export markets for Australian red meat. Export value to Korea in 2020 totalled A$1.6 billion, representing 12% of Australia's global red meat export value. Demand for Australian red meat remains firm despite ongoing COVID-19 challenges. Beef exports to Korea for the calendar year to May 2021 grew 2% year-on-year to reach 63,700 tonnes ship swt.
High cattle prices and tight supply in Australia will likely add pressure on trade in the short- to medium-term. However, the long-term outlook for Australian beef exports to Korea remains strong. A steady increase in per capita beef consumption, supply constraints in Korea, improving supply in Australia and Australian beef's favourable position as a trusted, high quality product all support this outlook.
Among imported beef, which accounts for about two-thirds of total beef consumption in Korea, Australian beef is considered the most superior meat favoured by many Korean families (Source: MLA Global Consumer Tracker, 2020).
Besides beef, Korea is also one of the top three global export markets for Australian beef offal. In 2020, Australia exported 31,968 tonnes swt of beef offal to Korea, a 2% increase year-on-year. Demand growth is strong, however, Australian beef offal exports to Korea experienced a sharp drop for the 2021 year to May period (down 28% year-on-year), partly due to the enhanced inspection requirements for intestine products introduced recently as part of the government's efforts to maintain food safety.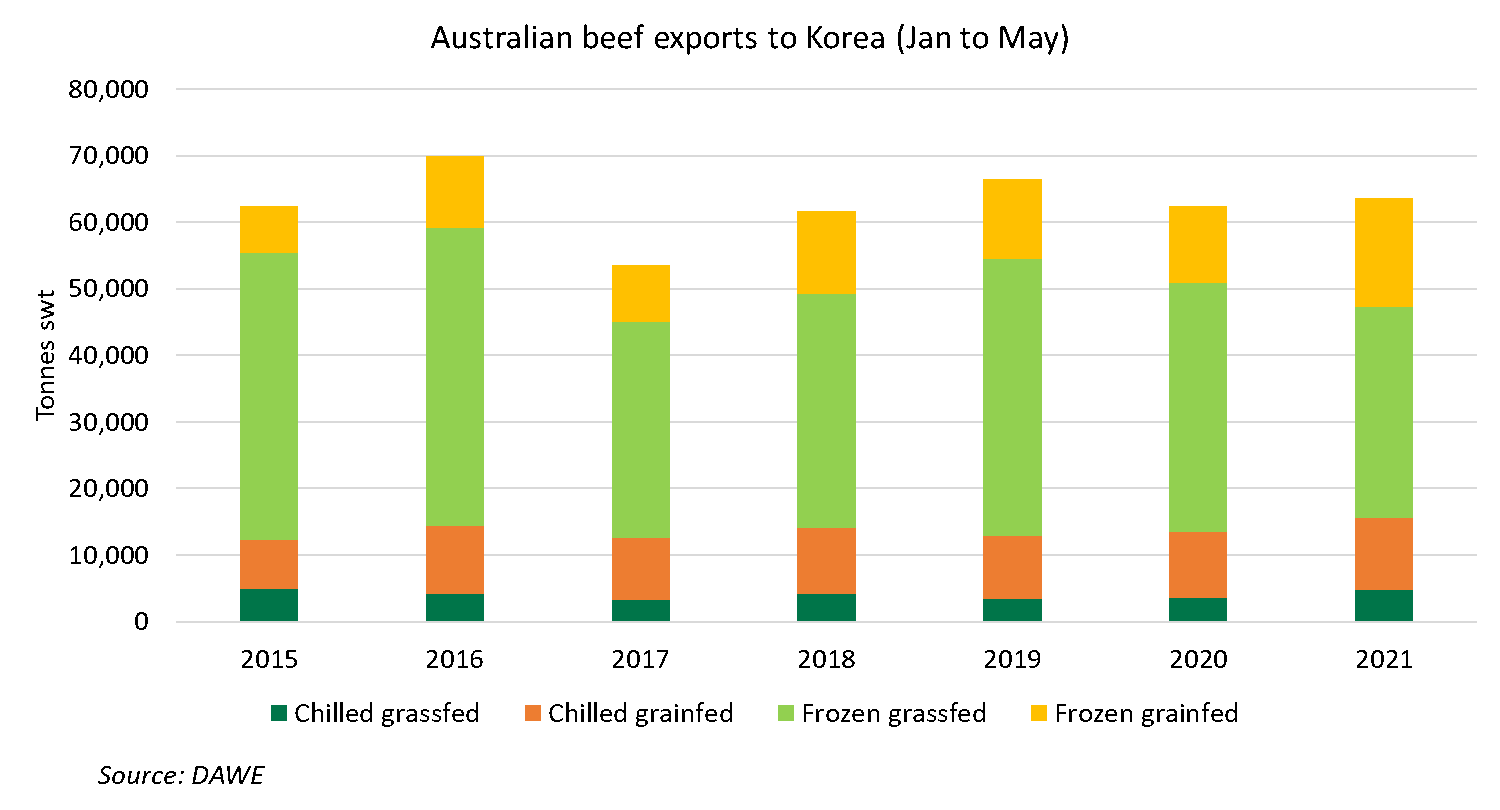 Chilled lamb exports achieve a record high
Sheepmeat exports to Korea for the calendar year to May grew 12% year-on-year to 6,890 tonnes swt, driven by steady growth in chilled lamb exports. Sheepmeat is traditionally a niche protein, unfamiliar to the majority of Korean consumers. However, lamb is gaining traction, amplified by online and offline retail efforts to capture changing consumer lifestyles and interests following the COVID-19 outbreak.
Social gatherings and eating out are important aspects in Koreans' lives. Continuous social distancing measures have resulted in shifts in consumption behaviours. In particular, more consumers are looking for ways to make their life enjoyable as they weather the pandemic, with cooking new food either at home or outdoors on camping occasions a growing trend. This has created an opportunity to grow lamb consumption in Korea through both brick-and-mortar retailers and e-commerce channels.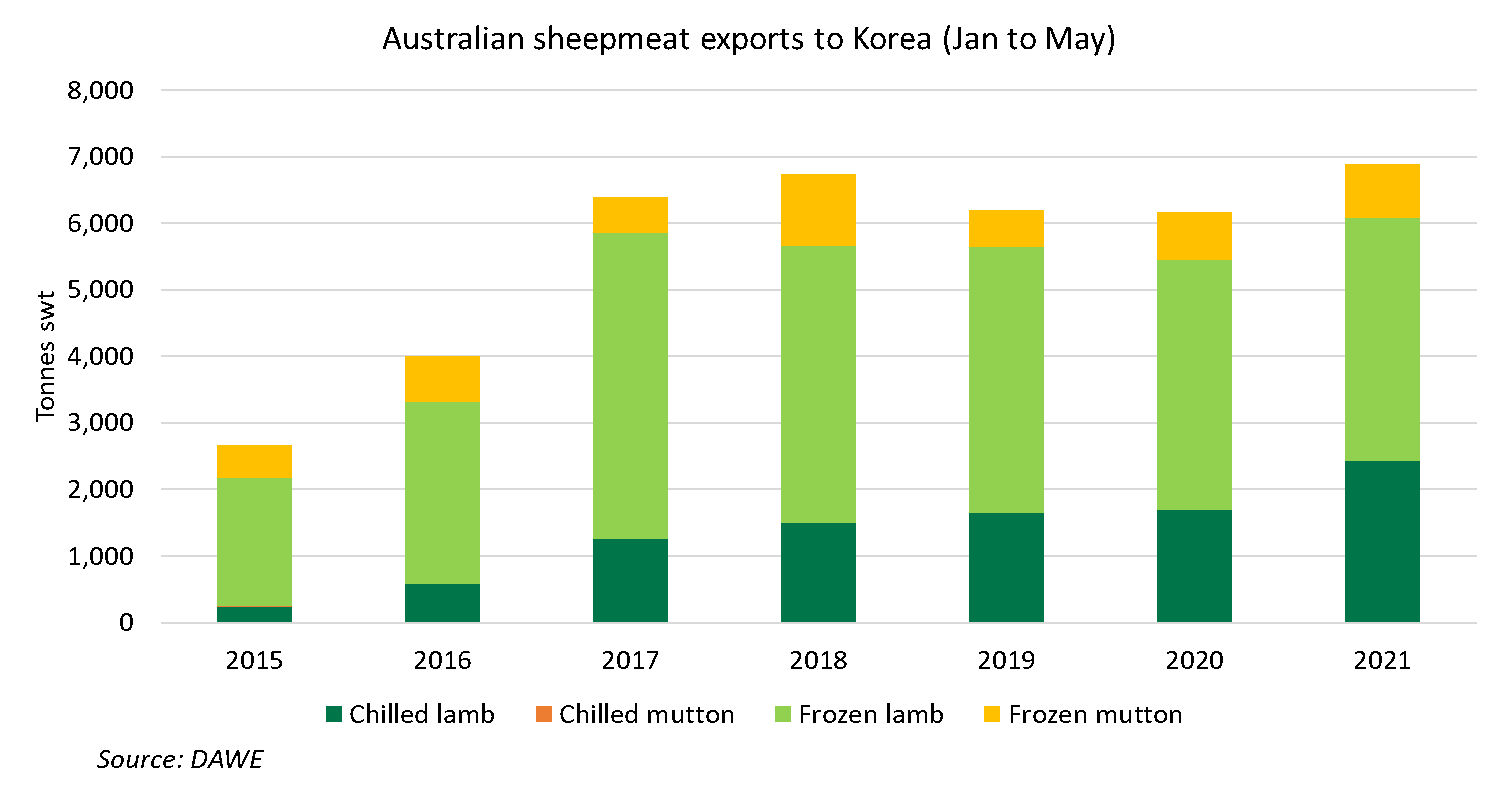 Positive outlook for Korean market despite high livestock prices and tight supply challenges in Australia
COVID-19 has impacted consumers' spending behaviours, with more consumers becoming price-conscious due to economic uncertainty. In a recent survey, about 50% of consumers indicated that price has the greatest influence on their purchasing decisions (Source: Q12021 GlobalData Consumer Survey). However, consumption recovery is underway as consumer sentiment has continued to improve in recent months.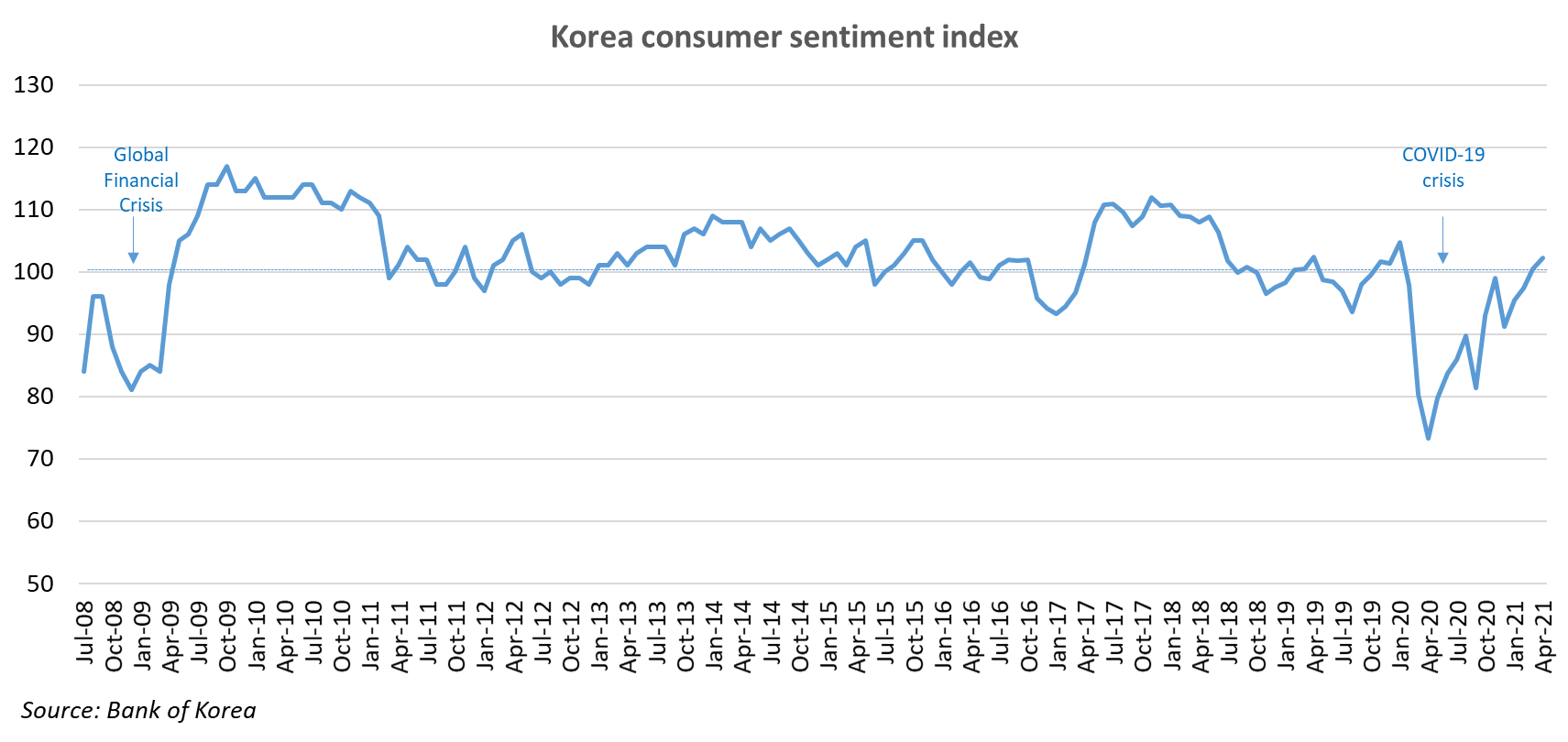 Despite a relatively high number of COVID-19 cases, the vaccine rollout is expected to further lift consumer confidence. More consumers are returning to restaurants or increasing outdoor activities including camping, indicating signs of recovery in foodservice.
Retail sales, including those online, are expected to experience slow growth in the coming months as foodservice recovers. However, this remains a short-term trend following on from a strong growth period so far this year.
*Source: Korea Rural Economic Institute
You can find out more about the Korean market in MLA's Korea market snapshot.
© Meat & Livestock Australia Limited, 2021