Back to

Prices & Markets
Subscribe to Prices & Markets e-newsletter
For in-depth red meat market news, information and analysis.
SIGN UP
Beef slaughter declines over 12 months
27 May 2021
Key points:
Beef production and slaughter continues to fall as the rebuild continues
Carcase weights continued to break new records on the back of greater feed availability and financial incentives
Lamb production and slaughter decreased from December 2020 levels, with carcase weights increasing across all states due to favourable growing conditions
Mutton production and slaughter are significantly reduced due to retention of breeding flocks on-farm.
ABS figures have been released for the March quarter, revealing the key production, slaughter and carcase weight trends for both beef and sheep.
Beef
Beef production has continued to decline since the March quarter in 2020, totalling 443,476 tonnes carcase weight (cwt) for the same quarter in 2021.
Similarly, adult cattle slaughter has declined each quarter since a year ago, currently totalling 1,413,700 head for the March 2021 quarter.
On the other hand, adult carcase weights have surged to record levels, averaging 313.7kg on the back of improved seasonal conditions and greater feed availability. Incentive to add additional kilograms in a rising 2020 and early 2021 cattle market has also led to heavier finishing weights, along with high levels of grainfed turnoff, signalled at 47% according to the ALFA Lot feeding brief (the highest in 20 years).
Higher carcase weights have helped offset the significant decline in slaughter to a degree, evidenced by production not falling at the same rate as slaughter. This trend can be seen below across all wetter seasons highlighted by the gap between slaughter and production.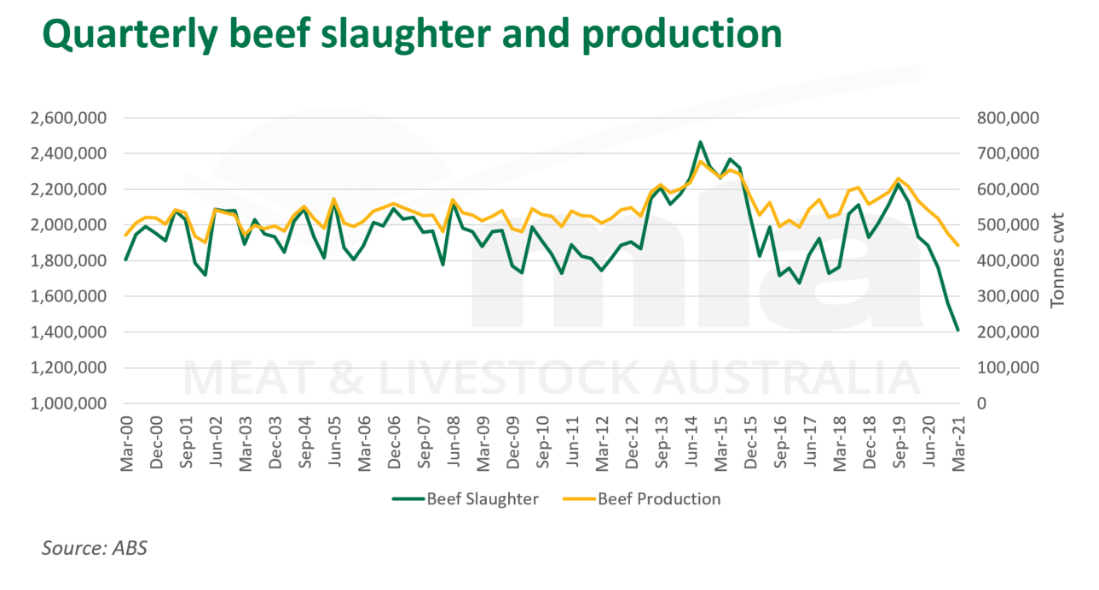 Lamb
Lamb production totalled 120,816 tonnes cwt in the March 2021 quarter, down 5% on December 2020 levels and 9% down from March 2020 levels.
Lamb slaughter followed suit, declining 7% from December 2020 levels and 8% for the March 2020 quarter.
Lamb carcase weights across all states improved on December levels, with the national average carcase achieving 24.6kg, up 0.6kg from the December 2020 quarter and only down 0.2kg on year-ago levels.
Optimal growing conditions for lambs and strong marking rates across key regions have enabled lamb production to hold up relatively well.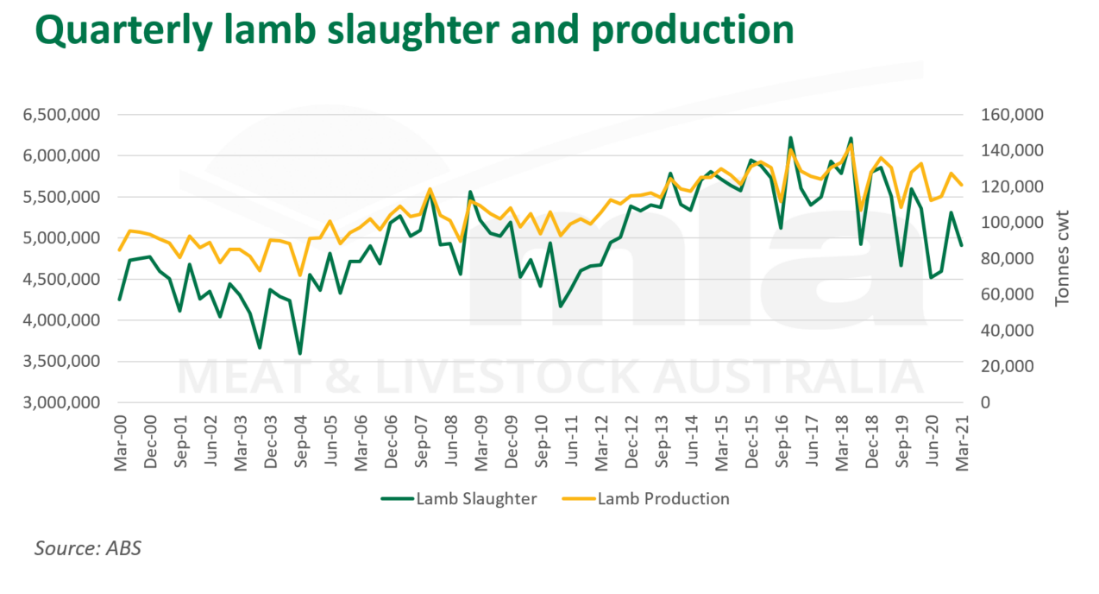 Mutton
Mutton production declined by 16% from the December quarter and 38% on year-ago levels to reach 33,778 tonnes cwt.
Slaughter levels followed suit, declining by 12% from the December quarter and 39% from March 2020 levels to reach 1,356,500 head.
Mutton carcase weights declined by 1.4kg from December 2020 levels, averaging 24.9kg. However, this is an increase of 0.7kg on March 2020 levels.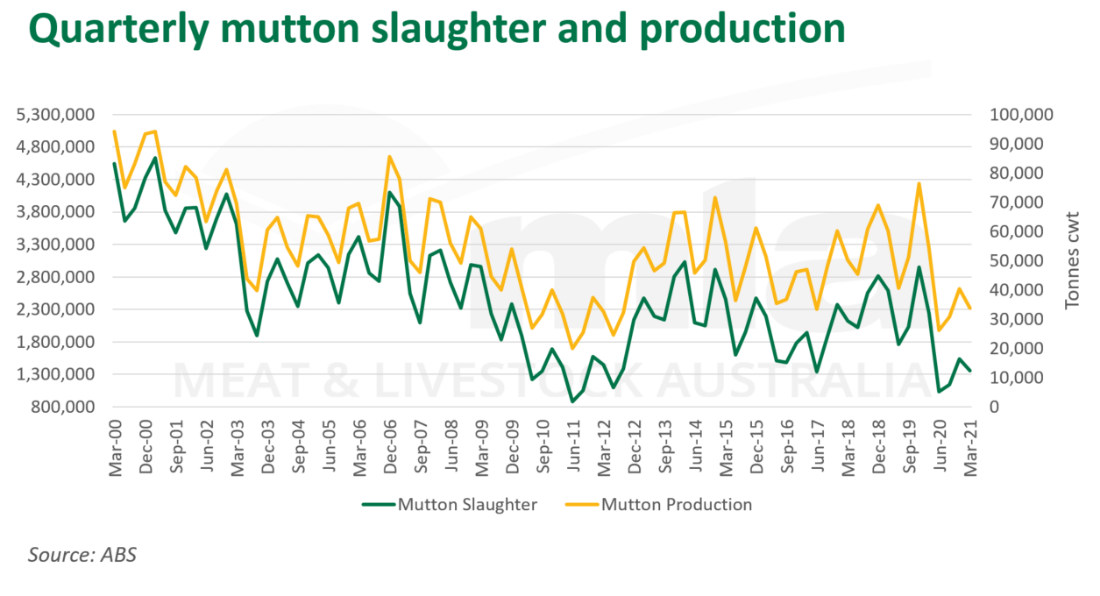 Mutton production continues to dwindle on the back of retention of breeding ewes on-farm to build stronger flock bases.
© Meat & Livestock Australia Limited, 2021