Back to

Prices & Markets
Subscribe to Prices & Markets e-newsletter
For in-depth red meat market news, information and analysis.
SIGN UP
Hope on the horizon for US foodservice
25 March 2021
Key points:
US foodservice industry remains static but outlook for second half of 2021 positive
Retail sales remain largely elevated
Imported US 90CL prices remain above historical average
While the US foodservice industry has been hit particularly hard by the fallout from COVID-19, businesses remain optimistic, with expectations for a rebound in consumer activity in the second half of 2021. In January, survey data from the National Restaurant Association showed that restaurateurs remain positive, with the expectations index sitting at 102.2 points, suggesting growth in the next six months.
Subsidised incomes, elevated hopes from the vaccine rollout and an expected improvement in foodservice demand underpin these positive expectations. Pent up demand appears to be building, with consumer saving rates in the US sitting well above historical levels, certainly creating potential for an increase in consumer activity later in the year if restrictions ease.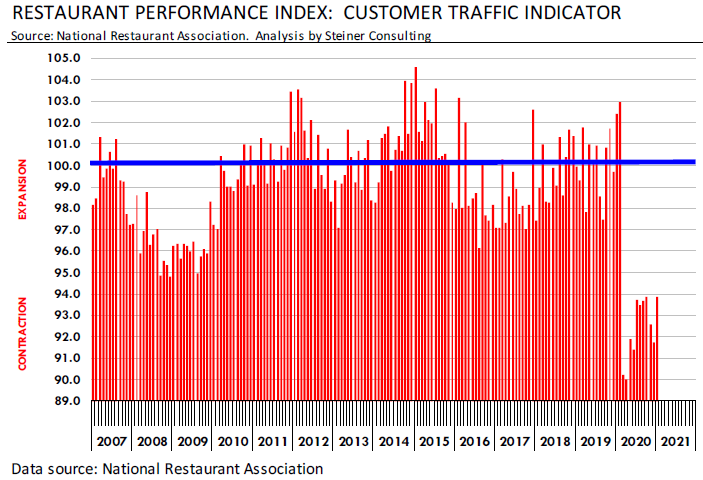 Regardless of expectations, there are still many challenges. Rules regarding capacity and social distancing continue to inhibit the foodservice industry. The manner in which consumers dine out has also changed, with takeaway and delivery options more widely adopted.
Retail sales remain elevated
Grocery sales remain elevated well above year-ago levels, as subsidies and economic aid payments continue to support consumers. In January, COVID-19 economic aid payments lifted 300% relative to December, while wages and salaries in the US, typically a dominant factor in food spending, were up 1.1% from the year earlier (The Bureau of Economic Analysis). These factors coincided with an uptick in grocery sales in January.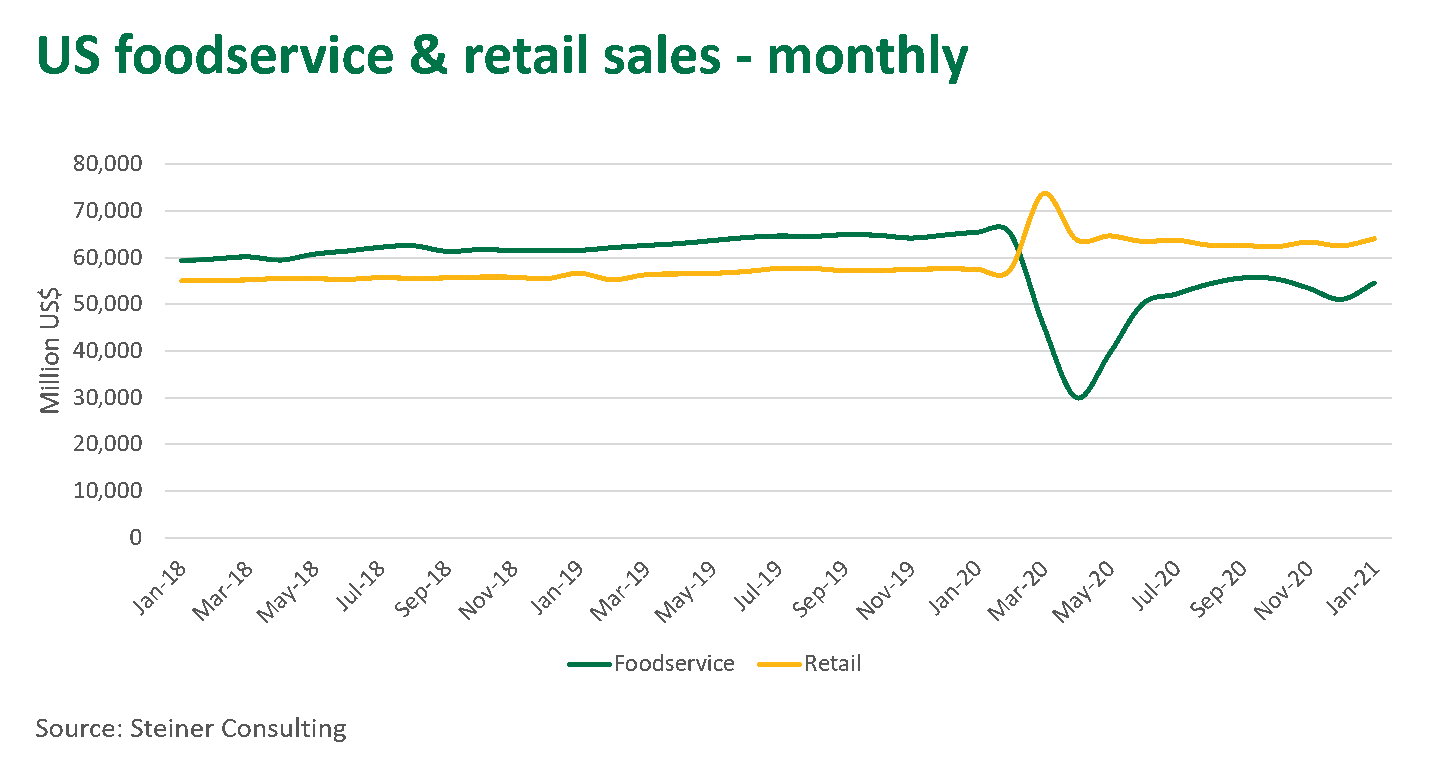 High Australian cattle prices and the strong Australian dollar remain two factors challenging US importers, underpinned by tight Australian cattle supplies. Australian beef exports to the US in February were just 9,800 tonnes shipped weight (swt), a decline of 50% relative to the same month in 2020. This decline is being offset slightly by higher imports of South American beef and, to a lesser extent, Mexican and New Zealand beef.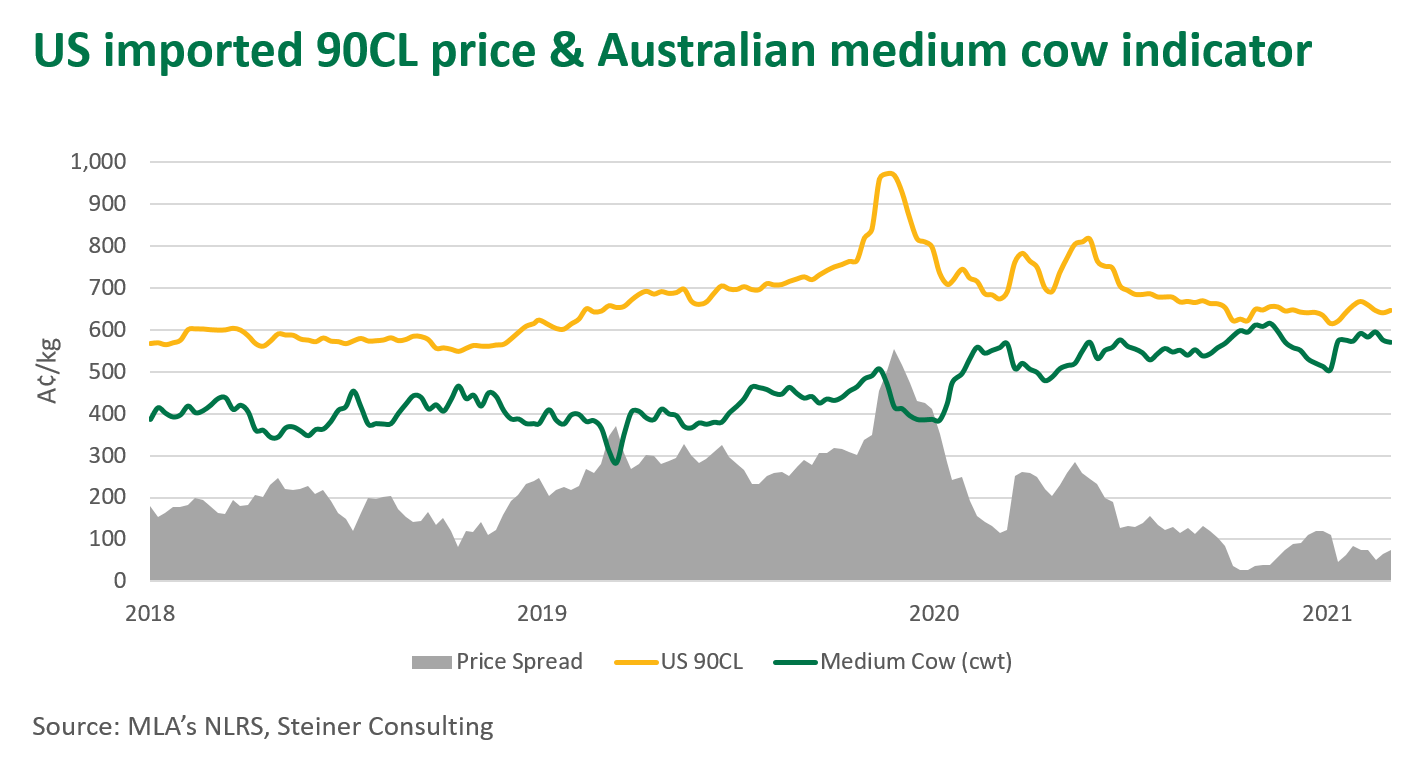 Overall, US demand for meat is looking positive, particularly as the US moves towards summer and the barbequing season nears. For Australia, headwinds remain, with cattle prices near an all-time high, while imported US prices remain down on year-ago levels, which will certainly continue to challenge demand for Australian beef.
For more detail, see this week's US imported beef update, provided by Steiner Consulting.
© Meat & Livestock Australia Limited, 2021