Back to

Prices & Markets
Subscribe to The Weekly e-newsletter
For in-depth red meat market news, information and analysis.
SIGN UP
Value of Australian beef exports falls in 2020
Key points:
Australia trailed Brazil in overall value of beef exports in 2020
Despite the challenges of 2020, South Korea was a high performing market for Australia
Australian red meat exports in January trail recent years, with beef exports sitting at 49,600 tonnes swt for the month
Global export value
Export values for 2020 are now available, with Brazil taking the title of the world's most valuable beef exporter, eclipsing US$7 billion for the year. Incentivised by higher prices, strong gains were made off the back of Brazilian beef being re-directed from the domestic market towards international destinations, largely influenced by China.
Australian beef exports trailed 2019 levels last year, declining 11% to sit at US$6.64 billion for the year. The Australian beef export price grew by 4.5% last year, demonstrating the enduring demand for beef, despite the challenges presented in 2020.
US beef export value contracted by 5% last year, with exports impacted by the waning US dollar through most of the year. US export volumes also tapered, impacted by challenges to the processing industry as the effect of COVID-19 unfolded. However, export volumes in the second half of the year bounced back, with steady volumes likely to continue this year. Interestingly, US trade to China picked up significantly, particularly through the second half of the year, albeit off a low base.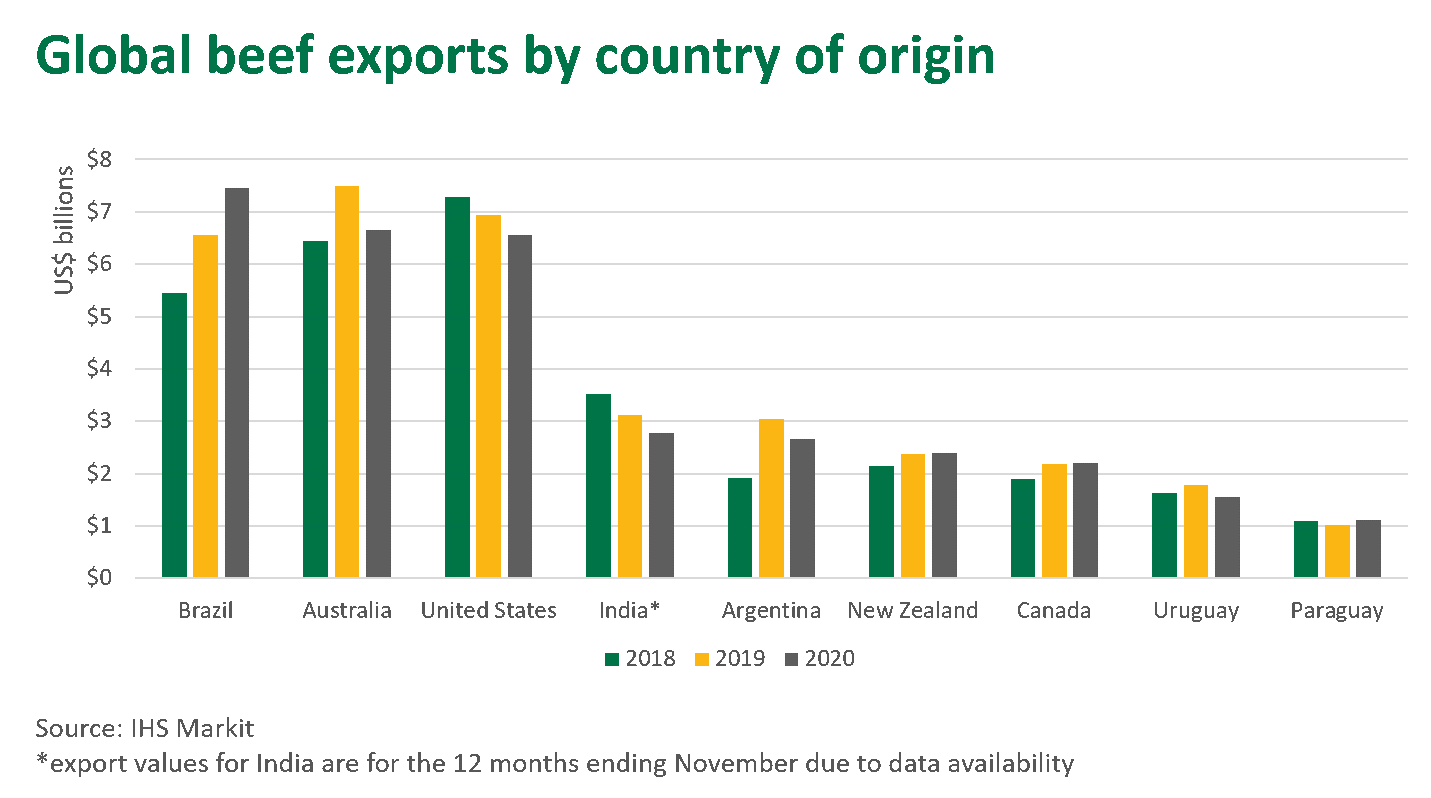 Japan remains Australia's most valuable export market
Last year, international demand held up fairly well despite the spread of COVID-19 and notable challenges to supply. Retail and e-commerce channels supported sales and offset some of the decline within the foodservice industry. Food delivery has certainly proven critical, and has provided much needed support for demand, particularly for the fast food industries in markets such as the US and Japan.
Japan, the US and China were the most valuable markets for beef exports, however, values were down on 2020 by 3%, 7% and 28%, respectively. South Korea was a strong performer, as export value sat even with the year prior. Last year certainly demonstrated that these long-term relationships with key markets, such as Japan, the US and South Korea, creates stability and resistance to unexpected demand shocks.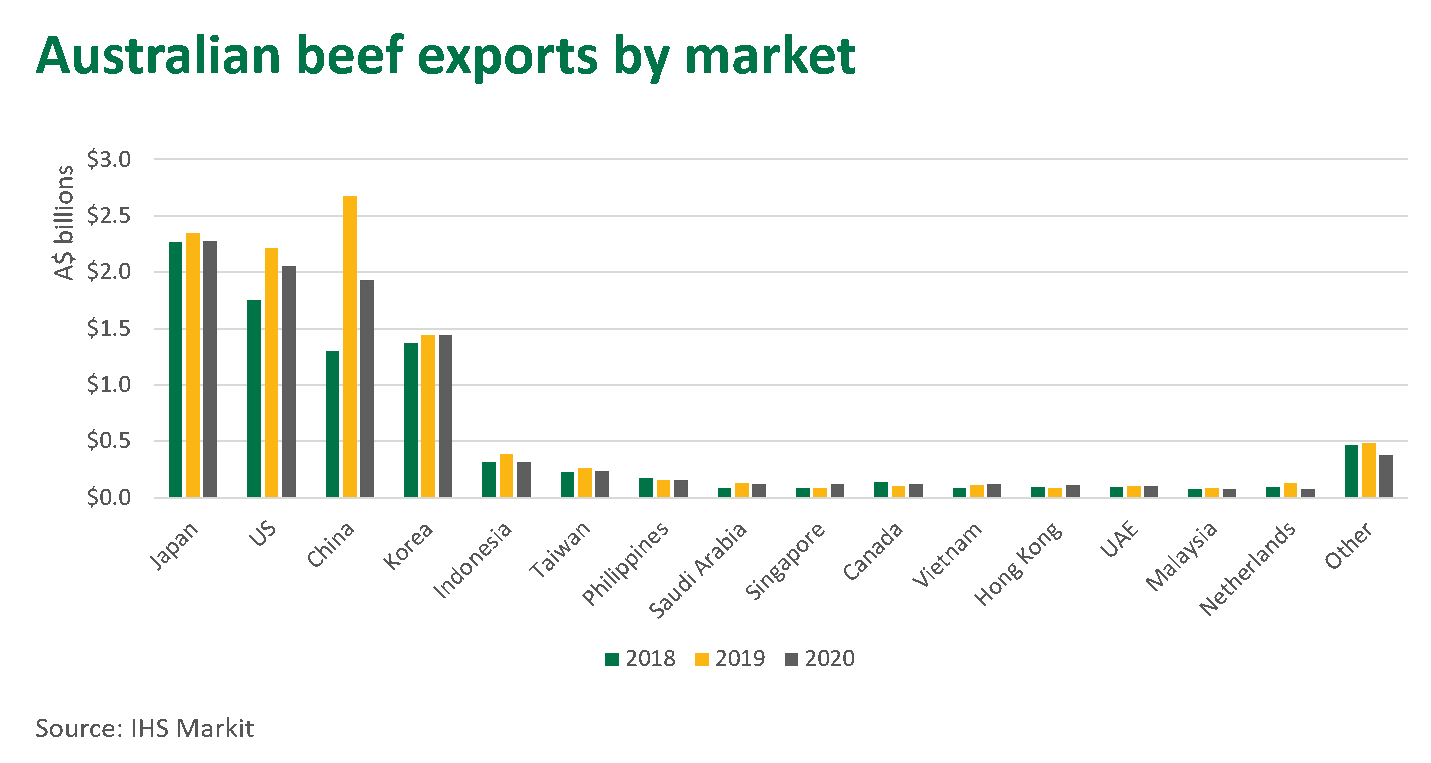 While many markets declined in value relative to 2019, there were a few destinations that showed marked improvements. Singapore, Hong Kong and Canada all grew in terms of overall value, up A$33 million, A$25 million and A$18 million, respectively, on 2020 levels.
While there are some green shoots on the horizon regarding vaccine roll-outs and the eventual recovery of travel and tourism, restrictions and lockdowns across markets continue to affect the dynamics of trade. While hospitality has shown some encouraging signs in certain markets, the timeline for recovery remains blurred and tough to estimate. Supply challenges will also remain a consideration this year.
Regardless of short-term challenges, the long-term fundamentals for demand remain strong, as perceptions of Australian red meat remain positive and global consumption of beef is forecast to continue growing, particularly in developing markets.
2021 exports off to a slow start
Red meat trade has kicked off to a slow start this year, with total beef exports in January just below 50,000 tonnes swt. While January is typically a slower month for trade, with holiday shutdowns affecting processing capacity, this was the smallest month of red meat trade since January 2012. Slaughter levels this month so far have remained subdued, so a similar result could be likely for export volumes in February.
For more information on red meat trade, check out MLA's overseas and market insights page.
© Meat & Livestock Australia Limited, 2021