Weaning
Weaning is a stressful time for calves, lambs and kids, and their dams.
Minimising stress levels around the time of weaning will improve the health of livestock after weaning and will reduce production loss and the potential for injury.
Weaning also helps ensure weaned calves, lambs and kids are less frightened of humans. This is important to reduce subsequent stress during handling and transport, reducing the risk of high pH and dark-cutting meat. Animals that are less frightened of humans also adapt better to periods of drought feeding or to feedlots.
Click here to watch a video on tips for successful yard weaning.
Management strategies to help reduce the stress of weaning
Joining cows, ewes and does to ensure a compressed calving, lambing or kidding to reduce age ranges at weaning.
Maintaining cows, ewes and does in adequate body condition through good nutritional management.
Feeding lambs at least four times with their mothers before weaning (imprint feeding).
Using low stress stock handling.
Selecting paddocks and yards that are securely fenced.
Ensuring high quality pastures are available for both weaners and their mothers.
Keeping calves, lambs and kids out of sight and hearing range of their dams immediately after weaning.
Drafting and managing calves, lambs and kids according to sex, size and behaviour (this reduces bullying behaviour and enables allocation of small calves, lambs and kids to the best pasture and supplementary feed if required).
Ensuring parasite control is adequate.
Early weaning
Early weaning is a management practice that can help improve throughput of calves, lambs and kids. It is also useful during periods of drought and can help in some disease control programs.
Early weaning enables breeding cows, ewes and does to regain condition faster, resulting in higher conception rates at the next joining.
Information on early weaning calves in southern Australia is available in MLA's More Beef from Pastures the producer's manual (Module 6: Weaner throughput). Information on early weaning lambs in available in Making More From Sheep manual (Module 10: Wean more lambs).


Yard weaning calves
Yard weaning calves for 5-7 days is a simple and effective procedure that can increase cattle productivity, especially if cattle will be finished in feedlots.
Weaning is a critical learning time for young cattle. Cattle that are yard weaned are more familiar with stock yards, water troughs, feeding routines and people. Yard weaned calves also have greater social bonds between individuals. While in the yards, individual temperament can be assessed and flighty (shy) cattle can be identified for removal or special treatment.
Yard weaned cattle are also less susceptible to respiratory disease if finished in feedlots.
The MLA Tips & Tools: Yard weaning methods for preparing feeder cattle provides information on yard weaning cattle.
Publications you might find useful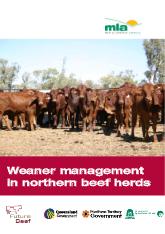 Weaner management in northern beef herds
The emphasis in this book is two-fold: to describe best management practice for feeding and educating weaners; and to promote weaning of young light calves under difficult conditions to reduce mortality and improve fertility in the breeders.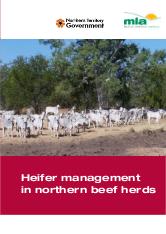 Heifer management in northern beef herds
Heifer management is a short, readable guide to best practice management written for graziers, station managers, head and other stockmen and for students of animal husbandry.

Although the publication has focussed primarily on heifer management in extensive beef herds, the principles have equal application to all beef herds across northern Australia despite any differences in scale of operations, breeds, climatic conditions or pastures types.
Join myMLA today
One username and password for key integrity and information Systems (LPA/NVD, NLIS, MSA & LDL).
A personalised online dashboard that provides news, weather, events and R&D tools relevant to you.
Customised market information and analysis.
Already registered for myMLA?