Back to

Research & Development
Subscribe to MLA's newsletters
Stay informed with the latest red meat and livestock industry news, events, research and marketing.
Sign up
Industry GHG emissions avoidance
What is GHG emissions avoidance?
Greenhouse gas (GHG) emissions avoidance is one of the four key work areas identified in the CN30 Roadmap.
The emissions avoidance work area includes activities aimed at reducing and avoiding carbon dioxide (CO2), methane (CH4) and nitrous oxide (N2O) emissions from grazing, feedlots and processing operations.
Most of these emissions are from enteric methane, which is gas belched out by ruminants as a natural part of the digestion process. Enteric methane emissions represent a loss in energy available for live weight gain.
Key measures of success in 2030
In 2030, success will be measured by:
Feedlot supplements that increase live weight gain by 10% and decrease enteric methane by up to 90% are commercially available and widely adopted by industry.
The use of enteric methane inhibitors in extensive grazing systems increases live weight gain by 5–10% and decreases enteric methane by 35–75% per animal on 40% of the national herd and flock.
More than 40 million hectares of grazing land adopt savanna burning management methods creating more than 10 million carbon credits per year.
25 million hectares of new legume plantings established within ecosystem limits, increasing livestock productivity by 25–30% and reducing emissions intensity by 10–20%.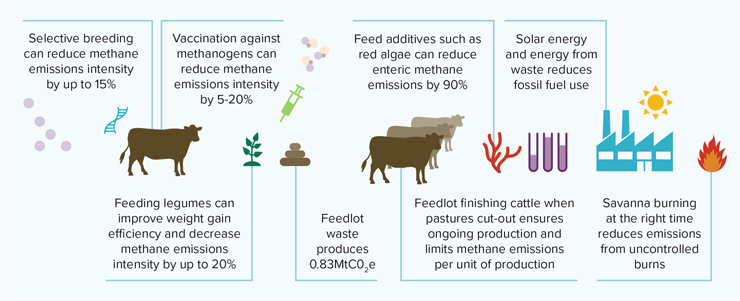 Current activities
MLA in collaboration with industry, government and research partners, is investing in research, development and adoption projects to enable industry to move toward the CN30 target.