Back to

Prices & Markets
Subscribe to Prices & Markets e-newsletter
For in-depth red meat market news, information and analysis.
SIGN UP
Sheep market review: 2018
12 December 2018
Entering 2018, many sheep producers were looking to expand their flocks to take advantage of strong meat and wool prices. However, intentions soon went out the window as an extremely challenging year unfolded. Widespread rainfall deficiencies in south-east Australia, particularly drought-stricken NSW, led to elevated sheep slaughter, poor marking rates and volatile lamb supply.
Fortunately, robust international demand and a falling Australian dollar supported Australian exports and, in turn, domestic saleyard prices. In fact, some indicators rose to record heights, with many destinations around the world continuing to seek out Australia's high quality sheepmeat products.
Lamb market
Lamb slaughter in 2018 experienced both record highs and recent lows as the market had one of its most volatile years on record. After tracking near even with last year through the first quarter, lamb slaughter spiked in the second quarter of 2018 as dry conditions worsened and producers looked to destock. Numbers peaked in May with the highest month of lamb slaughter on record.
However, weekly slaughter began falling rapidly during July, as drought conditions led to a nation-wide delay in the supply of new season lambs. More recently, we have seen some increases in the quantity of new season lambs offered at saleyards in Victoria, however those in NSW remain much more restricted.
Typically, the spring influx of new season lambs corresponds with a general decline in carcase weights. This was the case in 2018; however, the fall was more pronounced than usual, with unusually high numbers of lighter-weight, unfinished lambs presenting for sale. Sub-optimal pasture growth combined with the high cost of stock feeds were the driving factors behind this trend. For 2018, the national average lamb carcase weight is forecast to reach its lowest level since 2015.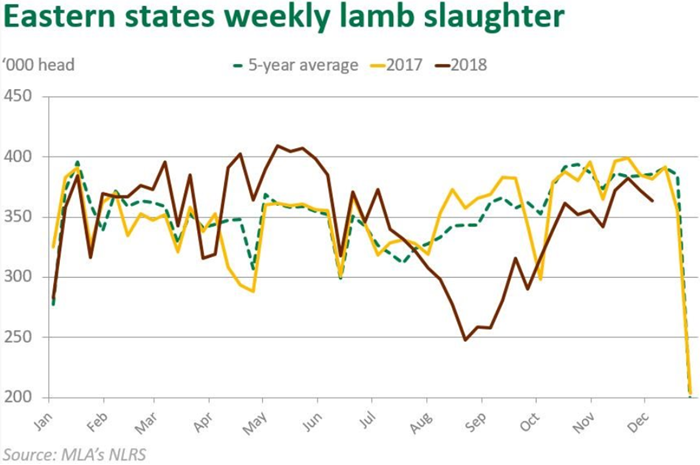 Lamb prices closely mirrored supply, experiencing significant fluctuations throughout 2018. Records were broken in August, as the Eastern States Trade Lamb Indicator smashed through the 800¢/kg carcase weight (cwt) mark for the first time before bouncing between 650–800¢/kg cwt for the last four months. Given the difficulties in achieving weight gains, a supply shortage of finished lambs began to develop during winter. As such, heavy lambs began trading at a premium to trade and restocker categories on a ¢/kg basis in July, and have largely continued to do so since that time.
The trade lamb indicator for year-to-November 2018:
Eastern States – averaged 681¢ – up 9% or 56¢ on 2017
NSW – averaged 682¢ – up 9% or 56¢
Victoria – averaged 684¢ – up 8% or 50¢
SA – averaged 655¢ – up 12% or 69¢
WA – averaged 602¢ – up 4% or 23¢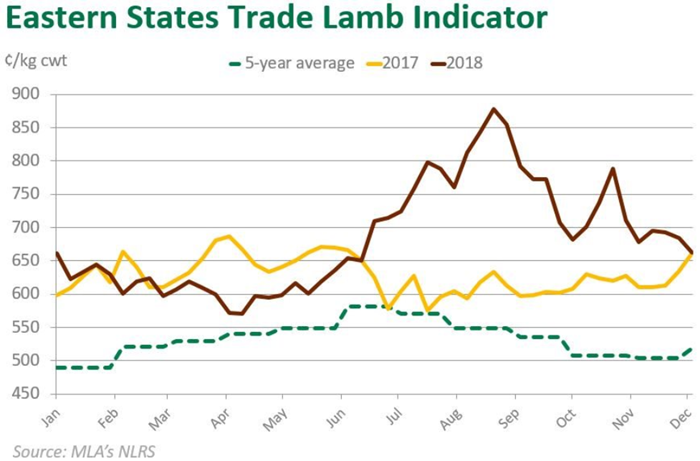 Sheep market
Since April, weekly sheep slaughter has tracked well above 2017 levels, as producers had few options but to reduce their breeding flocks. Despite strong wool prices, the lack of pasture and high feed costs forced many producers to reduce stocking rates and undertake heavy culling programs. Mutton slaughter peaked in August/September, with some processors opting to maintain output by targeting sheep as opposed to competing for under-supplied finished lambs.
Sheep carcase weights also declined in-line with the poor season, running considerably lighter than last year and dipping below the five-year average in recent months. For 2018, the national average sheep carcase weight is forecast to reach its lowest level since 2014.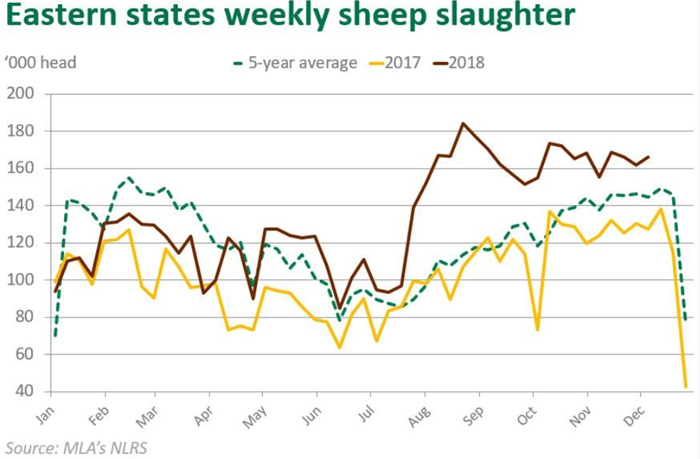 Despite a considerable supply increase, the national mutton indicator has remained surprisingly strong so far in 2018. As of Tuesday 4 December, the national mutton indicator sat 19¢ below year ago levels; however, it remained 103¢/kg cwt above the five-year average.
Not all sheep indicators have performed so well. The supply of lighter ewes increased significantly over winter and began trading at a discount to the major mutton indicator.
The mutton indicator for year-to-November 2018:
National – averaged 442¢ – up 2% or 7¢ on 2017
NSW – averaged 449¢ – up 2% or 7¢
Victoria – averaged 447¢ – down 2% or 8¢
SA – averaged 384¢ – down 2% or 7
WA – averaged 410¢ – up 8% or 29¢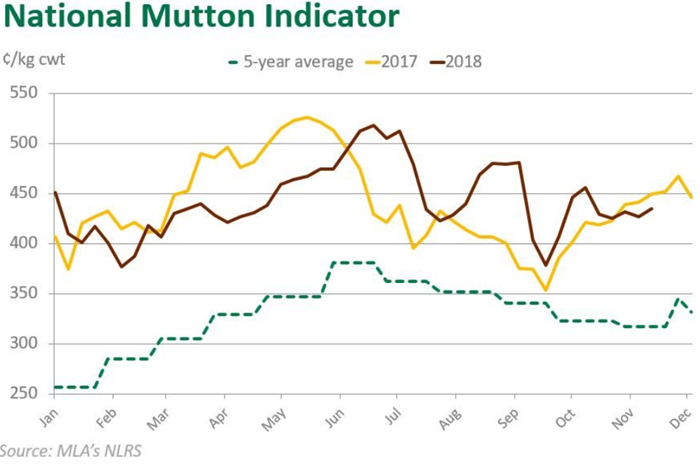 Global market
Strong global demand for Australian sheepmeat, combined with the softer Australian dollar and constrained supplies out of New Zealand, have supported record export volumes and values so far in 2018. While seasonal conditions drove erratic lamb shipments and elevated mutton exports, the world market has been a willing buyer of both.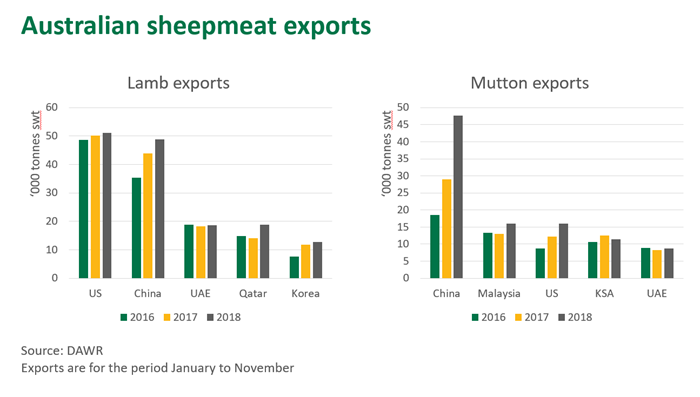 With only one month of data for 2018 yet to come in, Australian lamb exports for the January–November period reached 245,000 tonnes shipped weight (swt). This was 7% above 2017 levels and 14% above the five-year average.
On the back of aforementioned elevated slaughter, Australian mutton exports for the January–November period reached 162,000 tonnes swt. This was 22% higher than the same time last year, and 15% above the five-year average.
Looking ahead
The poor conditions that have marred 2018 will likely have significant impact on sheepmeat supply in 2019. Poor marking rates combined with a significant ewe cull have raised concerns throughout the industry regarding lamb supply for the coming season.
Many producers will be desperate for some more consistent rainfall in the coming year, which would alleviate some of the cost pressures associated with high feed costs. Longer term, a return to better conditions would also allow for some rebuilding of heavily depleted breeding flocks.
Keep an eye out for MLA's 2019 Sheep industry projections in January, which will provide a market outlook, along with insights behind expectations on production, as well as key markets to watch for in the New Year.