Back to

Prices & Markets
Subscribe to Prices & Markets e-newsletter
For in-depth red meat market news, information and analysis.
SIGN UP
Australia's place in the global beef trade
14 February 2019
In recent years, Australia has grown and diversified its beef exports, which are now enjoyed in more than 100 countries around the world. A new report released by MLA highlights Australia's place in the global beef market, accompanying the recently released Cattle Industry Projections and Global agri benchmark Network Results.
Australia's growth and reliance on the global market has been critical to the commercial viability of the Australian industry, particularly at times of expanding production, but also comes with associated risks – such as the health of the global economy, currency fluctuations, market access changes and potential tides of protectionism.
So, where does Australia fit in the global trade?
Australia produces only 3% of global beef production, but accounts for around 17% of world trade and has remained one of the largest exporters for over seven decades. The global beef trade went through rapid change in the 1990s – roughly doubling in the decade to 2005 and almost again in the decade to 2015. Part of the growth in global trade has been facilitated by an expanding production base, but further compounded by an increasing portion of supply being exported: up from 5% in 1960, to more than 15% in recent years. Throughout this period of change, Australia has remained one of the top three largest global beef exporters.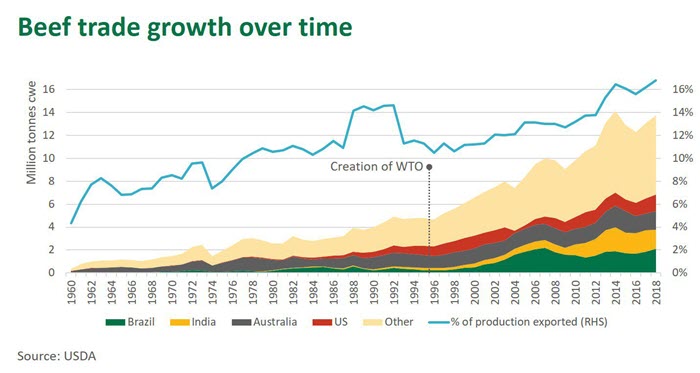 Access to global markets remains critical to the Australian beef industry, providing exporters with the ability to extract maximum value from a carcase by best matching consumer preferences with specific cuts – which is particularly pertinent for offals and other co-products not utilised in the domestic market.
Furthermore, demand for Australian beef is growing in key markets: in developing countries, such as China and Indonesia, consumers are increasing and diversifying meat consumption. In developed countries, such as the US and Japan, consumers are seeking higher quality and more differentiated meat offerings. Australia's diverse production system allows the industry to target a broad range of these differentiated opportunities across markets.
The world has been an eager buyer of Australian beef – underpinned by strong animal health credentials, and world-leading animal traceability and food safety systems. In addition, Australia's exports have become more stable following establishment of the World Trade Organization in 1995, and further bolstered by a series of bilateral Free Trade Agreements, notably with the US, Japan, Korea and China (which account for about three quarters of Australia's exports), as well as newly implemented regional deals, such as the Comprehensive and Progressive Trans-Pacific Partnership.
Beef trade stability under threat
The forces that integrated Australia into the global beef market are being challenged. The rules-based order of trade, administered by the World Trade Organization, is potentially being disrupted by the US administration – with its trade dispute with China remaining (to date) unresolved.
While Australia has yet been directly affected by the protectionist shift in US trade policy, further escalation or an increase in countries subscribing to a similar agenda could hinder Australia's beef exports. In addition, trade troubles come at a time when global economies appear to be weakening.
More so than the other major exporters, Australia remains heavily exposed to these risks. Beef production powerhouses – the US and Brazil, Argentina and India – remain dominated by their domestic markets. New Zealand and Uruguay export a similarly high percentage of production as Australia but have a smaller supply base.
Australian beef's positioning
Targeting a consumer with the ability to afford Australia's beef, providing a compelling value proposition and differentiating from global competitors remains vital. In addition, defending current access, opening further markets and removing non-tariff barriers remain key to facilitating future trade.
The fundamentals of beef consumption growth – rising populations, a swelling middle class in emerging markets and urbanisation – place the Australian industry in a positive position. However, successfully navigating the growing number of risks will be critical to profitability of the industry.
More information: