Back to

Prices & Markets
Subscribe to Prices & Markets e-newsletter
For in-depth red meat market news, information and analysis.
SIGN UP
EYCI price lowest seen since 2015
28 February 2019
The EYCI has continued its recent downward trend, falling to its lowest value since 2015. There has also been an increase in light cattle numbers across eastern saleyards.
On Wednesday, the Eastern Young Cattle Indicator (EYCI) dropped to 437.25¢/kg carcase weight (cwt), the lowest level seen since April 2015. Since the beginning of 2019, the EYCI has fallen 70.75¢ and currently sits 18% below year-ago levels due to the destocking pressure and a broad lack of restocker interest.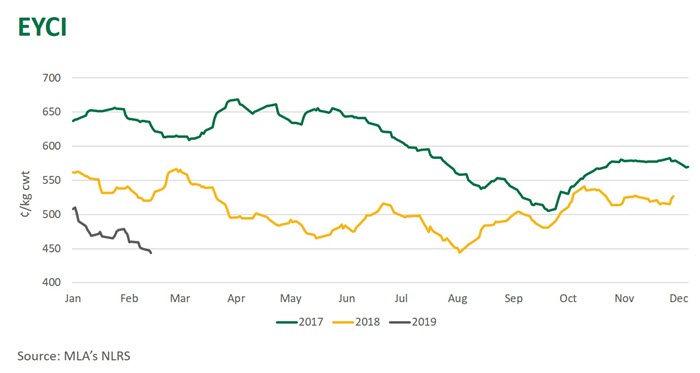 *EYCI eligible cattle are vealer and yearling heifers and steers, C muscle, 2 or 3 fat score, 200kg lwt or greater, from saleyards across Queensland, NSW and Victoria.
A major impact of the current drought has been an increase in the portion of light cattle entering saleyards. By analysing muscle and fat scores for young cattle, the increased numbers of these 'poor conditioned' cattle have been effectively quantified.
For the purposes of the analysis, 'poor conditioned' young cattle include vealer and yearling steers and heifers in either E1, E2, D1 or D2 condition, excluding dairy cattle. EYCI eligible cattle must be in C2 or C3 condition. Using this wider scope paints a clearer picture of what's happening in the market.
Of all young cattle sales in 2017, 5.8% were in the 'poor condition' category and did not meet EYCI eligibility. In 2018, this proportion rose to 15.3% as seasonal conditions deteriorated. This trend has continued into 2019, as 17.7% of young cattle in saleyards covered by the National Livestock Reporting Service have been below EYCI condition specifications.
While the number of poor conditioned cattle has increased, the difference in price between the two sub categories has also widened. In 2017, the average discount between poor conditioned young cattle and EYCI eligible cattle was 47¢/kg cwt. In 2018, the deficit rose to 64¢/kg cwt. So far in 2019, poor conditioned offerings trade on average 98¢/kg cwt below those that fall into the EYCI specification.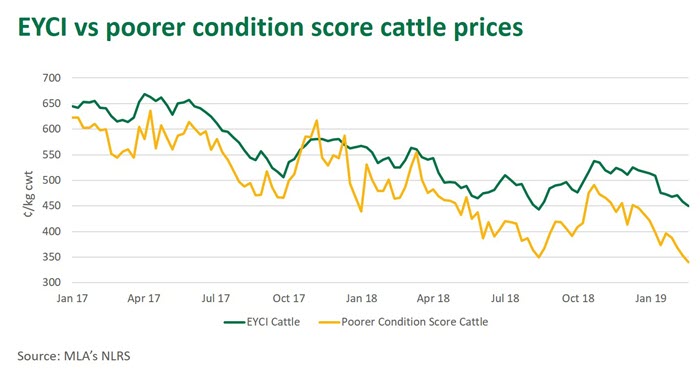 *Poorer condition score cattle are vealer and yearling heifers and steers, D or E muscle, 1 or 2 fat score, 200kg lwt or greater, from saleyards across Queensland, NSW and Victoria.
Despite there being more young cattle falling outside the EYCI category in 2019 compared to 2018 and 2017, the supply of EYCI cattle has remained firm as the young cattle destocking continues and many producers run low on feed and water.
Want market reports and prices tailored to you?
Check out MLA's interactive market information tool.