Back to

Prices & Markets
Subscribe to The Weekly e-newsletter
For in-depth red meat market news, information and analysis.
SIGN UP
COVID-19 crisis sees surge in domestic retail demand
Key points:
consumer uncertainty prompting change in purchasing behaviour
domestic retail demand for red meat remains strong, evolving impact on foodservice
mince and sausage key contributors to recent spikes in fresh meat sales.
As the impact of COVID-19 continues to unfold, this has led to a lot of uncertainty amongst consumers across Australia. Whether concerned over their personal health, job security and finance, these factors are prompting a shift in consumers' usual purchasing behaviour.
In early March, as the Australian government began discussing and introducing movement restrictions, there was a rush on many retail stores with consumers seeking to 'stock-up' on many essential (and not so essential) items.
Overall, Australian grocery experienced unprecedented sales with March 18% higher than the Christmas month in 2019. This change in purchasing behaviour has been evident not just in food but across many different areas, such as home office equipment and exercise equipment, as consumers adjust to a 'lockdown' environment.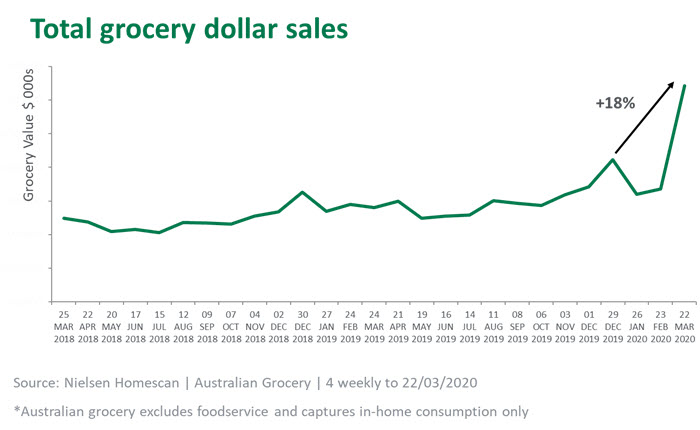 A wide range of products across the supermarket have been impacted with consumer stockpiling, initially seen in household staples such as toilet paper, household cleaning, pet food and dry groceries such as pasta. This has then spread to almost every category across the store, leading to significant growth for a number of categories vs. the same period a year ago (Nielsen Homescan). Many supermarkets across Australia responded by implementing restrictions as to how much of a particular item can be purchased, as well as providing support through initiatives such as dedicated shopping hours for vulnerable groups within the community.
While grocery is currently experiencing strong growth, the domestic foodservice sector has been detrimentally impacted as strict social distancing restrictions take effect (shifts in demand domestic and globally previously discussed here). As a result, many businesses have had to change how they operate, resulting in changes to the workforce including changes in work hours, placing staff on leave or reducing the size of the workforce altogether (ABS).
Strong demand for red meat within supermarkets
Within fresh meat in retail, we have initially seen an uplift both in physical stores, as well as a significant uplift in online grocery sales. While fresh meat online grocery sales grew by 65% in the 4 weeks to end of February, this growth has eased as the supply chain struggles to meet demand (Nielsen Homescan). Butchers have also gained share over this period, in March reaching close to the share of sales experienced at Christmas time.
Over the past four weeks to the end of March, the proportion of households buying fresh beef and lamb in grocery in Australia has increased, as well as an increase in how often they buy it (Nielsen Homescan). As beef mince is such a popular cut (a third of the beef volume purchased by consumers is on mince), it is unsurprising that at peak 'stockpiling' some shoppers experienced challenges finding it available in stores. As highlighted below, both beef mince and beef sausages were leading contributors to the surging fresh meat sales see in the March month combing for almost a quarter of the growth seen.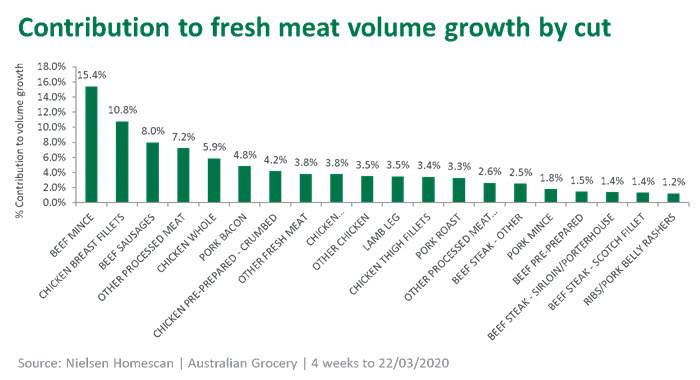 Looking ahead
As many consumers are starting to spend more and more time at home, retail demand for red meat is anticipated to remain strong. This changing environment, however, poses a constant challenge for the retail and foodservice sectors ability to meet and respond to consumer demand. The highly uncertain future impact of COVID-19 means the timeframe for a return to 'normal' purchasing behaviour remains unclear.
© Meat & Livestock Australia Limited, 2020