Back to

Prices & Markets
Subscribe to The Weekly e-newsletter
For in-depth red meat market news, information and analysis.
SIGN UP
Sheep supply challenges hit export markets
Lamb and mutton exports have recorded year-on-year declines over the last four months, reflecting the substantial turn around in seasonal conditions and sharp contraction in slaughter-stock supplies. Mutton shipments, in particular, have come under significant pressure, back 16% for the year-to-date, while lamb exports have also cooled, back 13%.
May shipments came under acute pressure, with mutton exports falling 45% year-on-year to 6,900 tonnes swt, while lamb exports are back 39% at 17,900 tonnes swt. While COVID-19 has caused some disruption to the export market-mix, the decline in shipments principally reflects the short-term limited supply of animals coming through to slaughter. The one Victorian processing plant that had an outbreak of the COVID-19 virus among staff did not create a substantial impact on the state's smallstock processing capacity or on trade volumes.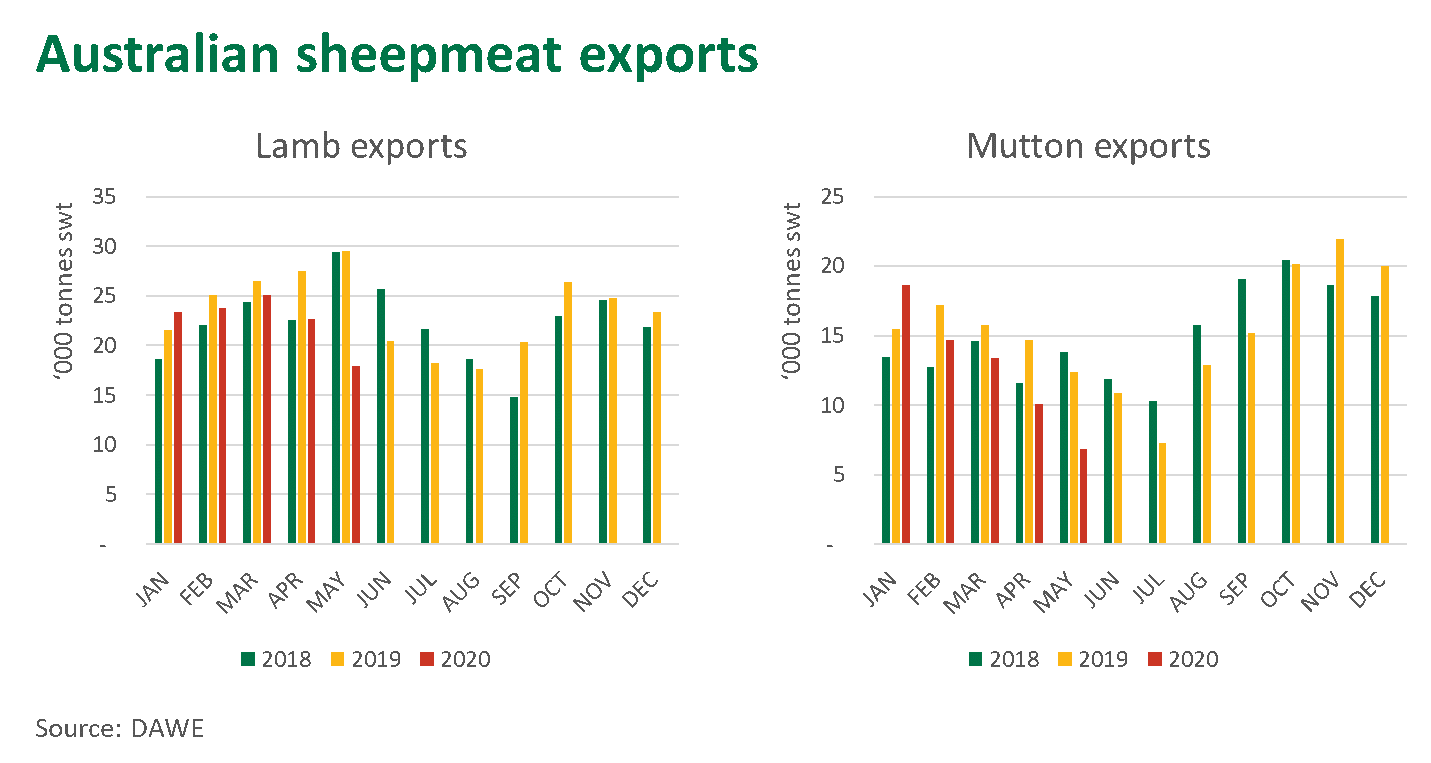 The rest of the year may provide limited improvement to mutton exports, with the recently released Sheep Industry Projections June Update pegging shipments to decline 31% year-on-year in 2020. Meanwhile, the arrival of new season lamb crop and anticipated heavier weights will balance out current shortages, with only a mild contraction in lamb exports expected this year.
Short supply for domestic and export markets has kept pressure on prices, despite an uncertain demand outlook for many markets, particularly those geared towards foodservice. Australia's benchmark lamb and sheep indicators returned last week, with the Eastern States Trade Lamb indicator finishing Wednesday trading at 921 A¢/kg cwt, up 81 A¢/kg cwt year-on-year, and the mutton counterpart at 696 A¢/kg cwt, up 110 A¢/kg cwt. The Western Trade Lamb Indicator, however, finished Wednesday at 804 A¢/kg cwt, back 76 A¢/kg cwt year-on-year, following less favourable seasonal conditions in WA than south-eastern Australia.
Across the Tasman, New Zealand trade lamb prices averaged 631 A¢/kg cwt, back 78 A¢/kg cwt year-on-year. While tightening, New Zealand lamb supply is still following the seasonal norm and prices likely reflect the global uncertainty and disruption from COVID-19 to a greater degree.
Grounded flights hitting Middle East airfreight markets
As reported previously, the grounding of flights has significantly disrupted the Middle Eastern lamb carcase trade, which is dominated by product being freighted in the belly of passenger flights to the Arabian Gulf. While the International Freight Trade Mechanism (IFAM) has kept some product hitting the skies, trade into the region has slowed substantially. In addition, myriad issues are undermining sheepmeat demand across the Middle East, from depressed oil revenue to the downturn in tourism and business travel.
Despite this, not all markets in the Arabian Gulf have been affected equally. Qatar Airways has continued to run flights to and from Australia and has maintained a stable supply of sheepmeat. Air freight sheepmeat into Qatar was up 64% year-on-year in April, bolstered by Ramadan moving forward in the year, while year-to-April volumes are up 25% year-on-year.
In contrast, with a greater reliance on oil revenue and tourism, and the grounding of most Etihad and Emirates Australia-bound legs, trade to the UAE has fared less well. Air freight sheepmeat exports to the UAE collapsed 43% in April and the year-to-April volume is back 12% year-on-year.
Detailed air and sea freight export data is not yet available for May, however aggregated data suggests these diverging trends between markets continued into last month.
Sheepmeat demand from Saudi Arabia has also softened. Taking a lot more sea freight frozen mutton destined for banquets and catering, the trade to Saudi Arabia has more reflected the sharp contraction in certain channels and hit to oil income than the grounding of flights.
US and China vying over reduced pool
Sheepmeat shipments to China held up well following the foodservice demand collapse from COVID-19, but trade volumes have now succumbed to an outright lack of supply. Year-to-date Australian lamb exports to China are steady on 2019 levels but dropped 22% year-on-year in May. Mutton exports to China so far this year have paled in comparison to the strong second half of 2019 and were back 25% year-on-year in May.
As highlighted in the recent Steiner Consulting US Lamb Market Update, US lamb production collapsed in April and early-May amid processing plant closures and chain slowdowns due to COVID-19. However, foodservice demand was also depressed, hindering the opportunity for imported lamb to fill any gaps in the market. Unlike other proteins, many consumers in the US are unfamiliar with or have hesitations to cooking lamb at home, creating limited upside for switching foodservice consumers across to retail channels. US reported imports of Australian lamb in late May were suggesting some improvement in demand, in line with many states reopening economies and reviving foodservice, however widespread protests across many cities may dampen this trend in the short-term.
Australian lamb exports to the US were back 33% in May and are tracking 12% lower year-to-date. While mutton shipments to the US started the year very strongly, they have dwindled over the last four months as supply has been squeezed.
In reality, China and the US take vastly different cuts and the health of both markets is critical in managing carcase balance. Lamb lags, shoulders, shortloins and racks accounted for 56% of Australian exports to the US in 2019. In contrast, breast, flaps and necks accounted for 54% of lamb exports to China. The two major markets do, however, compete to some degree on legs and shoulders. Lamb exports to the Middle East are dominated by carcase trade, which accounted for 76% of lamb shipments in 2019.
With sheepmeat in China heavily skewed to foodservice channels, particularly 'hot-pot', demand from the market will hinge on the continued success of re-opening restaurants and the willingness of consumers to dine-out. In the US, however, Australian lamb is far more evenly spread between foodservice and retail channels, protecting a core part of the trade from changes in dining-out rules.
In the Middle East, the speed at which air-travel resumes in the second half of 2020 will drive particular carcase markets. Fortunately, some markets across the region have recently extended product shelf life, which will facilitate a greater degree of chilled primal sea-freight into some channels in future. In addition, OPEC and Russia agreed over the weekend on oil production cuts, which will bolster oil prices and buttress government revenue across the region while the deal holds. The price of Brent crude is now trading close to a three-month high.
Supply and export volumes over the southern hemisphere winter months will be hard-pressed to increase from current volumes out of Australia or New Zealand. However, while there are glimmers of improvement, the strength of export demand remains the great uncertainty in the current climate.
© Meat & Livestock Australia Limited, 2020