Back to

Prices & Markets
Subscribe to The Weekly e-newsletter
For in-depth red meat market news, information and analysis.
SIGN UP
Middle East demand for sheepmeat softens
Key points:
MENA is experiencing constrained consumer spending driven by economic uncertainty from COVID-19 and low oil prices.
Lower sheepmeat supply out of Australia and increased air freight costs are compounding upward pressure on prices in the region.
The sharp drop in sheepmeat demand by foodservice operators is only partly offset by growth in retail sales.
Upward price pressures coinciding with MENA's peak sheepmeat consumption period
Just as China's COVID-19 lockdown coincided with Chinese New Year, Middle East lockdowns have coincided with Ramadan. Iftar and Suhoor meals during the holy month and Eid al-Fitr celebrating the end of Ramadan on 23 May are normally a peak consumption period for sheepmeat during the year. With lockdowns continuing, social meal gatherings have been curtailed in size and mostly confined to the home, dampening general holiday meat spending.
From late April, COVID-19 infection numbers in several Middle East and North African (MENA*) countries have continued to rise, with several countries re-establishing and extending stricter lockdowns. This has generated a heightened level of public fear across the region that infection spread is not yet sufficiently under control..
Markets in the Middle East are concurrently dealing with the impact of significantly lower global oil prices due to a COVID-19-driven drop in demand. From US$68.91 per barrel on 6 January 2020, the price of Brent Crude Oil collapsed to just US$20.37 on 22 April. While the price has risen somewhat since then, the current outlook for 2020 oil prices is not positive. MLA analysis indicates a relatively strong correlation between oil price and the strength of Australian sheepmeat import demand in the MENA region, particularly for many GCC** countries which are more dependent on oil revenues.
With MENA-10 countries' strong dependence on food imports, a concerted effort has been made to replace cancelled passenger-cargo flights with cargo-only flights to secure food supply, including meat. Indeed, air freight has accounted for an increasing proportion of Australian sheepmeat export volume to the MENA region, tripling from 17% in 2009 to 53% in 2019. However, for the first quarter of 2020, air freight export volumes are down 25% on the same period in 2019, with sea freight marginally up 3%.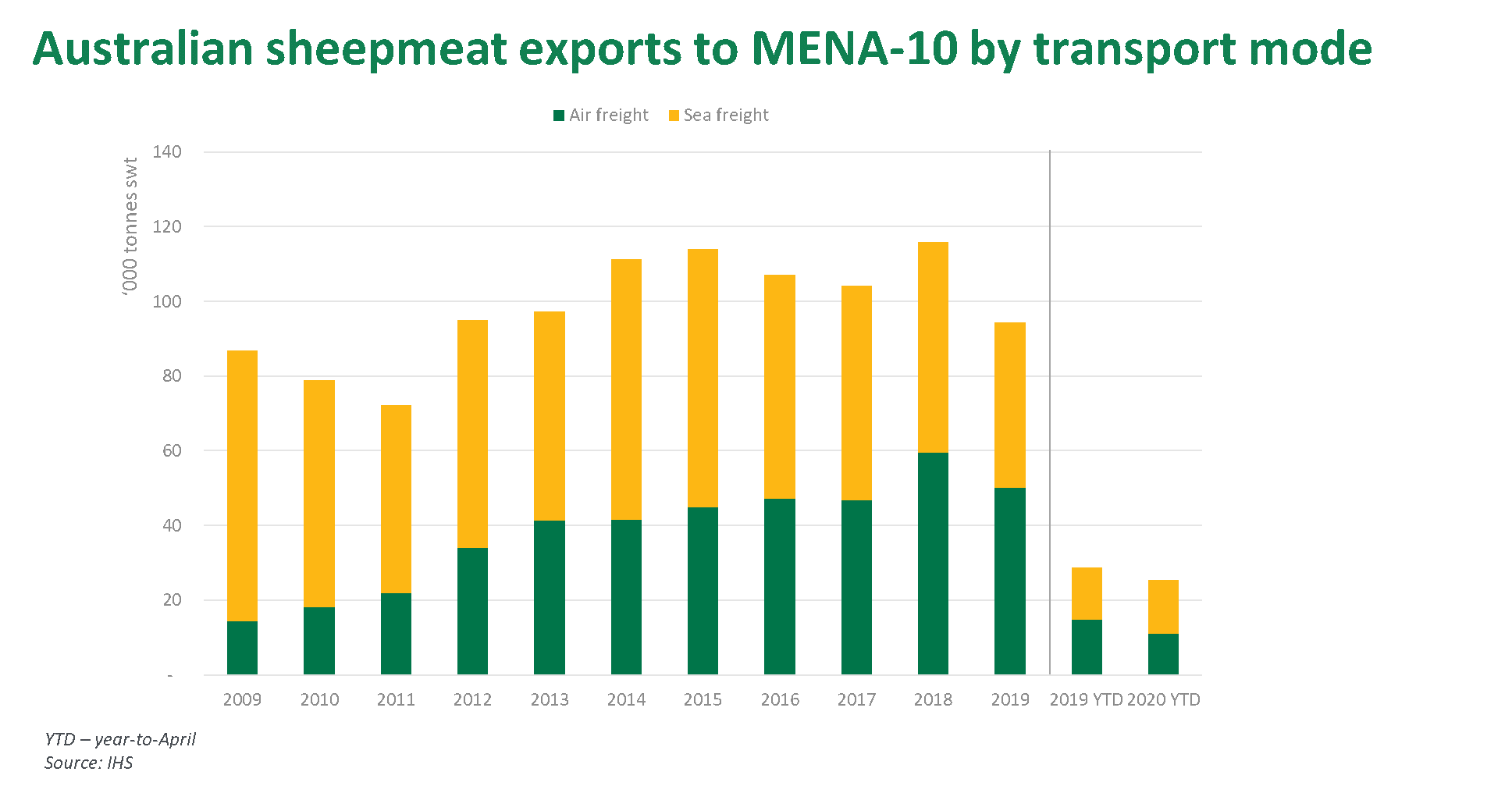 Given increased global air cargo costs in recent months, it is likely that resulting higher food prices, including meat prices, will be passed on to consumers. Increasing food inflation rates across the region in recent months indicate this is already occurring.
While there has been upward price pressure on Australian sheepmeat prices during 2020 due to lower supply, New Zealand has benefited from lower sheep prices and exported larger volumes to Saudi Arabia and Jordan in 2020 so far.
Sheepmeat sales through hotels and independent foodservice hit hard
MLA estimates that just over half of Australian sheepmeat in the MENA region is sold through foodservice channels. With national borders currently shut for all non-essential travel, MENA countries have seen most hotels and restaurants shut for dine-in service. Some operators, particularly at the mid-to-lower end of the sector, have switched to home meal delivery, with consumers in the UAE and Saudi Arabia increasing their occasional use of take-away and meal delivery services.
Some significant international events to be held in the region during 2020 have been either cancelled or postponed, such as the Dubai Expo and the Bahrain and Qatar Grands Prix, along with the expected benefits flowing into the hospitality and tourism industries.. With record-low occupancy rates, hotel foodservice temporarily shut down.
Australian exports to MENA have begun to reflect this weakened foodservice demand, with year-to-April sheepmeat export volumes down 16% on 2019, with shifts apparent from chilled to frozen and from lamb to mutton.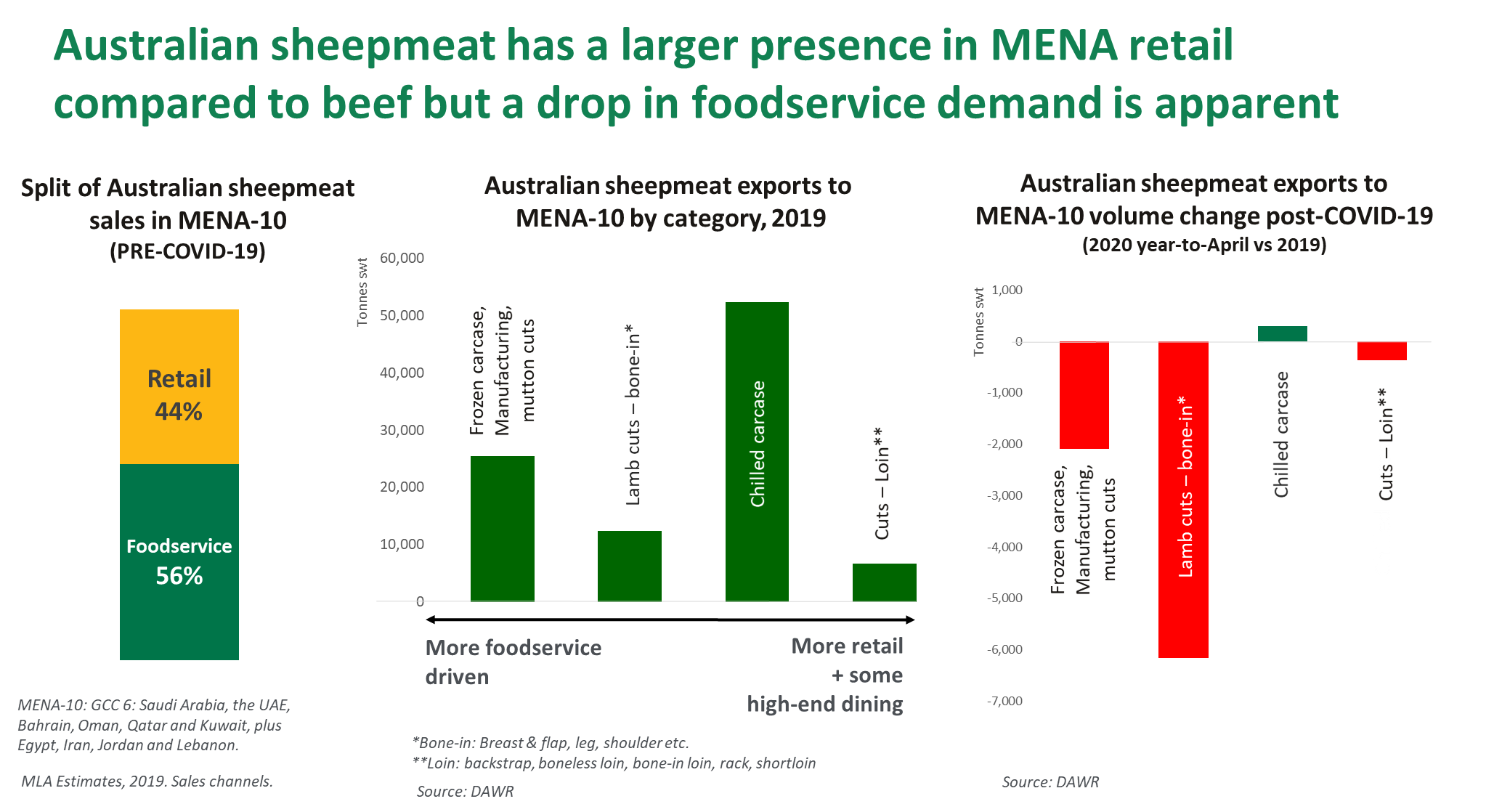 In the UAE restaurants, lounges and bars have been allowed to re-open, with restrictions on opening hours and 30% seating capacity limits, while some hotels are opening up with promotions on short stays for local residents.
Some retail sales growth with consumers eating at home
The slump in red meat sales through foodservice has been partly offset by growth in retail sales, as consumers mostly cook meals at home. Australian sheepmeat has long had a significant presence in retail channels in the region, particularly compared to other markets and compared to Australian beef. MLA estimate that retail sales account for at least half of Australian sheepmeat sales in Qatar, the UAE, Kuwait, Jordan and Bahrain.
As essential services, fresh food stores such as hypermarkets, supermarkets, butchers, livestock markets and public abattoirs have remained open, with enhanced physical distancing and hygiene measures in place.
As elsewhere around the world, home isolation has accelerated both MENA consumers' take-up of online purchasing of groceries including meat, and the use of smartphone apps to purchase livestock for local slaughter by either drive-through pick-up or home delivery.
Looking ahead, Middle East markets will continue to rely heavily on imports, with limited domestic production growth prospects and sheepmeat continuing to play a central role in traditional cuisines and religious festivals. Recent market access gains achieved in the region for Australian red meat are further enhancing Australia's competitiveness. However, as a high-priced protein, sheepmeat import demand is sensitive to economic conditions. The compounding effects of higher global sheepmeat prices, higher air freight costs, lower oil price revenues and continuing COVID-19 lockdowns point to a potentially deeper and longer-lasting impact on customer and consumer demand for Australian sheepmeat and live sheep in Australia's MENA markets for 2020 and possibly beyond.
*MENA refers to the Middle East and North Africa. Australia's main red meat export markets in the region are often referred to as 'MENA-10': the GCC plus Iran, Egypt, Lebanon and Jordan.
**Gulf Cooperation Council (GCC): Saudi Araba, the United Arab Emirates, Kuwait, Qatar, Oman and Bahrain.
© Meat & Livestock Australia Limited, 2020