Back to

Prices & Markets
Subscribe to The Weekly e-newsletter
For in-depth red meat market news, information and analysis.
SIGN UP
Flight groundings squeeze air-freight capacity
One implication from Covid-19 over the last week has been the rolling announcements of airlines grounding passenger flights in response to border closures and a slump in air-travel demand. This is having knock-on effects to air-freight capacity and rates, with implications for the Australian red meat industry.
Last week Qantas announced it would soon ground its entire fleet of international carriers and Singapore Airlines and Cathay Pacific indicated they plan to slash flights to and from Australia over the next two months. This week Emirates and Singapore Airlines (which also includes SilkAir) cancelled all remaining Australia legs (Singapore Airlines indicated this would last through to the end of April but has also cancelled some flights in May).
Between them, these four are the largest carriers of out-bound air-freight from Australia, with Singapore (16.8%), Qantas (9.8%), Emirates (8.5%) and Cathay Pacific (7.2%) accounting for a combined 42.3% of total volume in 2019.
Etihad and Virgin Australia have also grounded international passenger flights this week but, at the time of writing, Qatar Airways was still operating. The Federal Government's announcement on Tuesday to ban Australian citizens from departing the country will place additional pressure on remaining flights in coming weeks.
The disruption of passenger flight schedules and, more recently, the complete grounding of planes is creating havoc for out-bound freight that usually piggy-backs on passenger liners. Air-freight capacity is expected to tighten further through April and into May.
Nationally, Australia still sends the bulk of red meat exports as sea freight – 94.4% of beef, 80.3% of lamb, 96.8% of mutton and 99.9% of goatmeat export value in 2019 – but air-freight is critical in servicing certain markets and customers, which have developed supply chains and marketing channels geared to quick-delivery chilled product. These business models are now facing significant challenges amidst a fast-evolving procurement landscape.
Australian red meat air-freight exports were worth US$823 million in 2019 – more than three times the value recorded in 2009. Sheepmeat, particularly the chilled lamb carcase trade to the Middle East, accounted for almost half of that export revenue.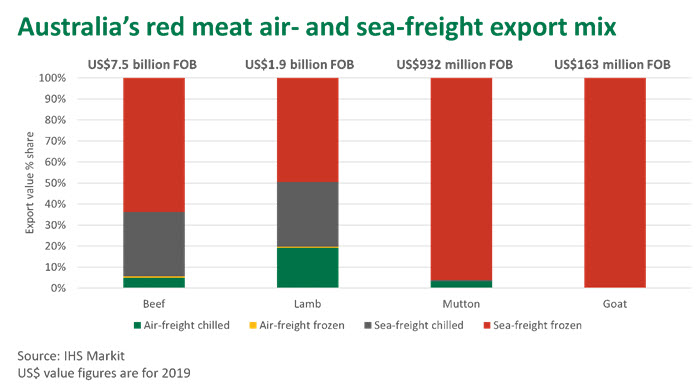 Beef exposure to air-freight shutdown
The US$7.5 billion dollar beef export industry has limited exposure to recent air-freight disruption (this doesn't mean sea-freight is smooth sailing) and the big four markets of China, Japan, the US and Korea are serviced by well-established reefer sea-freight trade. However, Singapore and Hong Kong, two high-value foodservice and retail markets with well-connected airports, are highly vulnerable to flight schedule disruption. Air-freight accounted for 84% and 81% of total chilled Australian beef into Singapore and Hong Kong respectively in 2019 – a trade worth a combined US$85 million.
Other fast-emerging markets in South East Asia are also valuable air-freight markets, with foodservice, hotel and resort customers content to pay a premium for the added flexibility of faster delivery and smaller sized air-freight orders. This logistics challenge may be muted, however, by parallel slowdown in tourism and business travel in these markets due to Covid-19.
In addition, air-freight provides flexibility to supply chains and markets which are normally serviced by sea-freight channels. A top-up air-freight consignment can be a quick solution when a customer is caught short.
Qantas and Singapore Airlines accounted for 88.8% of the Australia-Singapore air-freight volume (all goods) in 2019, so reduced flights from these two carriers will place considerable pressure on air-freight availability to Singapore and product destined for secondary markets that transfer through Changi Airport. Brisbane airport accounted for 56.2% of the air-freight beef trade to Singapore in 2019, while Melbourne airport accounted for 31.3%.
Similarly, Cathay Pacific has reportedly cut all but its Sydney leg to-and-from Australia. The overall capacity reduction will restrict air-freight availability to Hong Kong and, given Melbourne and Brisbane airports accounted for 84.4% of the beef trade to the market last year, the scope to re-route product through Sydney may be limited.
Air-freight critical to servicing Middle East sheepmeat market
As discussed in this 2019 article, the massive expansion in air-traffic through the Arabian gulf over the last decade has unlocked significant export opportunities for Australian sheepmeat in the region.
Middle Eastern consumers have a cultural affinity for sheepmeat but typically have a strong preference for fresh product. Markets in the region also have stringent product shelf-life requirements, posing a logistical challenge for slower chilled sea-freight exports from Australia.
Australia's US$2.8 billion dollar sheepmeat export industry (two-thirds lamb, one-third mutton) is far more reliant on air-freight than the beef sector. And key markets in the Middle East are heavily geared to regular consignments of chilled air-freight sheepmeat.
In particular, air-freight accounted for 99.9% of chilled Australian lamb to Qatar in 2019, 68.3% into the UAE, 98% into Kuwait, 72.4% into Jordan, and 100% of product into Iran. These markets were also supplemented, to varying degrees, with sea-freight frozen lamb and mutton. Combined, the chilled air-freight lamb trade to the Middle East accounted for 44,000 tonnes swt of product, worth US$275 million in 2019 (or 28.9% of combined sea and air-freight chilled lamb exports and 9.7% of overall sheepmeat exports).
The UAE and Qatar are Australia's two biggest air-freight sheepmeat markets and rely on their national carriers for the majority of freight. Other markets in the region rely on transhipment through the Arabian gulf transit hubs. Hence, a slowdown in Emirates, Etihad or Qatar Airways flights will heavily reduce air-freight capacity across the Middle East.
Half of the chilled Australian lamb destined for the Middle East comes out of Melbourne airport, while Perth airport accounts for one quarter, and Sydney and Adelaide pick up the remainder. Hence, the timing of flight cancelations through Melbourne and Perth will be critical for air-freight availability.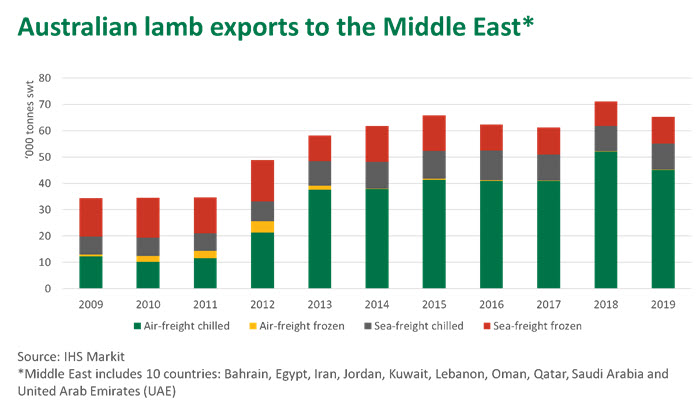 Temporary alternative pathways to market
To continue servicing these air-freight markets, a range of possible options can be considered:
Charter freighter aircraft. While the global fleet of specialised freighter aircraft has been less affected, they will have limited total capacity compared to the grounded fleet of passenger aircraft and come at a far higher cost. Alternatively, with the reduced cost of jet fuel and the growing number of un-utilised planes, chartering converted passenger aircraft just for their cargo space may become viable if the demand-pull is strong enough.
Switch to chilled sea-freight. This is the same manner as to how the vast majority of Australian red meat exports are delivered. However, speed to market and shelf-life requirements (particularly in the Middle East) may limit viability of this option.
Switch customers to frozen sea-freight. This may be viable for some products in the current climate but may not be appealing for premium cuts or retail customers.
In addition, for both chilled and frozen sea-freight there would be a lag in delivering beef or lamb when caught out customers need product now. For the Middle East, even if product was packed this week, it would still take 30-40 days for a sea-freight consignment to arrive. A short-term lamb shortage in these markets will likely emerge. In some Middle Eastern markets, governments may step in a subsidise the increased cost of chartered air-freight but, with oil revenue squeezed across the region, the scope of this may be limited.
The current environment may also encourage some Middle Eastern markets to fast track the approval longer shelf life standards for Australian beef and lamb, aligning with what the UAE have accepted. In recent years, there has been a growing acceptance by foodservice buyers in the Middle East towards purchasing chilled vacuum-packed lamb primals instead of whole carcasses. Presented with the current array of procurement challenges from Covid-19, if this trend were to extend to retail customers it would bring a range of benefits and, particularly, reduce the per kilo freight cost.
As it is unclear how long the current holding-pattern of closed borders and grounded flights will continue, planning and decision-making is difficult. At the same time, the sea-freight trade is experiencing significant disruption, with labour shortages and reports of temporary port shutdowns arising from Covid-19.
While the current disruption to global logistics is unprecedented, Australian red meat exports are based on longstanding business relationships and markets eager to purchase a high quality and trusted product. The Australian industry is committed to servicing the important array of export markets but new partnerships and creative problem-solving will be needed to help resolve these challenging and fluid issues.
© Meat & Livestock Australia Limited, 2020