Back to

Prices & Markets
Subscribe to Prices & Markets e-newsletter
For in-depth red meat market news, information and analysis.
SIGN UP
Red meat exports tighten in July
06 August 2020
Key points:
Total beef exports totalled 88,800 tonnes swt, back 23% on July last year
Beef shipments to China eased sharply for the second month in a row
Sheepmeat exports to the United States performing well
July red meat export figures were released this week, with reduced volumes largely influenced by lower Australian production, increased competition and a strengthening Australian dollar. Beef exports in July totalled 88,786 tonnes shipped weight (swt), down 23% from the same month last year.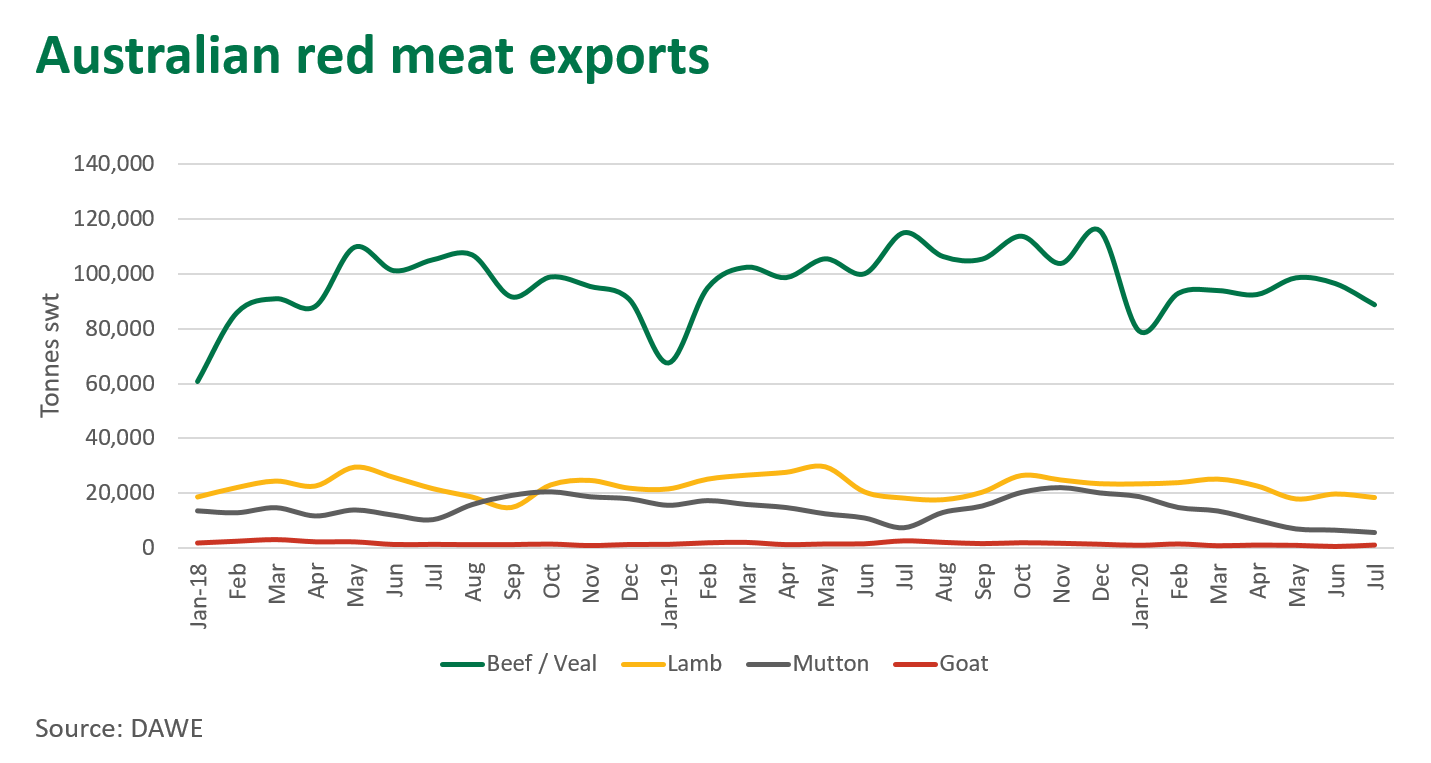 The US was Australia's top destination for beef exports in July, with volumes reaching a steady 23,700 tonnes swt, on par with July 2019 levels. Retail demand remains upbeat, as the spread of COVID-19 continues to complicate the re-opening of foodservice outlets across various states.
Beef shipments to China contracted for the second consecutive month, reaching just 12,500 tonnes swt, half the volume sent in July 2019. Subdued demand from China was influenced by a higher tariff imposed on Australian beef due to reaching the quota safeguard in June, strong competitor presence and the temporary delisting of four Australian plants. The pace of Chinese beef imports is expected to sit below 2019 volumes for the remainder of the year.
July beef exports to Japan were down 24% year-on-year, just shy of 21,000 tonnes swt. Tighter volumes are likely due to a combination of supply and demand factors. Mid-range eateries and hotels are some of the major users of Australian beef, but demand has been reduced due to social distancing rules, shortened business hours and a loss of tourists/business functions. Japan appeared to have combatted the spread of COVID-19, however, through July the number of new daily COVID-19 cases lifted gradually. This is likely to impact the recovery of foodservice channels and subsequently the demand for imported beef.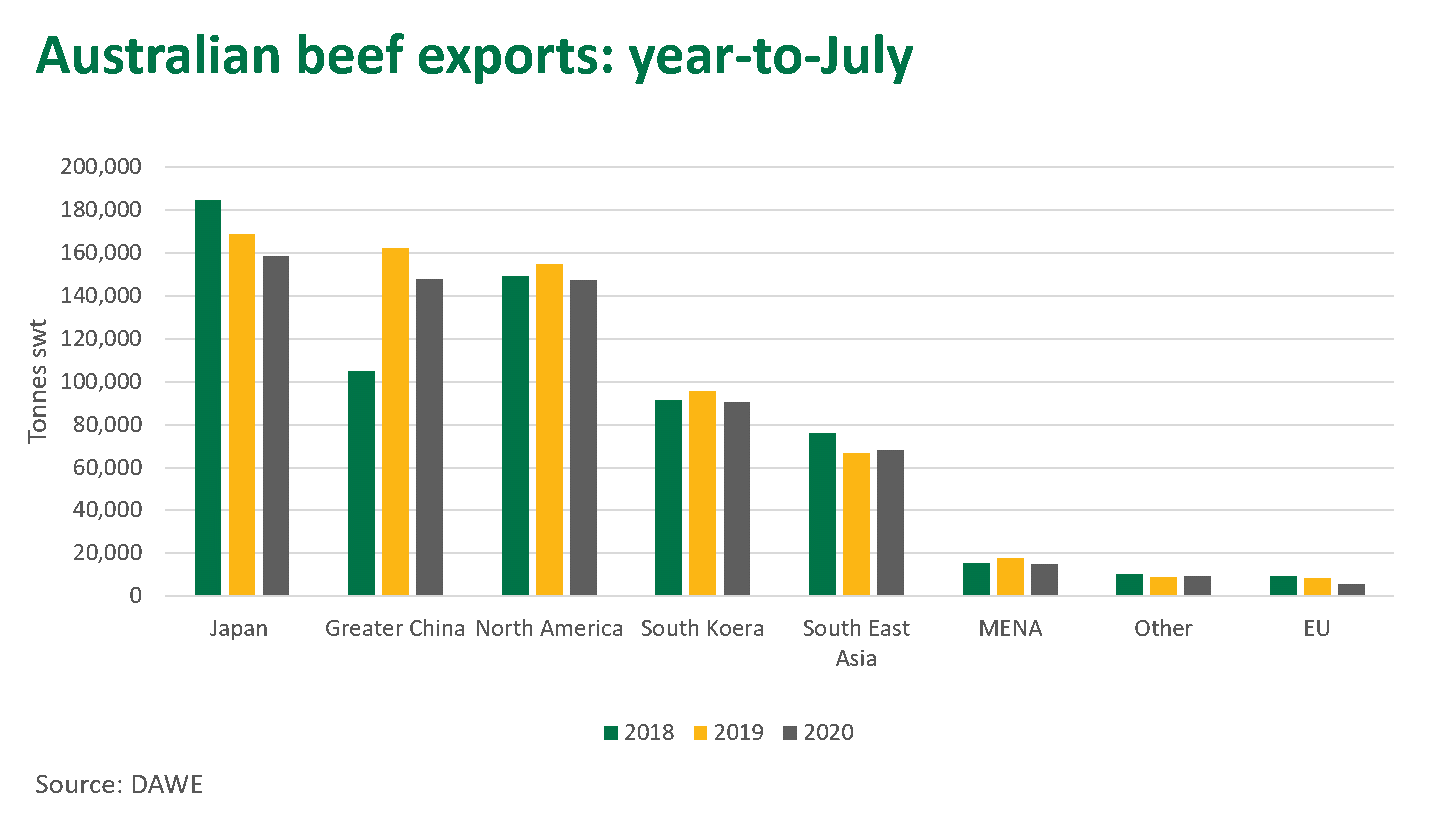 Turning to sheepmeat, July lamb exports remained steady, up 1% on the same month last year, reaching 18,400 tonnes swt. However, mutton exports continue to tighten, dropping 24% on last year to sit at 5,600 tonnes swt, with constricted supply a primary factor.
China remains the top market for sheepmeat, however, the US has been closing in quickly over the past two months. July sheepmeat exports to the US were solid, with lamb shipments registering an increase of 51% year-on-year and mutton an increase of 33%. In comparison, sheepmeat trade with China and the Middle East was subdued, with both regions experiencing a decline of 20% and 27%, respectively.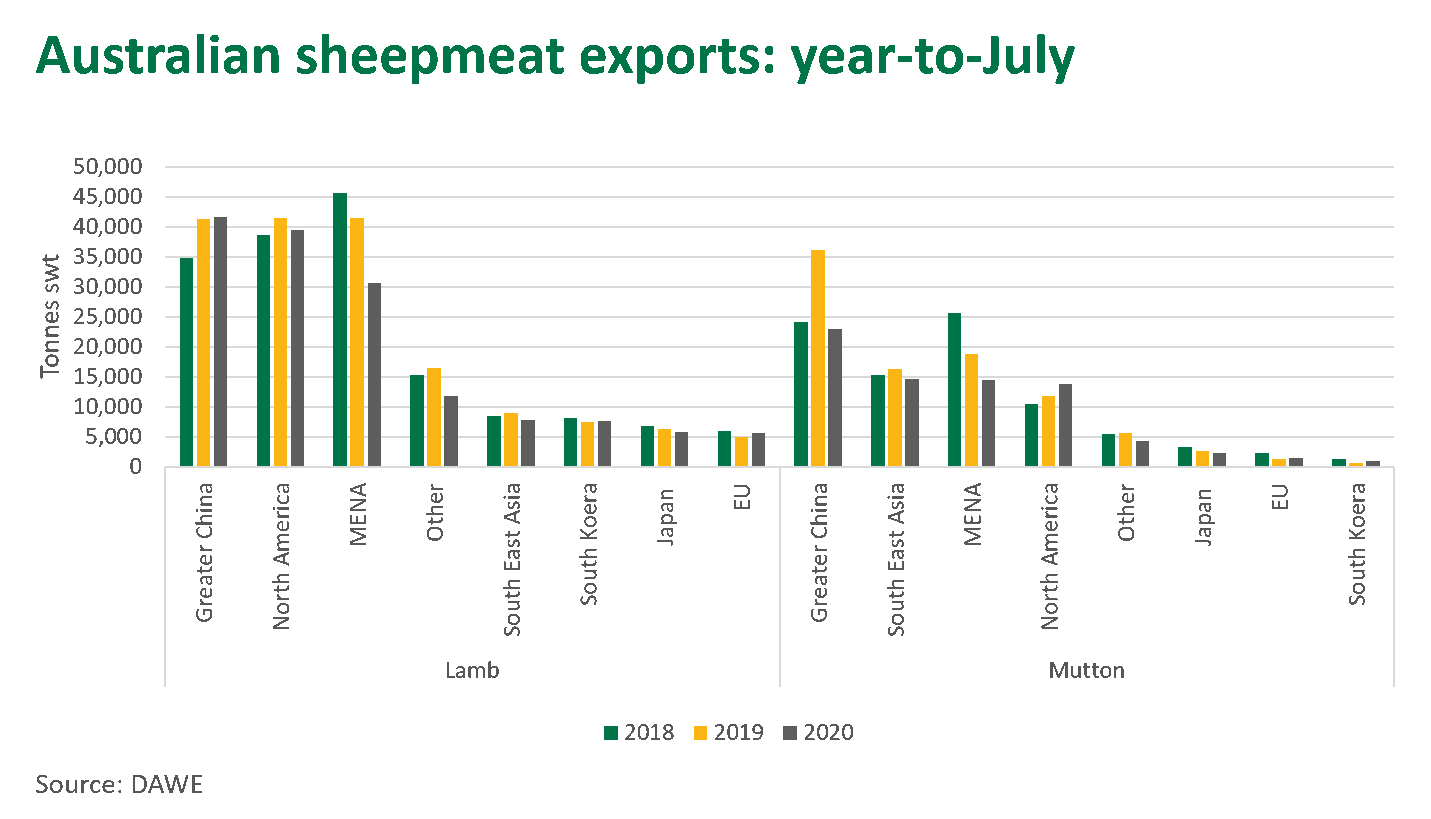 For further detail regarding July red meat exports, please visit our overseas market data and insights page.
© Meat & Livestock Australia Limited, 2020