Back to

Prices & Markets
Subscribe to The Weekly e-newsletter
For in-depth red meat market news, information and analysis.
SIGN UP
China's red meat imports remain firm despite disruptions
Key points:
ASF will remain the key driver of meat import demand for some time.
Disruptions to meat supply and consumption due to COVID-19 comparatively short-term.
Several levers being used to reduce record-high meat prices for consumers.
The large and growing affluent consumer base still driving high value red meat import demand.
Growing meat imports in recent months as ASF continues to impact the market
China's monthly beef imports during 2020 reflect the volatility of the first quarter, with a convergence of push and pull factors – Lunar New Year, African Swine Fever (ASF) and COVID-19. China's March meat imports were the largest monthly volumes ever recorded through customs, with red meat a key driver. However, it should be noted that a reasonable proportion of this product was delayed in arrival by port disruption.
The impact of ASF on China's pig industry continues to be severe, with sporadic outbreaks continuing to be reported. It remains the key driver of the country's domestic protein production and protein import demand. Estimates put the impact of ASF as equivalent to having destroyed some 40% of China's pig herd, with industry recovery likely to take several years.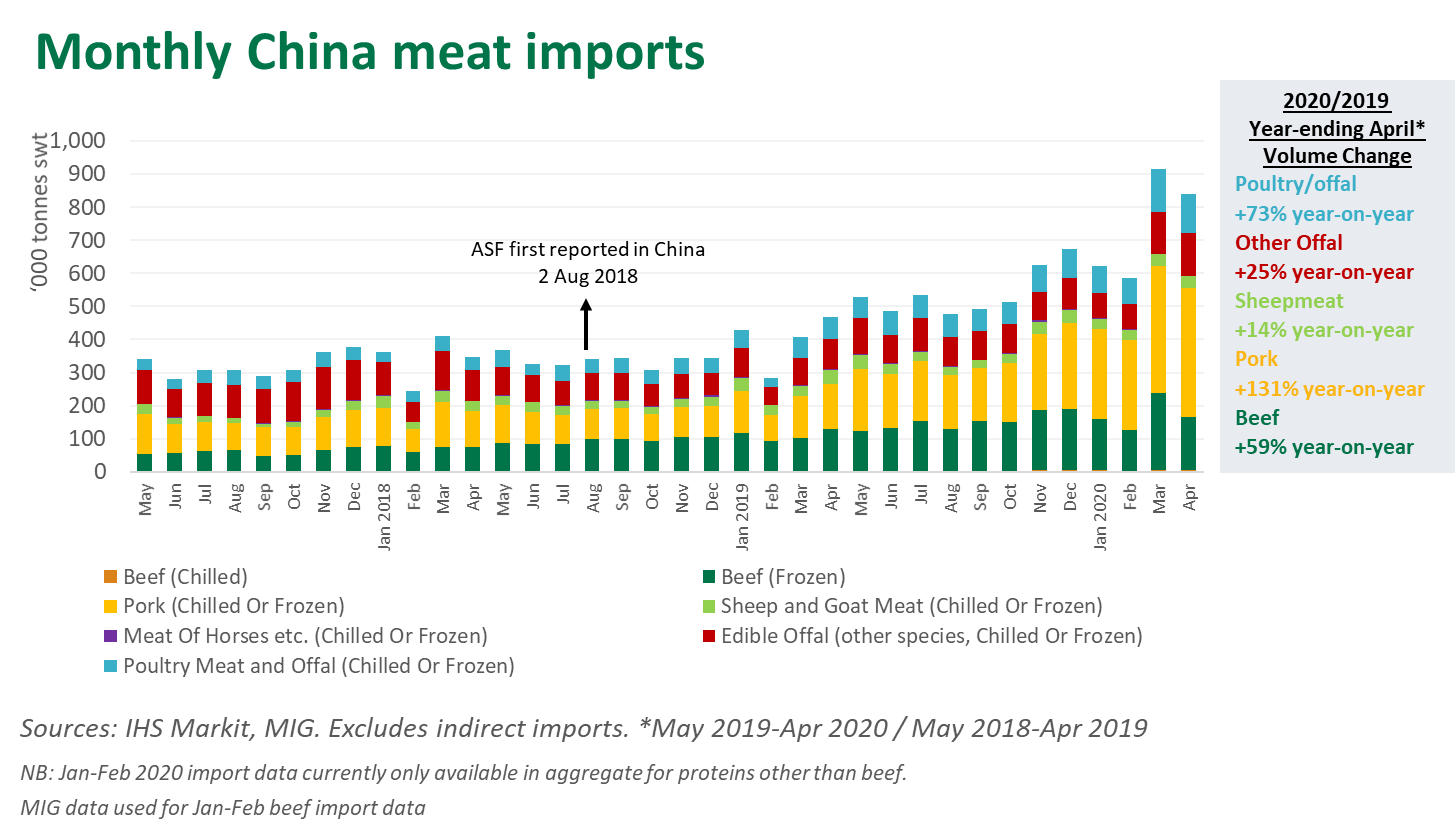 COVID-19 temporarily disrupted supply and consumption of meat
Typically, China meat imports see a seasonal drop-off of around 20% during the month of the Lunar New Year after several prior months of demand surge, with many businesses and organisations closing for the holiday. In 2020, although the New Year coincided with China's COVID-19 lockdown period, the seasonal dip was less pronounced due to the strength of import demand due to ASF.
The supply of meat to China in the first quarter of 2020 has been impacted by COVID-19, in particular due to a combination of port labour shortages and reefer container ship disruptions causing over and undersupply at different times, with the situation particularly acute during March. Sea trade disruptions around the world are once again causing further uneven distribution of reefer containers and are likely to impact on China imports in the coming months, particularly out of Brazil. Passenger flight bans impacted air freight cargo, particularly from February to April, with extra cargo flights supported by China and Australia easing this trade.
With COVID-19 lockdowns coinciding with one of China's peak meat consumption seasons, Chinese Lunar New Year, foodservice and large meal gatherings were significantly curtailed. While some foodservice operators pivoted to home delivery to stay afloat, only some of the decline in foodservice was offset by increases in meat sales via retail channels, with consumers confined to home for 6-8 weeks.
With a high proportion of red meat consumed in China done so outside the home, COVID-19 has had a bigger short-term impact on red meat demand than for pork, poultry or fish. Estimates suggest that around 60% of China's total beef consumption and 80% of sheepmeat consumption occurs in foodservice channels. Australia's exposure to China's foodservice channels is even higher, with MLA estimating that around 85% of Australian beef and 95% of Australian sheepmeat exported to China is utilised in the foodservice sector. Australia's monthly beef exports to China indicate that the slowdown in foodservice due to COVID-19 has temporarily softened demand for products and cuts that are utilised in restaurants. On the positive side, China's foodservice sector is recovering, with no physical distancing or special hygiene measures required in restaurants in big cities now.
Beef imports volatile in 2020 to-date, but well up on a year ago driven by major suppliers
While beef import volumes in 2020 have been more volatile due to a combination of Lunar New Year and COVID-19, the combined volume for the year to April is up 54% on the same period in 2019.
All top five beef supplier countries have been exporting significantly greater volumes of product to China. In the 12 months to April 2020, year-on-year volume increases have been: Argentina +85%, Australia +66%, Brazil +60%, New Zealand +55% and Uruguay +11%. Both Argentina and Brazil have been facilitated in supplying larger volumes by significant increases in approved plant listings.
China has moved to diversify its beef supply in recent years, although approved plant numbers and volumes from these new suppliers remain relatively small at current. Outside of the top five suppliers (listed in the chart below) there are some 23 countries now supplying around 5%, which is up 123% on the previous year.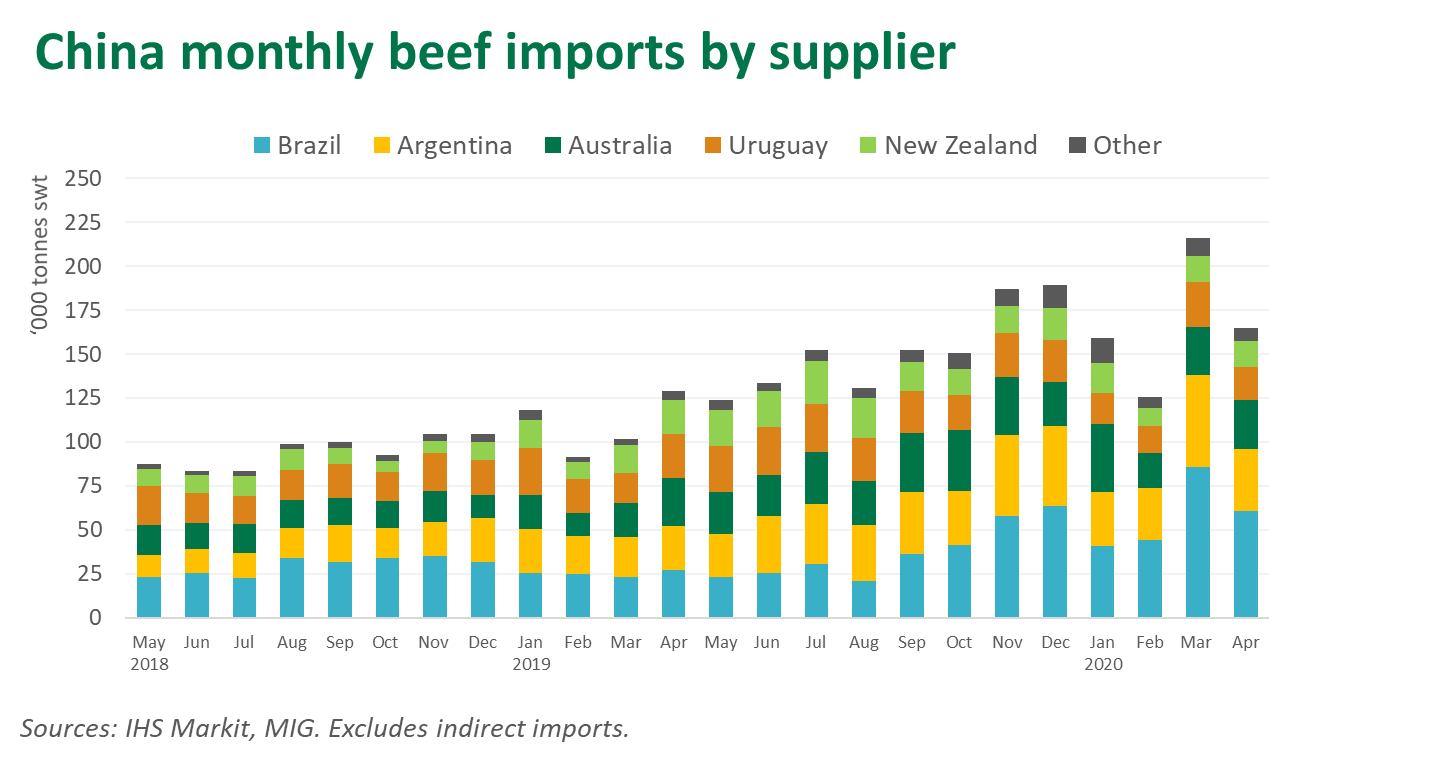 Aside from increased imports, several other measures used to reduce record-high meat prices
The significant protein shortage caused by ASF has added price pressures not only to pork, but to other meat proteins as well. Many protein prices reached new heights toward the end of 2019, but have since eased in response to a number of interventions.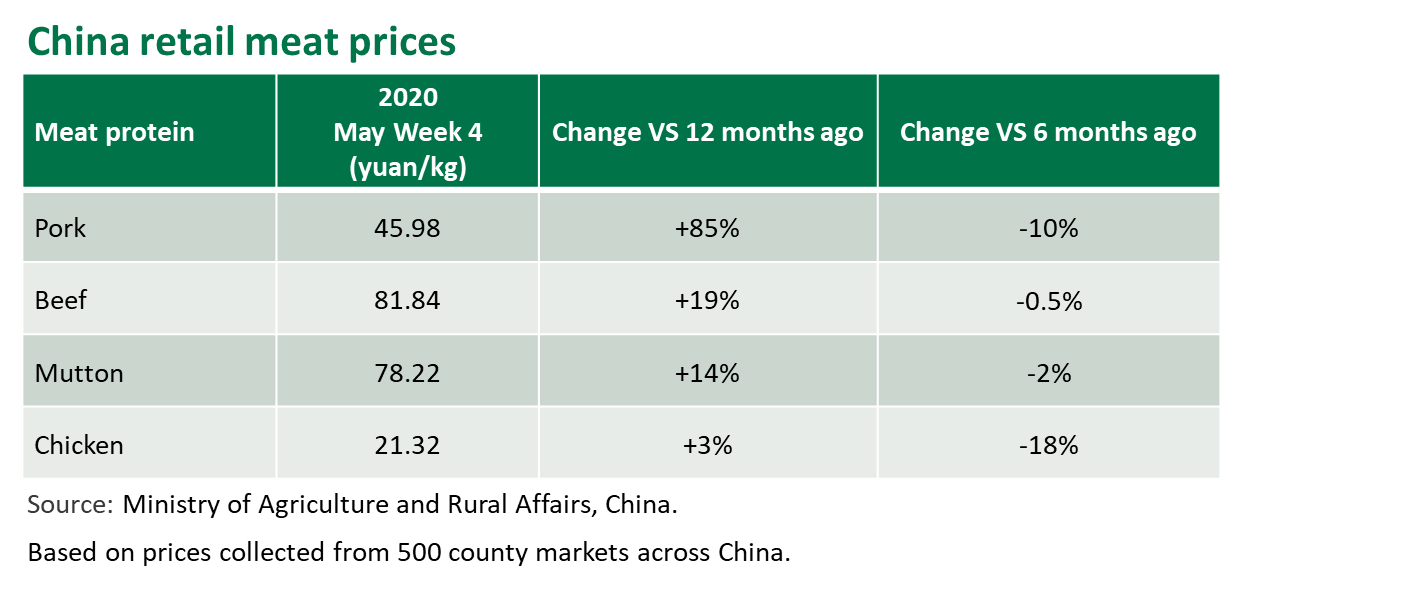 In addition to granting more market access to a number of countries, China has also lowered tariff rates on some items for various countries, such as the tariff on frozen pork being reduced from 12% to 8% from 1 January 2020. Aside from facilitating increased import volumes, China has also utilised its state meat reserves in order to ease prices by increasing market supply. In 2020 up to mid-May, 19 releases of pork have been made available to the market totallingapproximately 350,000 tonnes, as well as two releases of beef and sheepmeat totallingapproximately 7,000 tonnes.
ASF control measures to accelerate supply chain modernisation and support chilled meat growth
In order to restore the pork industry as soon as possible, the Chinese government has recently announced enhanced actions to be taken to address ASF prevention and control, including more regular inspections and testing, the implementation of risk alert systems and stricter pig transportation and slaughter protocols. Many measures undertaken to help tackle ASF will accelerate the modernisation of the country's meat supply chains which will in turn also improve the handling and distribution of Australian red meat.
Australian chilled beef is in a great position to benefit from these developments. In 2020 to April, China increased its chilled beef import volume by 74% compared to 2019. While China has expanded the number of approved countries and plants for chilled beef supply, Australia still provides around 80%. Recent MLA research found that affluent urban consumers enjoy the product's eating quality dimensions, its perceived freshness and nutritional superiority and also its convenience, all the result of safety and quality associated with Australian beef.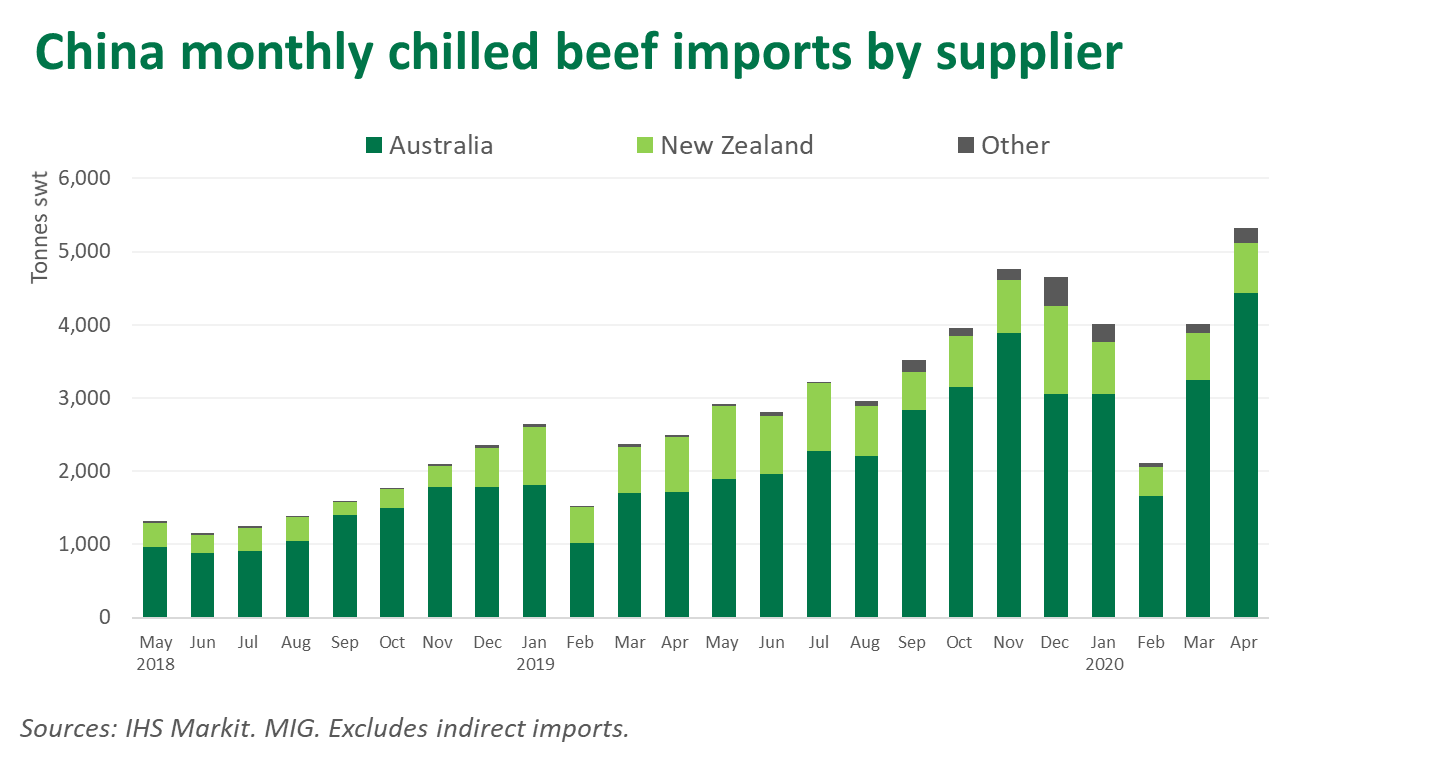 Positive outlook for continued strong red meat import demand
Despite economic impacts from COVID-19 on China's economy, the large base of affluent consumers is forecast to continue growing, with the number of households earning annual disposable incomes of USD35,000 forecast to double from 21.3 million in 2020 to 41 million by 2024. Recent MLA research on affluent consumers in China highlights that Australian red meat is very well placed to benefit from consumer concerns around meat safety, quality and nutritional value, which COVID-19 has further heightened.
© Meat & Livestock Australia Limited, 2020