Back to

Prices & Markets
Subscribe to The Weekly e-newsletter
For in-depth red meat market news, information and analysis.
SIGN UP
Meeting Chinese consumer needs - in a time of crisis and beyond
Findings from new MLA research on the impact of COVID-19 on Chinese consumers point to sustained opportunities for high value Australian red meat exports to China.
The online survey of 800 affluent* Chinese consumers found that COVID-19 home isolation and lockdown measures have driven some shifts in consumer attitudes and behaviour that have seen stronger demand for Australian red meat, particularly beef.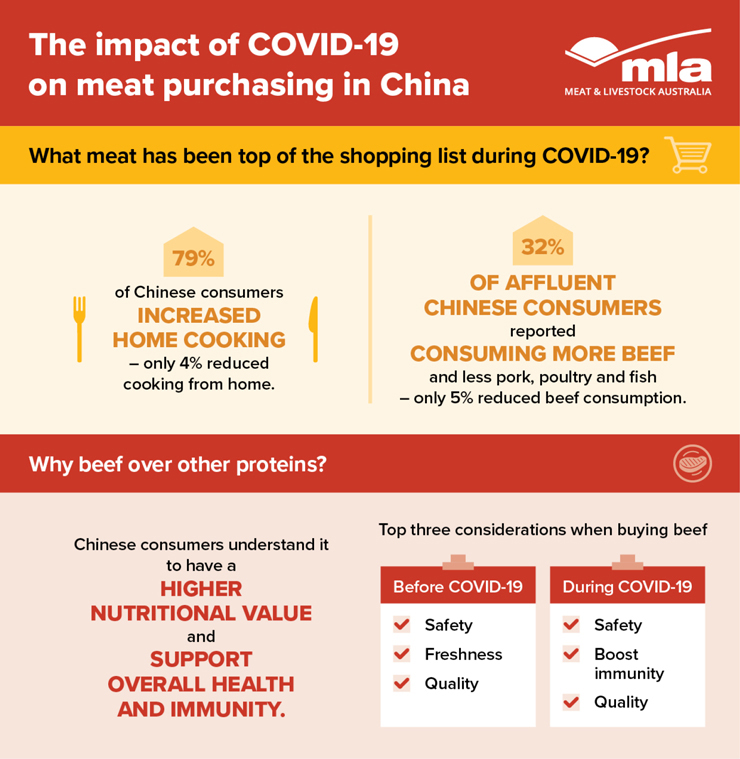 *Click the image for full infographic.
Meal preparation habits - increased scratch home-cooking with fresh produce and meat plus some trialling of new beef cooking methods:
mandatory home isolation meant consumers relied mostly on home-cooking from scratch, interspersed with some ready-to-eat or ready-to-cook foods for convenience.
most consumers report increased consumption of fresh meat and produce due to the important role these are believed to play in delivering health and nutrition, which in turn support immunity.
consumers mostly fell back on traditional, familiar beef dishes associated with winter, nutrition and comfort such as soups, wet slow-cook dishes and stir fry. However, a significant proportion broadened their repertoires to include some more western-style pan fry as well as, grilling and roasting.
during home isolation, many consumers say they re-discovered the joy of cooking, and many younger ones did so for the first time, having more time and motivation to try different dishes and cooking methods for variety.
Role of red meat in diets - greater consumption of beef as a more nutritious, safer protein and key contributer to a healthy balanced diet:
while our respondents were already regular beef consumers before COVID-19, during the outbreak a third reported consuming even more beef as well as lamb, and less pork, poultry and fish.
these affluent, well-educated consumers prioritise beef over other proteins due their understanding of its higher nutritional value, enabling it to better support overall health and immunity.
Meat purchase considerations - Higher priority on safety, quality, nutrition and country of origin which all underpin stronger health:
pre-COVID-19, consumers' top beef purchase considerations for home consumption were safety, freshness, quality and country of origin. The outbreak led them to place even more importance on these, but particularly enhancing immunity, country of origin and naturalness.
consumers turned away from buying frozen beef, preferring chilled and fresh product, which they consider more nutritious.
a majority believe they will continue to pay more attention to health and immunity for themselves and their families after the outbreak ends, with meat such as beef and lamb playing a key role in delivering a nutritious, balanced diet.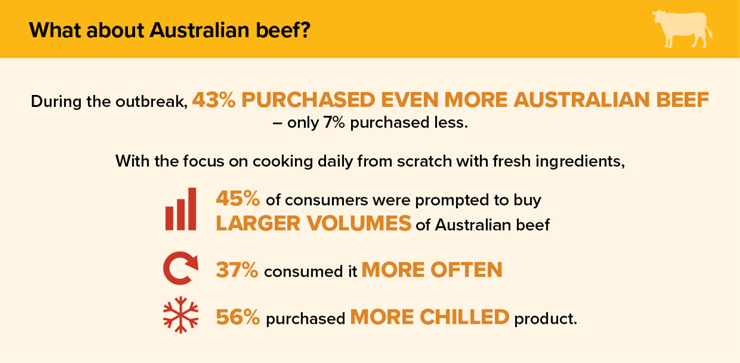 Perceptions of beef origins - Australian beef strengths best meet consumer needs, with increased appreciation for its safety and healthiness:
prior to COVID-19, our target consumers were regular consumers of beef from various origins, including Australia, China, New Zealand as well as Brazil, Argentina and Uruguay.
after the outbreak, many purchased even more Australian beef, as the crisis has increased appreciation for attributes associated with Australian beef, particularly safety and immunity support with balanced nutrition and quality, all underpinned by trust in Australian quality and safety.
after the virus ends, many have also indicated they intend to purchase more Australian beef than before, with higher intention among families with children and the under 30s, particularly for chilled.
Meat shopping channels - premium offline is resuming but online meat purchasing has expanded:
during home isolation, consumers relied more heavily on online channels to buy meat, especially home delivery O2O platforms (eg. Eleme), e-commerce platform stores (eg. JD.com) and new retail players (eg. Hema).
consumers expect that after the outbreak they will continue using more online channels to buy beef but will also revert to using their favoured offline channels such as premium supermarkets (eg. Ole, CitySuper), hypermarkets and brand stores such as butchers.
due to the association of wet markets with COVID-19 in Wuhan, poor sanitation and food safety concerns, almost half chose to shop less for meat at wet markets during the outbreak, with many temporarily shut down. This will potentially accelerate the growing preference for meat shopping at modern retail stores.
Underlying red meat import demand drivers remain strong:
China's economic growth forecasts have been revised down in the wave of COVID-19 impact and the advancing global spread of the virus is expected to soften demand for China's exports, which will further weigh on China's post-COVID recovery.
despite this economic uncertainty, underlying demand fundamentals do remain strong. Prior to COVID-19 and even prior to the outbreak of African Swine Fever (ASF) in China in August 2018, the major demand driver of premium Australian red meat imports has been the forecast rise in China's affluent consumer population. The number of households earning at least U$35,000 disposable annual income is still set to double in the 5 years from 2020 to 2024, when they will number 45 million (Fitch Solutions, forecast revised 31/3/2020).
China's underlying protein import demand has seen particularly strong growth since mid-2019 due to ASF-induced domestic shortages. It is widely believed that the magnitude of this shortfall will lead to a long-term reduction in pork consumption, shifting to all other proteins, with red meat among the beneficiaries.
Despite the uncertainty in the global and China market, there are some key underlying demand fundamentals driving increasing red meat consumption. COVID-19 has shifted some consumer behaviours and perceptions - some of these will remain and others may shift back. What is clear, however, is that for our target Chinese consumers Australian red meat is particularly well placed to meet their needs both in this time of crisis and beyond.
* Average annual household income of respondents was CNY337,781 (equiv. AUD77,350)
© Meat & Livestock Australia Limited, 2020