Back to

Prices & Markets
Subscribe to The Weekly e-newsletter
For in-depth red meat market news, information and analysis.
SIGN UP
March exports begin to reflect impact of COVID-19
Key points:
Japan maintains its place as the top beef destination in March
Export volumes to the US decline with Japan surpassing it as the top market for manufacturing beef
Lamb and mutton exports to China pick up after struggling since November, with China once again the top destination for both categories.
Amongst the speculation and uncertainty of COVID-19, total Australian red meat exports were relatively steady last month. Beef exports sat just shy of 94,000 tonnes swt, up 1% on February, with dropping slaughter only partially flowing through to export volumes. Lamb exports lifted 5% on February to hit 25,000 tonnes swt, while mutton exports backed off by 9%, reaching just 13,400 tonnes swt.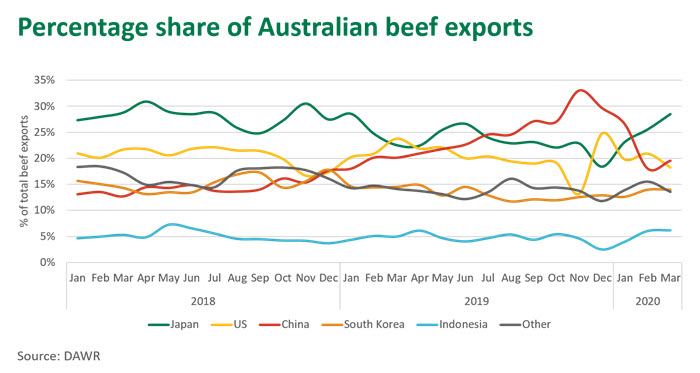 Demand for manufacturing beef shows signs of shifting, with Japan replacing the US as the top market in March
Exports of manufacturing beef have been solid this year, although volumes did contract in March, bringing total year-on-year growth to 3.5% (down from 12% for the year-to-February). Manufacturing beef is at the heart of the dichotomy emerging in global markets, as retail demand for mince surges, as consumers prepare to spend more time at home cooking, and foodservice demand drops with patrons unable or unwilling to dine-in.
As addressed last week, the shift in global demand is creating beef carcase imbalances. While exports of primal cuts are still relatively steady, manufacturing beef exports experienced some interesting fluctuations last month. Although these trends are relatively minor, the impact of COVID-19 restrictions across key markets will likely cause these movements to continue in coming months.
Last year, the US accounted for 37% of all manufacturing exports from Australia, making it the top destination, ahead of Japan which accounted for 27%. US consumption of Australian manufacturing beef is driven by their fast food industry, while their domestic production tends to account for the majority of beef through retail.
Australian beef exports to the US are back 10% on 2019 (year-to-March), underpinned by a 14% decline in manufacturing volume, which accounts for 60% of the trade. It is estimated that ground beef accounts for approximately 64% of beef products sold in US foodservice (Technomic study for NCBA, 2018) and, given the extensive COVID-19 restrictions now in place across the US, this will have a significant impact on import demand. Australian manufacturing beef may be cushioned to a certain degree, as many of the major quick-service retail operators in the US have been able to pivot their business model to continue servicing customers.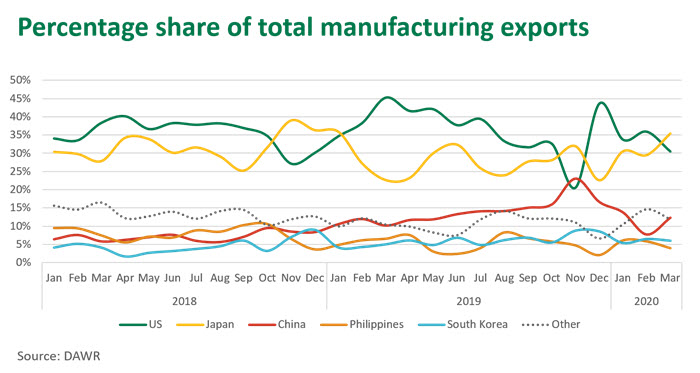 However, with lower US demand, processors have shifted more volume into Japan and, to a lesser extent, back to China. Up to March, it has largely been business as usual in Japan, highlighted by Australian exports of manufacturing beef growing 20% year-on-year. However, more recently, COVID-19 case numbers have escalated and the government's declaration of a 'state of emergency' may mean Japan could soon face significant disruption in the foodservice sector.
Reports generally indicate that China is recovering from their initial COVID-19 shock, with beef exports in March lifting for the first time since December. Chinese demand is expected to continue to grow, if it can maintain its control over the outbreak, and kick upwards later in the year as the African Swine Fever (ASF) induced pork deficit encourages consumers to look elsewhere for their meat provisions.
Steiner Consulting currently forecast China's total imports of beef to increase by 15% from record levels seen last year, which should lend price support for Australian red meat exports and buoy demand during the months of uncertainty ahead.
Lamb exports are sound while mutton shipments decline off the back of diminished sheep slaughter
Exports of lamb lifted in March, reaching the highest volume since October last year, but were still back 5% on March last year. Importantly, the resurgence of China supported exports as their foodservice industry regains some life.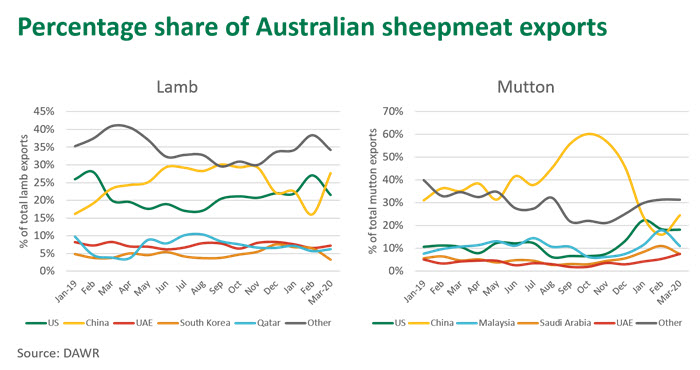 Global lamb prices are likely to come under some pressure over the next year, as the premium priced protein is challenged by the emerging tough economic conditions around the globe. Lower oil prices and air-freight disruption could potentially undermine demand out of the Middle East. Australian lamb, which often captures premium positioning in high-end foodservice in many markets, is feeling the impact of restaurant closures. Growing demand outside the foodservice channel in many markets, and a demand bounce-back in China, will be a critical for sheepmeat in the coming months.
Maintaining consistent supply will be crucial during global disruption
South American beef suppliers appear to have been hit hard by the reduced Chinese demand and trade disruption so far this year. Reports indicate Brazilian packers have encountered domestic logistical disruptions, with some shipments to Asian markets suffering from congested port backlogs. New Zealand has imposed a national lockdown to contain the spread of COVID-19, which is impacting the ability of producers to send cattle to market, while distancing rules have led to a slowdown in processing cattle. If Australia can maintain a certain level of consistency in supply, the slowdown or interruption of competitors may be beneficial for exports, particularly in markets that rely on imports for national food security.
Consumers will continue to look for Australian red meat
In many markets much of the recent panic buying will soon slow and fade, if it hasn't already, as consumers around the world adapt and fall into new routines. While many of Australia's key markets are likely to enter a certain level of economic downturn, red meat will remain a staple component of many consumer diets. Additional factors such as the ASF-induced pork production deficit in China and other Asian markets will also support red meat sales. Most importantly, Australia's strong credibility, with high safety and quality standards, will continue to underpin strong consumer demand for Australian red meat. Consumers have historically looked to Australian beef and lamb as a preferred origin of choice. Recent research data from China highlights that consumers in a crisis gravitate towards products and brands they trust.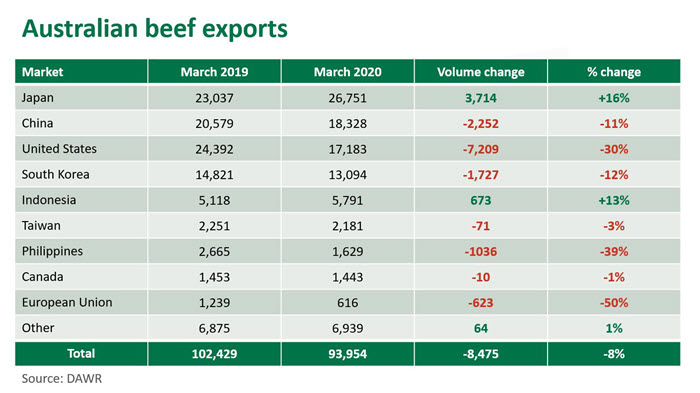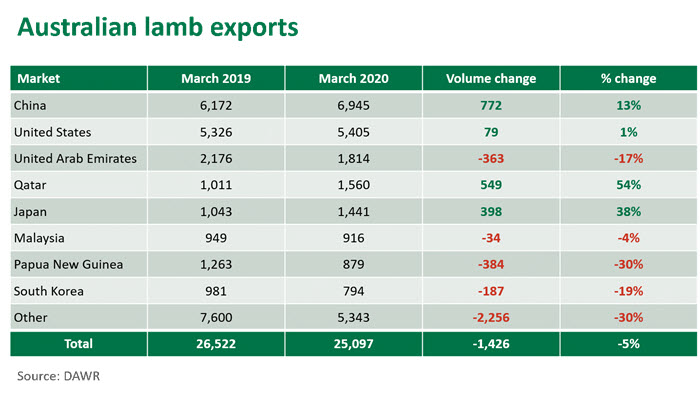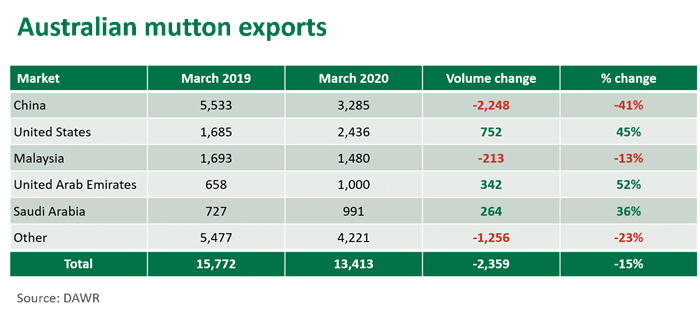 © Meat & Livestock Australia Limited, 2020