Back to

News & Events
Bringing Australia's good nature into Korean homes
08 December 2020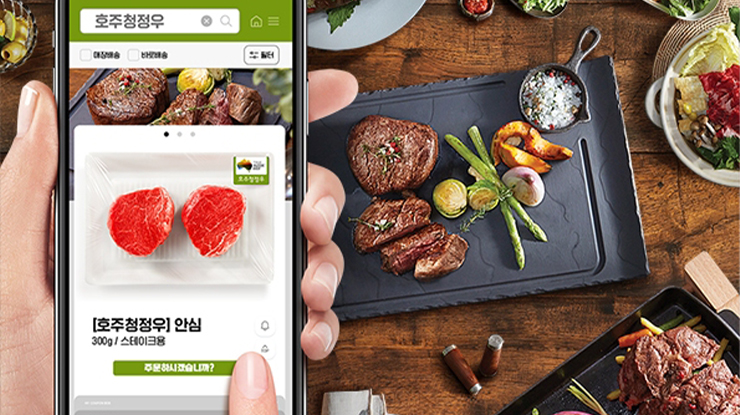 Key marketing collateral from MLA's 'Kuk Cook' campaign which recently ran in Korea.
After conducting consumer research in 2017, the MLA Korea team identified an opportunity to align Australian beef with 'good nature', building on this strategy ever since.
'Good nature' doesn't just mean the good nature of Australia. It has a dual meaning of a clean environment and good personality, delivering the core traits of Australian beef being safe and clean (which are environmental factors), trusting and joyous (which are 'good natured' personality traits).
Finding opportunity in COVID-19's challenges
Due to COVID-19, having to cook at home more and purchasing fresh food ingredients online have grown rapidly in Korea.
The MLA Korea team responded quickly to this change in consumer behavior and implemented the new 'Kuk Cook' campaign from September to November 2020.
The campaign strategy was to deliver the image of True Aussie Beef from good nature as a more accessible, diversified and enjoyable experience at home, while introducing the e-commerce purchasing channel as key in the new COVID-19 world.
'Kuk' is the sound of clicking behaviour (i.e.. mobile/online shopping) so the key messaging throughout the campaign focused on pressing 'Kuk' to 'Cook' a variety of home-cooked meals with Australian beef.
The campaign targeted women age 30–49 who want to buy safe and healthy food for their family, are responsible for grocery shopping and cooking and accustomed with online purchasing. This target market is important for True Aussie Beef as women are most likely the caregivers in the family so care most about purchasing decisions.
To demonstrate ways of enjoying True Aussie Beef at home in a trendy, dynamic and easy-to-understand manner, a television commercial was promoted across a number of digital platforms, including as part of:
an extensive digital campaign across the five leading e-commerce channels (SSG.COM, Market Kurly, Homeplus, Coupang and GS Fresh Mall)
video commercials across YouTube, social media, e-commerce websites and television.
The digitally focused campaign produced excellent results, and drove further traffic to the promotions landing page, encouraging actual purchasing action:
30.64 million people watched the TV commercial (CATV and digital combined)
202,140 people visited the campaign promotional landing page
8,752 people engaged on Facebook.
A valuable target market
Korea is an important market for Australia as it has been relatively stable over recent years (in comparison to other markets) and is valued at A$704.5 million for the year-to-date (January–September).
In the wake of COVID-19, there has been a positive trend in the growth of chilled exports due to the weakened demand from the foodservice channel for frozen product (in the wake of COVID-19) and an uptick in retail sales (where most chilled product is destined). Chilled exports totalled almost 29,000 tonnes swt year-to-date (Jan–Oct), up 8% year-on-year.