Back to

News & Events
Building resilience from the ground up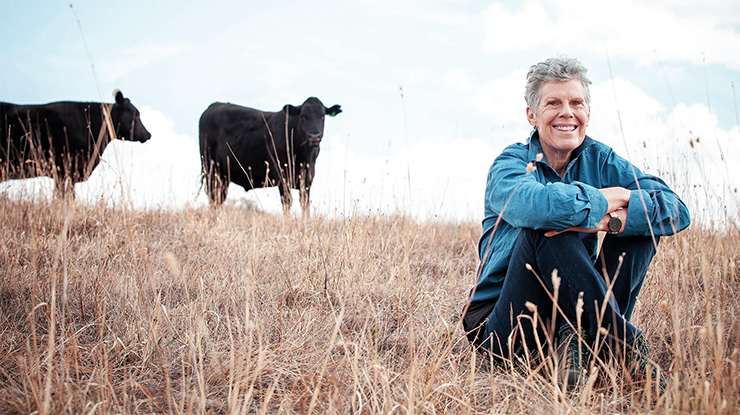 If NSW beef producer Gillian Sanbrook had to distil her grazing business into one concept, it would be 'ground cover, ground cover, ground cover.'
Tapping into the benefits of 100% ground cover – such as retaining moisture and promoting healthy soil microbiology – allows her regenerative business to remain resilient in the face of climate variability.
When Gillian moved from the Riverina plains to the Wymah Valley in the south west slopes of NSW, she expected to find reliable rainfall and plenty of cattle feed.
But since she arrived at 'Bibbaringa' 12 years ago, the seasons have ranged from 380mm to more than 1,000mm.
The last few growing seasons have been particularly late with no real spring or autumn, so not much grass was produced before the cold winter.
Gillian realised she would need to take a more opportunistic approach to grazing.
In April 2016 she sold her entire cattle herd and now focuses on buying in young cattle and finishing them up over nine months or so, selling off at 500–550kg. She runs between 200 and 600 head at any one time, depending on the season.
Forecasting grass
Gillian re-fenced the property into more than 60 paddocks for rotational grazing and planted around 20% of the farm to trees, shrubs and native grasses, which have become part of the grazing rotation. She established contour banks to slow the flow of water across the property, allowing more time for it to be absorbed.
"It's taken a long time, but I now have reliable ground cover and am rebuilding soil organic matter," Gillian said.
She uses tools such as Bureau of Meteorology forecasts, monthly climate reports and regular webinars to make stocking decisions at the start of autumn and end of spring.
Gillian uses her own spreadsheet system to manage livestock and paddock feed and forecasts carrying capacity based on past performance and how much grass is on hand.
Cattle are moved every two to five days, leaving paddocks to rest for three to seven months, depending on the time of year.
"My mantra is 100% ground cover, 100% of the time," she said.
Usually Gillian restocks during March/April, but in 2019 she made the decision to restock in June at a third of her normal stocking rate, based on the forecast and feed and water availability.
"By looking after the land, I am in a much better position to look after the livestock."
New opportunity
Gillian's regenerative farming approach is shared by a local network, '8 Families', who meet every six weeks to share ideas and learn from speakers and tours.
In December, through a partnership between 8 Families and paddock‑to‑plate company Provenir, her cattle were processed on‑farm in a mobile abattoir. The beef was marketed to Provenir's customers which include high‑end restaurants.
As well as reducing costs and reducing stress to cattle, she sees this as a better route to market with full traceability for her grassfed beef, produced without antibiotics or hormones.