Back to

News & Events
Campaign raises Aussie red meat's profile in the US
27 April 2021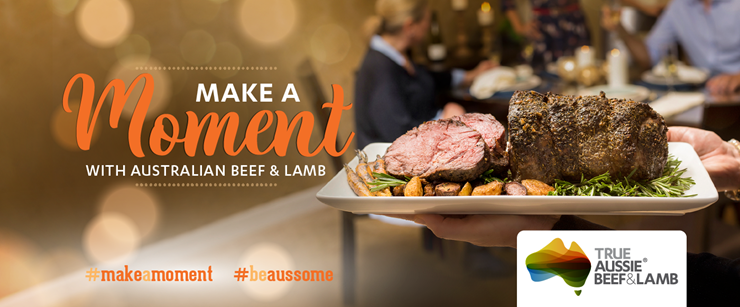 A multi-channel digital campaign in the USA called 'Make a moment' has run a series of virtual events over winter to inspire and educate consumers on how they could elevate their dining experience at any moment by serving Australian lamb and grassfed beef.
Traditionally, there is a seasonal spike in both interest and sales of lamb and grassfed beef throughout winter in the US. Leveraging this, the campaign aimed to position True Aussie Beef and Lamb as a go-to culinary resource to increase cooking confidence, promote the ease of incorporating these into special occasion meal repertoires and to show shoppers where they can purchase each product.
Australian lamb and grassfed beef are very small players in the US meat retail business, making up around 2% of shelf space, with this lack of availability creating a pain point for shoppers looking for Australian product.
To overcome these challenges, MLA's US team ran a series of mini virtual events including cooking classes and inspirational event-centric cooking videos, to boost awareness and purchases of Aussie red meat. To achieve success in the campaign, an aggressive SEO and social media campaign was run and a digital media partnership with FeedFeed was established.
A carefully selected macro-influencer party and a public relations program were also integrated to drive interest in the events, increase social and media chatter about True Aussie Beef and Lamb and position them as a go-to resource for consumers.
Across channels, the campaign delivered:
46.8M impressions
36.5M reach
1.4M engagements
1.2K new fans.
In parallel to this, a nano-influencer 'army' of 700 people was also deployed to understand how user-generated content can drive familiarity with Australian grassfed beef and lamb, including where to buy it, and to motivate people within the influencer's tight-knit following to purchase it.
The nano-influencers' achievements included:
812 posts generated about Australian grassfed beef and lamb
50% had re-purchased Australian grassfed beef and 30% Australian lamb within a month of participation
62% made a recommendation for Australian grassfed beef and 48% for lamb that resulted in purchases by their followers since participating.
DID YOU KNOW?
US grocery retail is made up of about 1,600 different grocery brands across 40,000 locations (not including online).
The retail meat sector is valued at $69 billion.
Forecasts indicate that post-COVID, around 34% of consumers will use online as their primary way of purchasing meat
Sources: STATISTICA, 2020 | Power of Meat, 2021 | Midan, 2021 Trends report