Back to

News & Events
Customer centric the path to profit
19 June 2019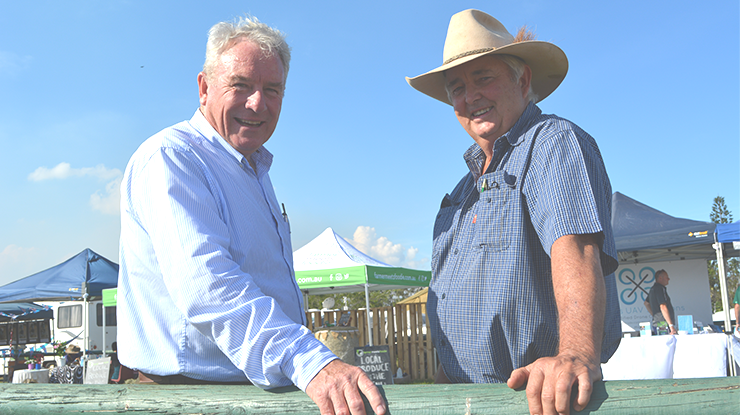 If there is one message experienced meat marketer Richard Rains has for today's beef producer it is this: "Give the customer what they want, when they want it."
He says it was the most important lesson he learned in 40 years of exporting meat around the globe, which included pioneering the supply of Australian beef into McDonalds in North America. Richard owned a majority stake in Sanger and has more recently helped to establish The Arcadian Organic and Natural Meat Company, among many other industry roles.
When he left Sanger in 2013 as a result of a management buyout, it had a turnover of $500 million, which represented about 10% of Australia's red meat exports. But it's not revenue that is important, it's the bottom line – and the only way to boost that is to know what consumers want and to deliver it, Richard told a recent BeefUp Forum at Mareeba in North Queensland.
"The one thing that is becoming more apparent as trends shift and the consumer's ability to pay changes is the need to have a point of difference," Richard said. "Be it organic, natural, Angus or HGP-free - they are all declarations that a particular consumer will pay for. We must climb out of commodity land and add value to our product in some way. We must stand out from the crowd to become more profitable."
This is why the Australian Beef Sustainability Framework is a most important initiative, according to Richard.
"The consumer now expects us to show our sustainability credentials," he said. "Producers all want to leave the next generation a better farm but that is not a good enough story for the consumer. To be able to prove that we are sustainable, we need to be able to give that consumer a run sheet on what our credentials are."
Richard believes this must cover off on:
Economics: "If our industry is not operating profitability, it certainly won't be sustainable," he said. "These industry numbers should be made available to our consumers around the world."
Animal welfare: "We should, for example, be able to measure the amount of pain relief products that are sold and the consumer should be able to see a trend line on what is being used," Richard said.
Environment: "What is the industry doing about providing clean and abundant stock water? What are we doing to ensure we are not damaging the Great Barrier Reef? What are we doing about improving ground cover. All this must be communicated," he said.
Community: "Are we engaging with our local communities? Are we equal opportunity employers and are we training our young, and are the workers being properly rewarded and working safely? These things are terribly important to consumers around the world and if we ignore, it will be at our peril."
Richard said the question is often posed: What price premium will the producer receive if they address these consumer demands? His response is: "You will find a buyer for your cattle, in years to come, if you provide what your customer demands."
Richard's advice to the beef industry is to ignore the economists who shout from the roof tops that food production must be increased as the population is growing by a billion people each 15 years.
"As an industry, we have lots of opportunity to produce more food, be it through better genetics or more wire and water or increased feedlotting," he said. "But growth in production should be led by a rise in prices. For too long we have increased production, only to see prices go down. If you are to be properly rewarded for all that you do, let growth be led by higher prices and more profit."
BeefUp Forums are held across northern Australia and provide producers the opportunity to hear about the latest on-farm research and development, gain industry insights and have a say on future research priorities in their region. Check the MLA events calendar for upcoming BeefUp Forums.