Back to

News & Events
Five tips for using breeding values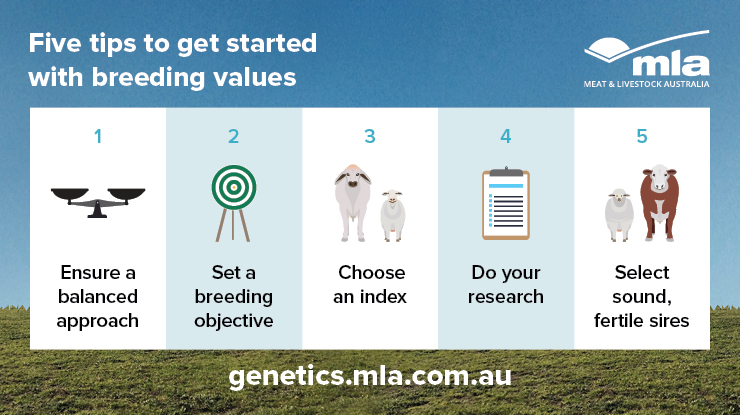 If you're not aggressively accelerating the performance of your herd or flock by using better breeding values, you're fighting a losing battle.
That's the message from Dr Rob Banks, Director of the Animal Genetics and Breeding Unit at the University of New England.
"It's a message no producer can afford to ignore," Rob said.
"Constant genetic improvement goes a long way to offsetting the cost–price squeeze, and complements the productivity gains available through pasture and animal management."
An investment that pays for itself
Many producers are tapping into the benefits of better genetics by buying bulls or rams from breeders using BREEDPLAN, LAMBPLAN or MERINOSELECT. Producers who pursue genetic progress find themselves accelerating the performance of their herds and flocks in such a way that their initial investment more than pays for itself.
"On average, the current rate of genetic progress in British breeds is just over A$4 per cow joined per year," he said.
Rob said for northern Australia the rate of genetic progress for the past five years has been $1 per cow joined per year.
"The lower number in the north reflects the fact that fertility has been an important component of the index but, to date, few bull‑breeding herds have had good data on it," he said.
"However, the research and industry data for fertility now becoming available underpins genomic Estimated Breeding Values, and we're seeing early signs of a lift in the rate of genetic progress. There's lots of upside potential."
But there are still some commercial producers who aren't harnessing the power of good genetic traits – even when they're widely available and identified as essential to sustained profitability.
More sires backed
Many seedstock producers have embraced genetic data.
Rob said the southern beef industry has pioneered the adoption of genetic information in Australia, with more than 70% of southern bulls offered for sale backed by breeding value data.
In the north, the numbers aren't so impressive, with around 15% of sale bulls accompanied by breeding values data.
"This probably reflects the challenges of collecting accurate pedigree and date of birth in extensive northern breeding enterprises, coupled with a general perception that genetics data doesn't have as much relevance in the environmental conditions of the north," said Rob.
"That perception is wrong.
"DNA tools are helping overcome the recording challenge. Genetics data relating to fertility in the north is now becoming available – and it reveals massive genetic ranges in lifetime weaning rate and profitability in northern breeds."
Australian Sheep Breeding Values have transformed the wool and sheepmeat industries. They've given producers the power to influence traits such as eating quality, lean meat yield, reproductive rate, growth and fibre characteristics.
Rob said 70–75% of terminal meat breed sires are offered for sale with data; and around 60% of maternal meat breed sires and 35–40% of Merino sires are sold with relevant data.
"Quite a bit of artificial insemination is being used in Merinos by enterprises large enough to breed their own rams," he said.
"Producers are increasingly using semen from breeders in the MERINOSELECT program, so the impact at a flock level means about 50% of rams used across industry have some genetic information available."

Rob's five top tips to get started with breeding values:
Write down a clear breeding objective but ensure a balanced approach – a focus on one trait will have implications for other traits.
Your breeding objective should focus on where you want to be in five years so you can pick the genetics today that will help you get there.
Choose an index that suits your production system to help narrow down a large number of animals into a smaller group of potential sires.
Spend time on your research before a sale. Remember the sire will impact your flock or herd for the next 10–20 years.
Select structurally sound, fertile sires with above‑average index and breeding values for traits that meet your breeding objective.
Commercial uptake
"Many commercial producers of temperate cattle, prime lamb and Merino breeds have got on board with breeding values over the last 10–20 years," Rob said.
"They've seen the value in not just relying on visually assessing potential sires, they've also leaned on breeding values to allow them to see into the animal's genetic makeup and make more informed decisions."
"More and more producers are seeing that sires with better breeding values produce better progeny, and that means a better performing herd or flock."
But, there's still room for improvement.
"Just because sires are increasingly sold with breeding values doesn't mean commercial producers are necessarily using that information. And those who use breeding values can always strive to find sires with better breeding values," Rob said.
"The secret is to keep moving forward. Standing still means you're actually slipping behind."