Back to

News & Events
Grain Fed Finished standard introduced
17 September 2018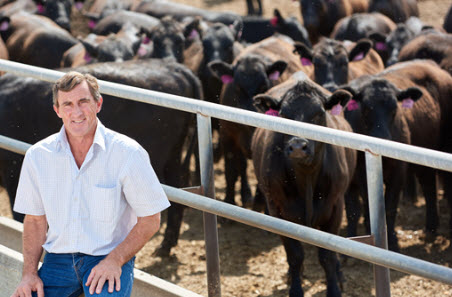 Australian lot feeding's introduction of a third standard for grainfed beef is a sensible evolution, providing greater flexibility for brand owners and processors, Feedlot Industry Accreditation Committee (FLIAC) chair Jim Cudmore says.
The National Feedlot Accreditation Scheme's (NFAS) new standard, Grain Fed Finished (GFF), covers beef cattle that are fed a high-energy ration in an NFAS-accredited facility for a minimum of 35 days and meet all Meat Standards Australia (MSA) grading requirements.
The GFF standard became effective on 1 September.
"All of industry – not just the grainfed industry – is now producing for specific eating quality outcomes," Jim said.
"The addition of the GFF standard to the NFAS is working towards satisfying that demand."
Australian Lot Feeders' Association (ALFA) president Tess Herbert said GFF was a perfect complement to the original two NFAS standards – Grain Fed (GF) beef and Grain Fed Young (GFYG).
"We've always seen ourselves as a finishing system. Our cattle spend most of their lives on grass and we finish the product off on a highly nutritious grain ration," Tess said.
"Importantly, product that meets the GFF standard will be 'certified' Grain Fed Finished beef as it will be produced in an accredited feedlot with all of the checks and balances that come under the NFAS. This gives the production of GFF beef a lot more rigour than, say, grain feeding cattle in a paddock in an unaccredited environment.
"The feedlot industry has a strong accreditation system with standards around animal welfare, the environment and product integrity. The NFAS, with its independent third-party annual audit, is the cornerstone of grain-fed beef production in this country.
"GFF is a significant advantage: having shorter-fed cattle but still having the existing integrity of the accreditation system sitting behind the end product – especially as customers become more discerning and increase demand for livestock produced under high welfare and environmental practices."
Tess said it was likely operators who were currently feeding grain but were unable to have their product certified as either GF or GFYF because it was fed shorter-term could be among early adopters of the new standard.
Flexibility to produce GFF beef during periods of particularly high grain prices would be among benefits delivered to industry, she said.
Both Jim Cudmore and Tess Herbert said refinements in grain processing, ration formulation and feed distribution coupled with genetic improvements of Australia's beef cattle herd had brought enormous advancements in grainfed beef production since the mid-1990s.
"Over the last two decades the genetic base of the cattle we're feeding has improved greatly so that an animal that may have had to have been fed, for example, for 120 or 130 days to get a certain eating quality outcome in 1995 has the genetic capacity today to achieve it much earlier," Jim said.
"At the same time, our feeding systems have dramatically improved as we've learnt to target feed diets to specific groups of cattle."
"The percentage of cattle now grading MSA is increasing, which shows that the eating quality of cattle in Australia is improving," Tess said.
She said uptake of the GFF standard would occur progressively and would be driven largely by demand from processors.
"Ultimately, the success of GFF lies with brand owners and their ability to build a product offering that appeals to their customer base and the consumer," she said.
Information:
To learn more about the new GFF standards or how to implement it, contact ALFA on (02) 9290 3700 or info@feedlots.com.au
Follow the link included within this ALFA media release for a detailed fact sheet outlining how the GFF standard is being introduced.