Back to

News & Events
Heat load ration put to the test
18 December 2019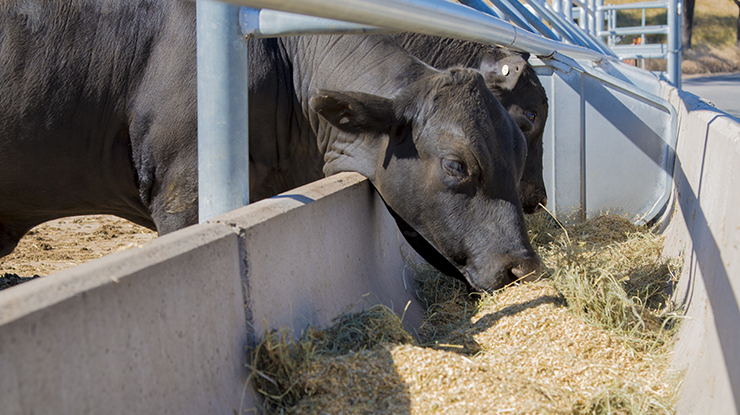 Research into the effect of feeding a heat load ration to feedlot cattle and the timing of its inclusion in diets to prepare for, or respond to, a sudden high heat load event has produced new insights.
Led by Dr Gene Wijffels from CSIRO along with Associate Professor John Gaughan and Dr Megan Sullivan from the University of Queensland, the MLA-funded trial involved experiments using state of the art climate chambers at the Queensland Animal Science Precinct in Gatton.
Three diets trialled
The trial saw three different diets fed to Angus steers on a finisher ration, all with an entry weight of 540kg.
Cattle in the Diet 1 trial continued to be fed a standard finisher ration throughout the four treatment periods – pre-hot, hot (heat load challenge), recovery and pens.
Diet 2 introduced the heat load ration at the onset of the heat load challenge (day nine), while Diet 3 introduced the heat load ration two days prior to the onset of the heat load challenge (day seven).
The heat load ration consisted of 12.4% crude fibre compared to 8.7% in the finisher diet.
The climatic conditions in the trial were adjusted in pre-hot and recovery phases to reflect average summer conditions.
Take a proactive approach
Dr Wijffels said the results of the trial showed that Diet 2 had the least positive effect on the cattle.
"We found Diet 2, where we changed the ration on the first day of the heat load event from the finisher ration to the heat load ration, resulted in the cattle having a much lower feed intake and a higher water intake," Dr Wijffels said.
The rumen and liver functions of cattle fed Diet 2 were also affected.
In contrast, cattle on the Diet 1 and Diet 3 trials did not experience the negative effects to the same extent.
"The message from the trial is that lot feeders shouldn't suddenly change the ration when a heat load event hits, because the cattle can't handle the onset of sudden heat and a diet change at the same time," Dr Wijffels said.
"Lot feeders should take a proactive approach to changing cattle to a heat load ration formulated by their consulting nutritionist prior to a heat wave event."
Researchers found that with Diet 3, all animals coped with the heat load challenge, whereas animals had to be withdrawn in the other diet groups.
"We would have to do more R&D to determine if Diet 3 would have a significant difference at scale," Dr Wijffels said.
At the end of the trial, all cattle – regardless of which diet they were on – recovered well from the heat load event.
"Four cohorts of twelve steers proceeded sequentially through the chambers and were returned to feedlot pens for 21 days after they left the climate chambers," Dr Wijffels said.
"By the time we got them through recovery and back into pens, there was really no difference between the animals, including at slaughter."