Back to

News & Events
Making connections
11 October 2018
When it comes to on-farm research, producer and IT entrepreneur Will Wilson is a hard man to impress.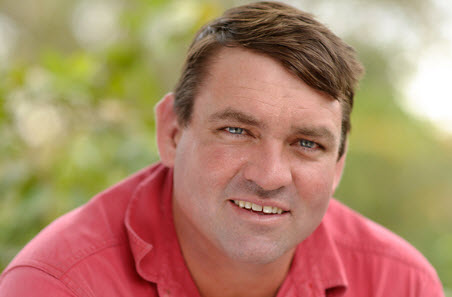 "To be worthwhile, projects must have value to producers and deliver a return at the farm gate," he said.
Will runs 3,800 Jarrah (Hereford-Brahman-Santa Gertrudis composite) breeders across 48,000ha in central Queensland from his base at 'Calliope Station'. The focus of the large scale enterprise is producing heavy grassfed heifers and steers for the feeder market.
Data at your fingertips
It's no surprise Will, who created the stock management program iHerd, was in no rush to give the integrated on-farm data project, 'Connecting Calliope', his seal of approval.
However, after spending time with its information support at his fingertips, he admits now he would hate to be without it.
Will believes its "high time producers started embracing data".
"The rest of the world demands it. Producers – if they want to influence their market – have to be able to supply it," he said.
'Connecting Calliope', a joint proof-of-concept project between Hitachi Consulting, Vodafone and MLA Donor Company, is an integrated data collection and analysis platform being tested on Will's family property, 'Calliope Station'. The premise for the project is to develop systems – which may draw on multiple sources – which can be rolled out to improve on farm connectivity across Australia.
'Connecting Calliope' is a co-creation project between Hitachi Consulting and MLA utilising Hitachi's Smart Farm Control Centre. Vodafone Global Enterprise teamed up with Hitachi Consulting providing sensors and LoRa communication systems. Data is collected and transmitted to Hitachi's Smart Farm Control Centre which is hosted on Google Cloud Platform.
It connects a network of sensors monitoring weather, pasture growth, water flows and soil moisture and combines this into a single platform (e.g. desktop computer or hand-held device) to help informed producer decisions on present and future stocking rates, rotations, trading and to forecast feed budgets and water supplies. Feeding into this system will be data from outside sources, such as livestock market reports and weather forecasts.
"These elements on their own have minor value but when you combine them, they become very powerful and you begin to see the potential of what this project can deliver," Will said.
For Will, just being able to monitor water remotely will be a major cost saving in terms of labour and time.
"Being able to use the information to help predict when to sell-off and buy in stock will also give producers added confidence in their decision-making," he said.
Next steps
Will is keen for the final user interface of the Calliope project to be made as producer-friendly as possible.
"Information needs to presented with a sense of scale, say one to 10, that producers can comprehend and use, or even in simple colour form – green, amber, red," he said.
"It can't be too overwhelming, it has to be simple or producers won't embrace it."
Will said that for him, one of the most impressive aspects of 'Connecting Calliope' was its ability to operate in areas without mobile phone or internet services.
"Producers in remote and isolated areas have just as much access to this technology which is so important," he said.
Connecting Calliope is linked to another on-farm data collection and analysis project that concentrates on an autonomous drone platform. This project is applying advanced drone and data collection technology to extensive beef farming operations.
Information
Will Wilson
E: will@calliopestation.com