Opportunities for Australian beef in Mexico
17 July 2019
Mexico will continue to present great opportunities for Australian red meat, particularly beef, with the certainty provided by ratification of the CPTPP trade agreement for reduction in imported red meat tariffs, and the countries positive underlying demand drivers.
Mexican beef imports are growing
Mexican beef imports increased in 2018 to approximately 205,000 tonnes cwe, with more than 80% of imports from the US (majority fresh/chilled product). Imports of fresh/chilled beef were up 4.8% 2018 vs. 2017 (Source: IHS Markit), while frozen imports have decreased. Imports are predicted by the USDA to grow to approximately 220,000 tonnes in 2019. Muscle cuts such as shoulder clods (also known as chuck) and rounds are the most popular US cuts exported to Mexico.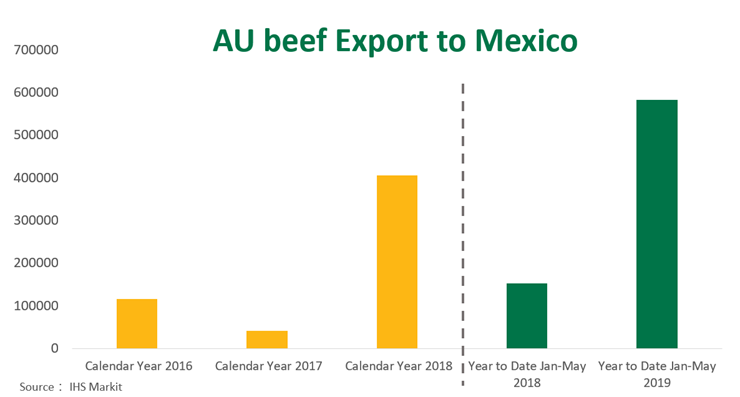 Australia is a relatively small beef supplier to Mexico but has increased volumes in 2018, up nearly 400% from 2017, to 604 tonnes swt. The Australian chilled beef volume was also up significantly to 210 tonnes in 2018, an increase of 136% from the previous year. The 2019 year also looks like it is tracking higher than 2018, in both total and chilled volumes, with 583 tonnes shipped to end of May 2019.
The main cut imported from Australia is thin flank, which is used in a variety of popular local dishes that require thin, leaner beef cuts used in fajitas, for grilling and Milanesa-style cooking. The opportunity for Australian beef is more important when considering that currently the number of countries that can export to Mexico is limited, with the main competitors being the US, Canada and Nicaragua.
It should also be noted that Mexico is a significant beef exporter, having exported 305,000 tonnes in 2018, with USDA predicting Mexico to export 330,000 tonnes in 2019, mainly heading to the US, though with new markets taking an increasing volume, including Japan, Hong Kong and South Korea.
Trade certainty is provided by tariff reductions under the CPTPP
Under the Comprehensive and Progressive Agreement for Trans-Pacific Partnership (CPTPP), which came into force in December 2018, Australia's trade to Mexico is provided certainty with the 20-25% beef tariff to be eliminated within 10 years; the 10% sheepmeat and goat meat tariffs will be eliminated within 8 years; the majority of offal tariffs were eliminated on entry into force (EIF); and the 10-15% tariffs on live animals will also be eliminated on EIF. Tariff reductions have already commenced.
In addition, the Mexican government announced in February 2017 that it had established provisions on unilateral tariff rate quotas (TRQ). This means Mexico allows up to 200,000 tonnes/year (tariff free) of beef from non-NAFTA countries. The quota is issued on a first-come-first-served basis, and will run through to December 2019. It is not known whether the tariff free conditions will continue past this date.
Mexican Consumers – more pesos in their pockets
Beef consumption reached approximately 1.86 million tonnes cwe in 2018 (up 2% year-on-year) and demand is projected to rise, as the peso strengthens and the middle class grows. Consumption in 2019 is predicted to be 1.89 million tonnes by USDA. The main caveat is that beef prices continue to rise, which is working against the government's objectives to bring down the average price of beef, particularly at the cheaper end of the spectrum. This tension is highlighted by the fact that Mexico is now a net beef exporter.
The long-term growth of the Mexican economy is primarily driven by the potential of the country's demographics. The Mexican population currently compromises 130 million people, with a third of Mexicans below the age of 15 and no more than 10% older than 65. These attributes position Mexico well to enjoy an increasing working age demographic that will drive domestic consumption and economic growth.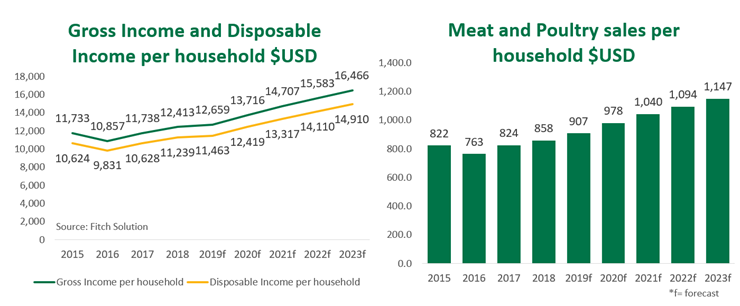 With good and stable economic growth, young consumers have more pesos to spend and are fuelling demand for high quality food and a greater dining out experience. Mexican consumers are willing to experience new cuisines and are more interested in branding and convenience.
Mexico's foodservice and retail sectors
Foodservice spending in Mexico is forecast to grow 60% from 2016 to 2021, with the growing working-age population and urbanisation lifting demand for more convenience among foodservice customers. Full Service Restaurant (FSR), Quick Service Restaurant (QSR) and accommodation dominate the demand for animal protein, with beef representing over a quarter of the total animal protein purchased (by value) in the foodservice sector.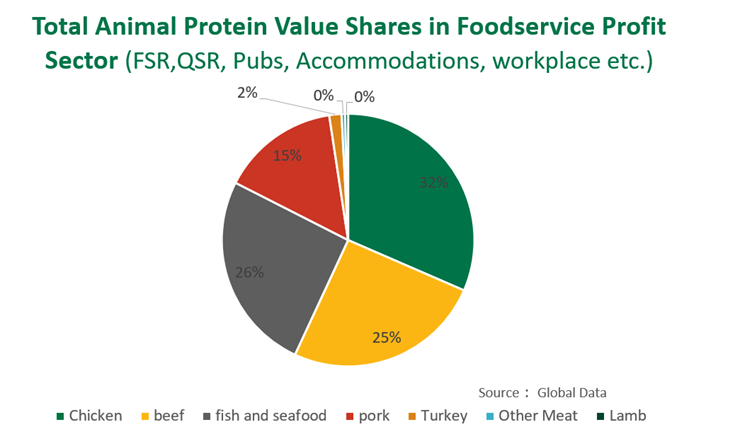 Mexican consumers are predicted to spend an average MXN $13k per capita (Source: Fitch Solution) in 2019 in the foodservice channel (including FSR, QSR, Workplace, accommodation, pubs& bars etc..), with more than 70% of that spend in FSR and QSR (source: Global Data). Although the foodservice per capita expenditure in Mexico may seem low compared to its NAFTA neighbours, it is considerably higher when compared to some other developing markets.
In the highly Mexican fragmented retail sector, hypermarkets are the most prevalent outlet type in the country. Retailers will increasingly target the upper-middle class segment in the coming years, through premium formats that offer popular quality produce, some of which will be imported.
What is MLA Doing?
Because of the opportunities that Mexico is currently presenting, MLA has been working closely with Austrade to identify new market opportunities for Australian beef and lamb. MLA's North American office (based in Washington DC) also engaged a part-time business development consultant based in Mexico at the beginning of 2019 to further explore the opportunities and to run specific events at high-end food service to unlock the premium market potential for True Aussie beef and lamb.
In addition, to running food service events, MLA is supporting other industry endeavours in Mexico through trade shows, tackling non-tariff barriers and increasing the connections B2B in the market. For example in late February 2019, MLA had a stand at Expo Carnes in Monterrey, with six Australian exporters participating in the three day event. The feedback from the event was positive and we are aware that new commercial trade was established through the event.
Join myMLA today
One username and password for key integrity and information Systems (LPA/NVD, NLIS, MSA & LDL).
A personalised online dashboard that provides news, weather, events and R&D tools relevant to you.
Customised market information and analysis.
Already registered for myMLA?