Back to

News & Events
Queensland restockers flex their muscles as EYCI hits 1,100c
Key points:
Rain continues to act as the lead indicator for the strengthening young cattle market in the eastern states, driving the EYCI to 1,102c/kg cwt overnight
The key Queensland markets of Dalby and Roma played significant roles this week, with buyers hungry for restocker cattle following excellent rain events
Looking ahead, the weather is expected to continue to play the key role in determining young cattle market movements in the eastern states into the new year


With rain events throughout key supply regions in Queensland over the past week, restocker buyers have flexed their muscles. On Wednesday, the Eastern Young Cattle Indicator (EYCI) yarded 13,731 head – a fall of 14% compared to the same day 12 months ago. In monetary terms, comparing 12 months ago to the indicator's current price, the EYCI currently sits 25% higher, amounting to 273c/kg cwt.
Put into perspective, since the first week of January 2020, when drought and fires were raging across the eastern seaboard, the indicator has risen meteorically by 616c/kg cwt, or 56%.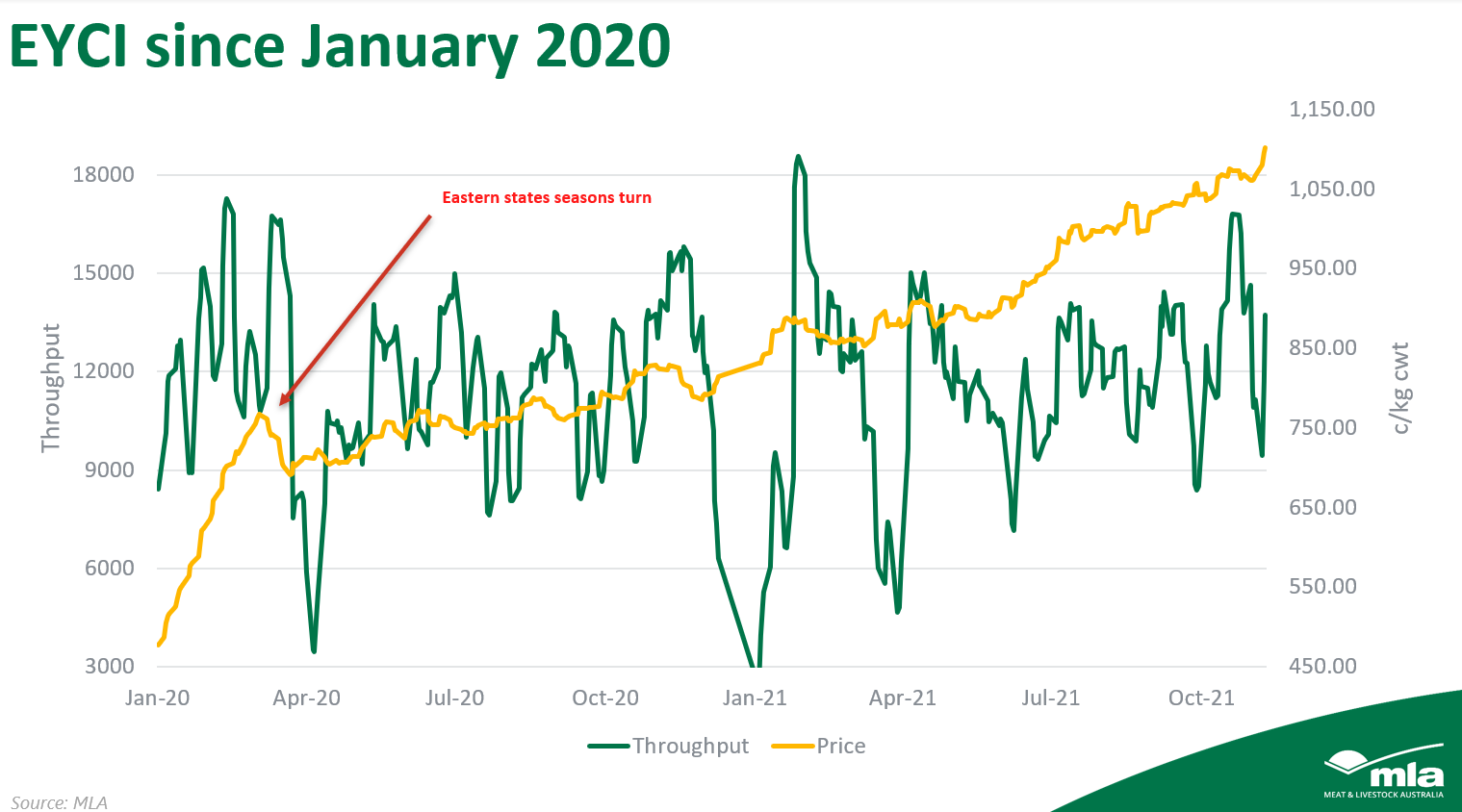 With supply tight in comparison to 12 months ago across the entire EYCI yarding and rain falling in Queensland, which has not had as favourable a season as NSW, restocker buyers in this state have been provided with an excellent grass-driven opportunity to purchase cattle.
On Tuesday at Roma, buyers purchased restocker cattle for 1,276c compared to the entire EYCI restocker average of 1,218c/kg cwt. This 5%, or 58c/kg cwt, premium demonstrates the critical demand for restocker cattle from this key Queensland market.
On Wednesday at Dalby, restockers again proved the difference, lifting the saleyards average price by 39c/kg cwt week-on-week. That rise was on the back of a 62%, or 1,916 head, increase in Dalby's EYCI-eligible cattle, demonstrating that in current market terms, increased supply is not impacting buyer demand and having no major effect on price. Feeder buyers also operated strongly, purchasing 55% of the saleyard's young cattle offering.
Across the eastern seaboard, restockers are paying a 176c/kg cwt premium to feeders, demonstrating the massive confidence boost delivered by rain in the past week.
Looking ahead
The Bureau of Meteorology is forecasting an above-average start to 2022, with a strong summer expected for most cattle regions. The continuation of above-average seasonal conditions and rain events can be expected to remain a motivator and dictate terms of the young cattle market into the new year.