Back to

News & Events
Reclaim your mid-week meal-time mojo with lamb
24 October 2019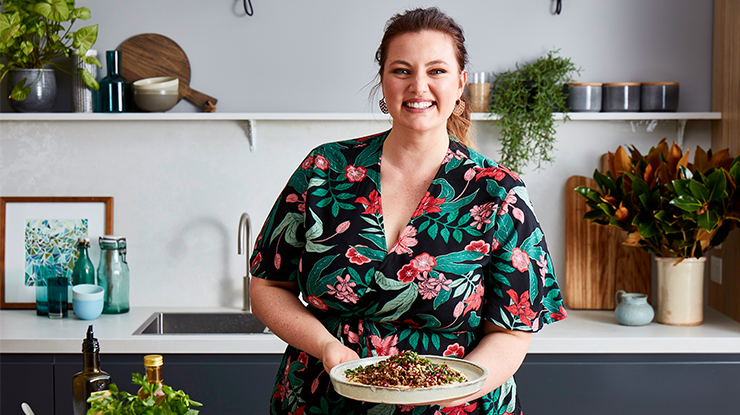 Former MasterChef winner Elena Duggan has teamed up with MLA as part of the 'Too Easy Spring Lamb' campaign.
MLA has teamed up with 2016 MasterChef winner Elena Duggan to inspire Australians to get their mid-week meal-time mojo back.
The partnership forms part of the 'Too Easy Spring Lamb' campaign, which responds to new research commissioned by MLA showing 57% of Australian consumers say work stress leads to their loss of inspiration to cook on weeknights.
With this in mind, Elena has created four easy lamb meals that can be cooked in under 30 minutes to combat 'decision fatigue'.
MLA is sharing the recipes with consumers on the Australian Lamb website and through the campaign which includes coverage in media and Australian Lamb's Facebook and Instagram accounts.
Here, MLA talks to Elena about her partnership with Australian lamb.
Q: What prompted you to be involved in the spring lamb campaign?
A: Lamb, as a protein source, is probably my favourite meat, so it was a no-brainer to get involved with Australian lamb. This campaign aims to encourage more home cooking and that's exactly in line with what I want to do. It really is about empowering and educating home cooks and families to take a few simple steps to make something extra delicious and a little bit fancy that brings everyone together.
Q: What was the inspiration for the four recipes you created?
A: The four recipes are lamb sate kambing with cucumber, onion and coriander; pesto lamb caprese pizza; hummus with spiced lamb, pomegranate and mint; and cumin roasted lamb ribs, garlic labneh, and crispy leeks.

One of the most exciting things about Australian food is it is a cultural melting pot of all types of exciting flavours and techniques, but we might be out of our comfort zones to attempt to cook ourselves.
That's why the recipes I've created take less than 30 minutes to prepare and there's no fancy equipment required. It's accessible, it's easy, it's using recognisable cuts, so there's nothing in there that should be overwhelming, and yet you're going to have a really impressive, really delicious, nutritious dish in a short amount of time.
Q: A study commissioned by MLA shows that Australians decide to ditch cooking at home for take away or a quick bite at a local restaurant at 5:40pm – why do you think that's such a pivotal time?
A: It's pretty much the same time my husband calls me on his way home from work to see if we need anything picked up. I find it fascinating that it's also the non-cooks of the house who are asking the 'what are we having for dinner?' question.
I think it's about combating decision fatigue, because I'm sure part of the challenge of trying to decide what to have for dinner comes from all the decisions you have to make during your working day.
These recipes have a great combination of pantry staples like dry spices, which are budget friendly, and just a handful of other things, so at worst, you might have to pick up just one ingredient on your way home.
Q: You've been busy since MasterChef – what has happened since your win in 2016?
A: We welcomed our baby boy, Jonathan, in June, and we filmed 90 episodes of My Market Kitchen (on Network Ten) while I was 20 to 35 weeks pregnant.
Again, it's full of recipes similar to these ones – family friendly, budget friendly and they're not using any equipment which most domestic households wouldn't have. It's about using the basics to really get maximum flavour and nutrition. It's also aimed at getting young cooks involved – it's important to engage them from an early age so they make great lifelong decision about what they are cooking and eating for the rest of their lives.