Back to

News & Events
Research focuses on goatmeat eating quality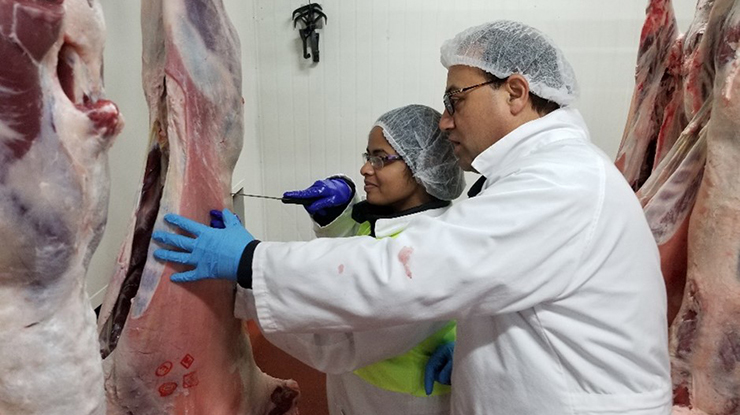 Dr Surinder Singh Chauhan and Archana Abhijith, Faculty of Veterinary and Agricultural Sciences, the University of Melbourne, collecting muscle samples for meat quality analysis.
Ageing, in terms of days post-slaughter, has a significant impact on the eating quality of goatmeat, new research from the University of Melbourne has found.
The findings are from a recently published study undertaken by the University of Melbourne PhD scholar Archana Abhijith and supervised by Dr Surinder Singh Chauhan, Senior Lecturer in the Faculty of Veterinary and Agricultural Sciences. The study was funded by the University of Melbourne.
It is one of a range of research projects underway at the University, addressing goatmeat eating quality.
While much research and development has been undertaken into factors that impact the eating quality of beef and sheepmeat in Australia for the Meat Standards Australia (MSA) grading system, similar R&D activities for goatmeat are in their early stages.
"Little is known about goatmeat quality attributes, as affected by the post-mortem metabolism and post-slaughter storage which may be vital to develop and optimise goatmeat production and processing systems," Ms Abhijith said.
What did the study involve?
The study examined 24 wether Boer goats in two age groups – a two-year-old group, and a 6- to 9-month-old group – after slaughter in a commercial processing plant.
Researchers documented the post-slaughter muscle pH temperature decline, cooked meat quality and retail colour stability of Boer goats as affected by animal age and days post-slaughter.
What did the study find?
The study found age of the goats and storage days post-slaughter proved to play crucial roles on Boer meat quality.
While there are many factors that influence eating quality, two of the most critical factors that drive eating quality is the way meat pH declines post-slaughter, and how much glycogen is in the muscle at the time of slaughter.
The study found glycogen levels in goats prior to slaughter is a critical area to be addressed by goat producers.
Animal age influenced the ultimate pH and retail colour stability, with better retail stability observed in young goats of 6–9 months.
"We found that after 14 days of post-slaughter storage, there was almost no difference between the two age groups – it reduced the shear force and increased the meat tenderness in both age groups," Ms Abhijith said.
Similar tenderisation was observed in meat within five days of retail display in both age groups, emphasising the potential of post-slaughter storage for a much shorter duration on tenderising goat meat.
Modified atmospheric packaging (MAP) was used in the study and researchers observed a bright red colour in the meat up to five days in the aged and unaged goatmeat but observed significant discoloration in the two-year-old group meat at 10 days of storage.
Stress reduction is key
Dr Chauhan said the study reinforces the need for further research to better understand the pathway of the goatmeat supply chain in Australia and also ensuring adequate on-farm nutrition prior to slaughter.
"Goats are ruminants, so a lot of the challenges and factors are similar to sheep, but there is a need to do more R&D, especially if we want to improve goatmeat quality," Dr Chauhan said.
"While producers can't control processing and post-slaughter management, they can address on-farm management including nutrition, especially before sending animals for processing.
"Goats are very sensitive to stress, so it is really important to minimise stress on an animal. If they're stressed before slaughter, that will impact glycogen levels and overall meat quality.
"Producers and processors will have to work together to reduce pre-slaughter stress and during transport.
"We know that 90% of Australian goatmeat is exported, however, demand is increasing for better quality meat, and consistent quality and tenderness is also key if the industry is to popularise and grow goatmeat consumption in the domestic market."
The full published study is available here: https://doi.org/10.1016/j.meatsci.2021.108466