Back to

News & Events
Simply Spring Lamb campaign targets US urban eclectics
04 September 2019
The deployment of an 'Aussie Influencer Army', online shoppable recipes, on-cart advertising and on-pack booklets were among the retail marketing strategies MLA trialled in its Simply Spring Lamb campaign in the United States this year.
Designed to increase consumer awareness and build preference for and consumption of True Aussie Lamb, MLA conducted the Simply Spring Lamb campaign throughout March and April with an emphasis on key markets in Los Angeles, Washington DC and Miami.
MLA Business Development Manager – North America, Catherine Golding, said the campaign was informed by consumer research, and focused on appealing to 'urban eclectic' consumers with quick, easy and delicious lamb dishes.
"Urban eclectics are the biggest segment of the consumer market for lamb in the US, comprising 33%. This segment of shoppers is largely made up of Millennials – the most ethnically diverse generation so far in US history.
"And with this ethnic diversity comes a broader interest in cultural traditions including food – which has led to global cuisines becoming more mainstream. This is good news for lamb, which features widely in ethnic cuisines from around the world.
"So it follows, this urban eclectic segment eat more lamb than any other, and they have the strongest interest in its provenance," Catherine said.
"Our research also shows that 49% of lamb shoppers in the US earn over $90,000. They're willing to pay more for lamb and want to know the animal has been well cared for.
While all of this is good news for a growing lamb appetite in the US market, it still remains one of the least eaten meat proteins at just over 1lb per person a year. The core challenges are in finding it in the meat case (where it represents about 3% of the meat on offer) and lack of confidence in how to cook this expensive protein option at home.
"What we have on our side is that lamb is a highly planned purchase – it's certainly not a meat that is generally bought on a whim.
Equipped with this knowledge led to the development of a promotional trial using a combination of tried and true tactics in combination with new ideas to overcome these challenges through an integrated out-of-store and in-store consumer campaign.
"We want to push beyond what we know traditionally works in a retail campaign and understand how new ideas can drive purchase.
In a core element of this campaign, MLA deployed an Aussie Influencer Army who documented their 'path to purchase', buying lamb in-store, trying new recipes and documenting it all on social media.
It resulted in 675 trained Lambassadors posting 1,012 times, generating more than 340,000 impressions and a broader shared potential of 2.4 million impressions.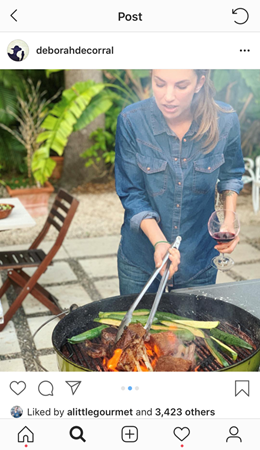 Caption: An example of the Aussie Influencer Army deployed during the Simply Spring Lamb campaign.
MLA also harnessed the influence of online recipe search functions. Simply Spring Lamb in-recipe ads provided instream ingredient and recipe sponsorship, driving shoppers to retailer lists and resulting in over 12,000 lamb items being added to their online shopping carts (overcoming the findability in-store and fast tracking the purchase journey).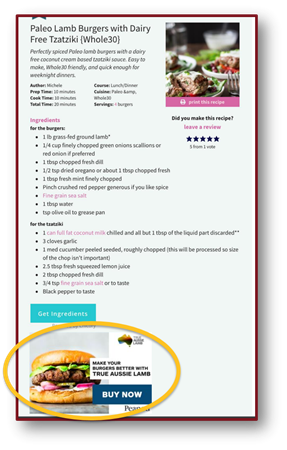 Caption: A Simply Spring Lamb in-recipe ad
The campaign also featured in-store in a range of retailers including Safeway, Giant, Weis, Food Lion, Publix, and Winn-Dixie, through on-cart advertising and on-pack booklets.
"The on-pack booklets educate shoppers on True Aussie product benefits and include a recipe and preparation tips as well as directs them to the True Aussie website for more," Catherine said.
"With provenance important to consumers, the on-pack booklets also reinforce the True Aussie Lamb attributes of being 'all-natural, humanely and sustainably raised, produced to the highest standards of quality and integrity'."
Australian lamb exports to the US have increased five-fold from 1996 due to demand for consistent, fresh, year-round supply from Australia.
In 2018, Australian lamb and mutton made up 72% of sheepmeat imports into the US (and 43% of total lamb sold in the US), while New Zealand lamb accounted for 27% of imports (and 16% of total lamb).