Back to

News & Events
Soil strategy helps SA producers to cut costs and boost crops
31 March 2021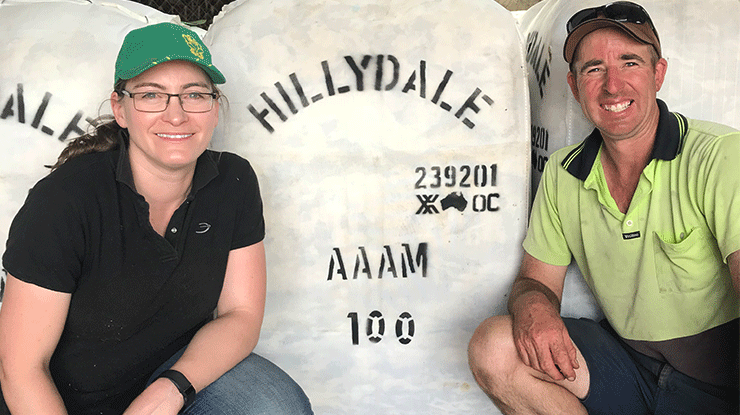 Steen and Deanna ramped up the soil testing program on their property two years ago to investigate how they could minimise on-farm expenditure during a period of severe drought.
South Australian producers Steen Paech and Deanna Lush have implemented a soil testing program on their mixed property 'Hillydale', near Palmer, to better manage costs while maintaining productive soils during some of the driest conditions on record in the region.
Soil tests have provided the couple with insights into the specific nutrient requirements for their cropping program and pastures, enabling them to focus on exactly what's required for optimal production and avoid excess applications and costs.
Steen is the sixth generation of his family to operate Hillydale and with his wife Deanna, they produce a self-replacing flock of Merino sheep as well as wheat, barley, canola and pulses on the 4,500-hectare property.
Monitoring soil health for business growth
Steen and Deanna ramped up the soil testing program on their property two years ago to investigate how they could minimise on-farm expenditure during a period of severe drought.
"Soil testing is about knowing exactly what nutrients are present in soil so you can make informed decisions," Deanna said.
"Part of running a profitable business is not just being able to maximise income in good times but to be able to minimise losses, particularly around variable costs, in dry times.
"One way to assist with this is to spend a little bit of money on soil testing to know exactly what nutrients are in the soil and exactly what you need to apply.
"In the past 12 months, we've increased our flock size by 30% to boost our stocking rates so soil health and pasture improvement has been integral to success."
Implementing a soil testing program
Soil testing occurs annually in February and involves two elements. The first is a series of topsoil tests from 0–10cm, on pasture and crop stubble paddocks to monitor micronutrients with the aim of testing every paddock over a three-year period. The second is deep soil testing for nitrogen and any soil constraints down to one metre in one wheat, barley, canola and pulse stubble paddock in the rotation each year.
Pinion Advisory partner Tony Craddock works with the couple as their agronomist and assists with crop agronomy, informed by the results of soil testing and benchmarking.
Planning fertiliser application
The results of the soil testing program provide Steen and Deanna with concrete information on their soil health to accurately plan the amount of fertiliser required to ensure their soils are at optimal health for maximum productivity.
"Through soil testing, we realised with the dry seasons that we could reduce our fertiliser rates because our soils had quite a healthy level of nutrients," Steen said.
"For 2021, we have identified the paddocks which are lower in nutrients and so have increased fertiliser inputs while those which are already quite high in phosphorus, we've been able to reduce the application rates back."
Cost effective soil management
As a result, the program has enabled the couple to reduce variable costs while maintaining productive soils.
"The seasons in 2018 and 2019 were worst-on-record droughts for our property and so in 2019 and 2020, because we had soil tested and knew what nutrients were stored in the soil bank, we were able to reduce our fertiliser costs by 20% with confidence that we wouldn't compromise production," Steen said.
"Soil testing has been even more important this year because we are trying a mixed-species sown pasture of vetch, Moby barley and arrowleaf clover in our low rainfall zone country for the first time.
"We'll be looking for this mix to boost soil nitrogen for next year's crop, and we'll be measuring this through soil testing coming into sowing."
Steen and Deanna will continue their soil testing program as a key on-farm strategy for profitability and recommend other producers investigate testing to optimise their pasture or crop production.
"Testing enables informed decisions, and if you're making an informed decision, it's good for your cost management, which is ultimately one of the drivers in maximising the percentage of turnover you retain as profit in your business."
On-farm snapshot
Name: Steen Paech and Deanna Lush
Location: 'Hillydale', Palmer, SA
Area in ha: 4,500
Enterprise: Merino sheep and cropping. Livestock: Merino sheep – 3,500 breeding ewes, 1,000 ewe lambs. Crops: wheat, barley, canola and pulses.
Pastures: Sub-clover pastures, native grasses, mixed-species sown pastures
Soils: Sandy loam/loam over clay and rock
Rainfall: 330–550mm across the enterprise