Back to

News & Events
Taking the carbon neutral leap
15 August 2019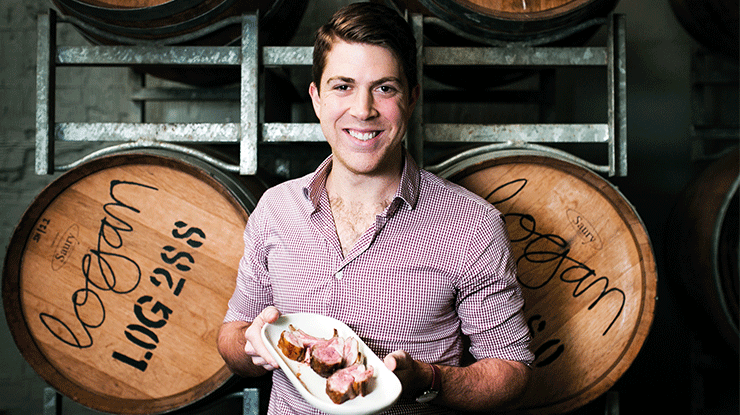 Flinders + Co Chief Executive Officer James Madden said the company is one of the first in the red meat industry to claim 100% carbon neutrality.
Flinders + Co's decision to become 100% carbon neutral was driven by both ethical ideals and commercial reality.
The Melbourne‑based foodservice meat wholesaler believes it's the first meat company in the world to fully offset all carbon emissions, not only from its own business, but from every kilogram of meat it sells.
Chief Executive Officer James Madden said the decision to pursue carbon neutrality had dual drivers.
"Last year we changed our name from Flinders Island Meat to Flinders + Co, to reflect the fact our portfolio of products had grown beyond Flinders Island," James said.
"As part of that rebranding, we also spent time redefining our company vision and purpose. We came up with a company purpose to 'cultivate a better food world'.
"One reason for aiming to 'cultivate better' is that we wanted to have a reason for our business to exist beyond just money – we wanted to work on something that makes a positive difference every day.
"The other reason was strategic. We looked at consumer trends and consumer purchasing drivers and could see that millennials, in particular, are prepared to pay a premium for produce that's sustainable, ethical and environmentally friendly."
Putting lessons into practice
In 2017, James took part in the Young Food Innovators program of MLA Donor Company (MDC), an experience he credits with driving his company's change in direction.
The Young Food Innovators program was a 12‑month intensive, accelerated development program for young people working in the red meat, horticulture, seafood and dairy primary producer sectors.
"It taught me to focus on the consumer at a granular level; to listen to what they're trying to say and why they're saying it, and to act accordingly.
"MLA does a great job of gathering consumer insights, but a lot of the time our industry can be slow to respond to them.
"We decided to look at what the market was trying to tell us and pick a demographic group to target; in our case, that was millennials, who research shows are extremely loyal to brands they believe in."
Going carbon neutral
The business engaged the Carbon Reduction Institute to calculate its carbon footprint.
"The consultants analysed our wholesaling business in Melbourne, as well as each supplier's carbon footprint on a per‑kilogram‑of‑meat basis," James said.
"Once we measured it, the next step was reducing our carbon footprint to zero. You can do that in two ways: reducing your actual emissions or buying carbon offsets."
In terms of their own business, the Maddens were able to identify both short‑term and long‑term methods of reducing emissions.
"Straightaway, we switched to renewable energy for our electricity," James said.
"We also identified that we could use more efficient refrigerants and delivery vehicles, which we're in the process of switching over to now."
Long‑term goals
In the long‑term, Flinders + Co aims to encourage their suppliers to reduce emissions by sending price signals "back down the supply chain".
"We can't solve the carbon puzzle on‑farm, but we can try to provide an incentive for producers to do it," James said.
"In fact, we've already had one of our suppliers start the process of becoming carbon neutral, after seeing us do it. We've said 'that's great – if you do that we will be able to pay you a premium because we won't have to offset your product'.
"We've also had a large agricultural company in Queensland approach us, saying 'we're interested in becoming carbon neutral and we're keen to work with you'.
"We're happy to hear from any potential suppliers who are carbon neutral already or are actively working to reduce emissions."
For now, Flinders + Co is investing in carbon offset projects to offset their suppliers' emissions, including purchasing offsets from one of their suppliers, Greenham Tasmania.
How producers can get involved
James' advice for producers is to be open to the idea of becoming carbon neutral and to do plenty of research.
"The biggest thing producers can do is be open to it – think about it, read about it, talk to their processors about it.
"Smaller steps are probably easier than big steps, and it might just be a long series of small steps that get producers ready to hit the ground running when those premiums are there."