Back to

News & Events
Targeting inner-city tastebuds
26 September 2019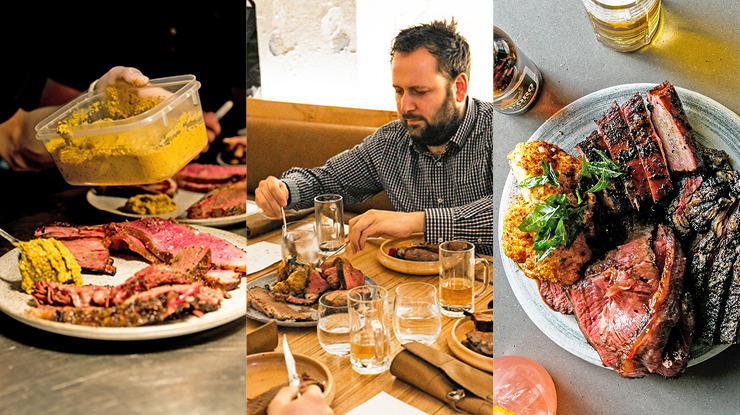 More than ever before, consumers want to know where their food comes from. Despite this, many Australians living in major cities have never visited a farm or rural town.
Good Meat, a website providing facts on animal wellbeing, environment and nutrition to the red meat industry's 'curious consumers', is one of the ways MLA connects with people who want to know more about how beef, lamb and goat is produced in Australia.
Last month, Victorian beef producers joined the Good Meat team at the Taste of Melbourne festival to promote Australia's world-class red meat to metropolitan consumers and chefs.
Melbourne gets a taste of red meat
Taste of Melbourne attendees were treated to a five-course dinner at South Yarra's Atlas Dining, prepared by special guest chefs from Meatsmith Singapore, Alasdair McKenna and Eddie Goh, as well as local favourite Charlie Carrington.
The event, presented by Diners Club, is part of a series of in-restaurant experiences that take place across Melbourne each month, bringing together some of the best chefs in the city to showcase their menu highlights – many of which include Australian beef and lamb.
With a mouth-watering line-up of grilled striploin, lamb ribs with barberry, and beef brisket, August's Taste proved to be a hit among Melbourne foodies and chefs alike.
While these monthly events are mainly targeted at consumers, they also provide opportunities for chefs to meet with producers and learn more about their high quality products.
Tongues wagging at Wagyu
Taste diners heard from MLA producer advocate Vicki Sher, who spoke about her family's paddock-to-plate operation while guests enjoyed a feast of the Shers' award-winning Wagyu beef.
Based at Ballan, central Victoria, Sher Wagyu beef is renowned for its flavour and quality, and is sold in restaurants and butcher shops right across Australia.
"The cattle are grassfed until 18 months of age, then moved onto a specially formulated Japanese-style, barley-based ration for a further 400+ days," Vicki told attendees.
"The ration's developed for gentle, slow growth, to ensure optimum health of the cattle and the most consistent quality all year around.
"It's all natural and free from growth hormones and antibiotics," she said.
Sher Wagyu's website includes a video on their own paddock-to-plate story, as well as information on Wagyu production, to ensure their customers know exactly where their beef comes from. Read more about Vicki and Nick Sher's beef business here.
Want to be a producer advocate?
MLA's producer advocacy program is designed to address the growing trend of consumers wanting to know more about where their food and how it was produced. By providing a direct link between consumers and producers, MLA can help to remove many of the misconceptions around food production. To register your interest, please contact:
Jax Baptista
E: jbaptista@mla.com.au