Back to

Prices & Markets
Subscribe to The Weekly e-newsletter
For in-depth red meat market news, information and analysis.
SIGN UP
2019 production and slaughter summary
Key points:
Cattle slaughter was up 8% in 2019 year-on-year, to 8.5 million head
Percentage of female slaughter averaged a record 56%
Lamb slaughter contracted in 2019 to the lowest level since 2012, to 21.6 million head
Sheep slaughter fell 2% but production declines were offset by an increase in average carcase weights.
Cattle slaughter and production
Adult cattle slaughter in 2019 lifted 8% on 2018 levels, to 8.5 million head - the 6th highest on record. For the last six months of the year adult cattle slaughter tracked well above the five-year average, as conditions deteriorated and cattle were destocked, supporting processor throughput.
The impact of consecutive drought years saw a sharp rise in female cattle slaughter in 2019. Female slaughter averaged 56% of total adult slaughter– the highest on record. The high percentage of female slaughter corresponded with a fall in national average carcase weights, back 2.5% year-on-year to 283 kg/head. However, despite average carcase weights tracking lower for the year, a record numbers of cattle on feed, supported overall beef production, at 2.4 million tonnes carcase weight (cwt) up 5% on 2018 levels.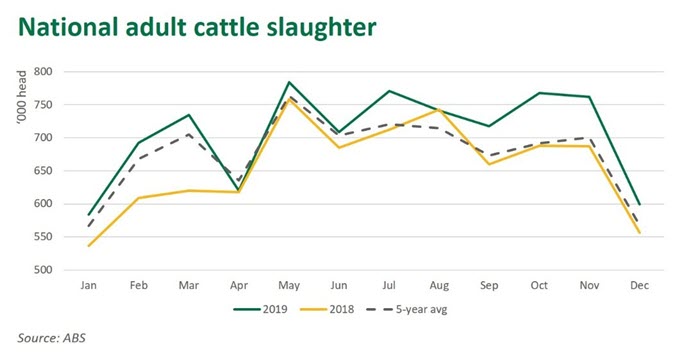 Lamb slaughter and production
Lamb slaughter declined 5% year-on-year to 21.6 million head in 2019, the lowest slaughter recorded since 2012. This is largely due to the contraction of the breeding flock and lower marking rates, following five consecutive years of lamb slaughter sitting above 22 million head. Despite a drop in slaughter average lamb carcase weights lifted 4% to 23.3 kg/head, supported by southern and central regions of Victoria that received average to above-average rainfall over the wet season and the growing prevalence of supplementary feeding and lot feeding lambs. Albeit, this was not enough to offset the decline in total lamb production which eased 2% to 503,000 tonnes cwt.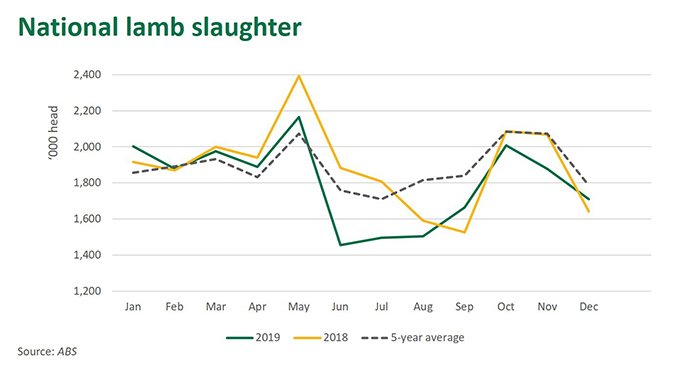 Sheep slaughter and production
Sheep slaughter saw a modest decline of 2% year-on-year to 9.3 million head, albeit on the back of elevated sheep slaughter in 2018. Average sheep carcase weights, lifted 3% to 24.3 kg/head, largely due to elevated numbers being supplementary fed throughout the year. As a result, mutton production increased in 2019 to 228,000 tonnes cwt, despite reduced slaughter.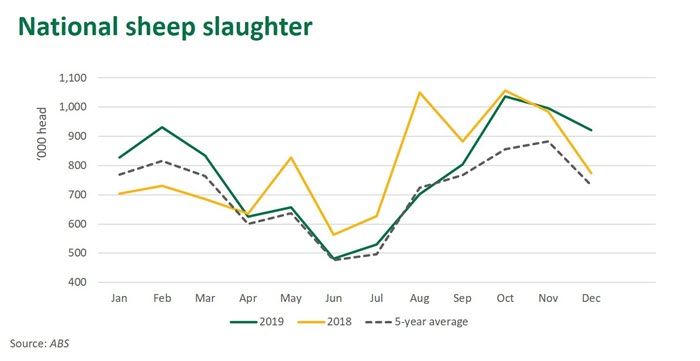 © Meat & Livestock Australia Limited, 2020