Back to

Prices & Markets
Subscribe to Prices & Markets e-newsletter
For in-depth red meat market news, information and analysis.
SIGN UP
Cattle slaughter eases for key South American suppliers
08 April 2021
Key points:
Brazilian cattle slaughter through the past four months down on year-ago levels
Chinese beef import demand expected to remain, but supply challenges could impact trade
Forecasts indicate Japan and South Korea beef imports will track similar to historical levels
Dynamics throughout the global beef market remain varied, with contracting cattle slaughter becoming a reoccurring theme across a number of major suppliers, while demand for imported beef remains robust. As a result, export prices of many key beef producing countries have risen in the past few months, particularly as competition for beef stirs.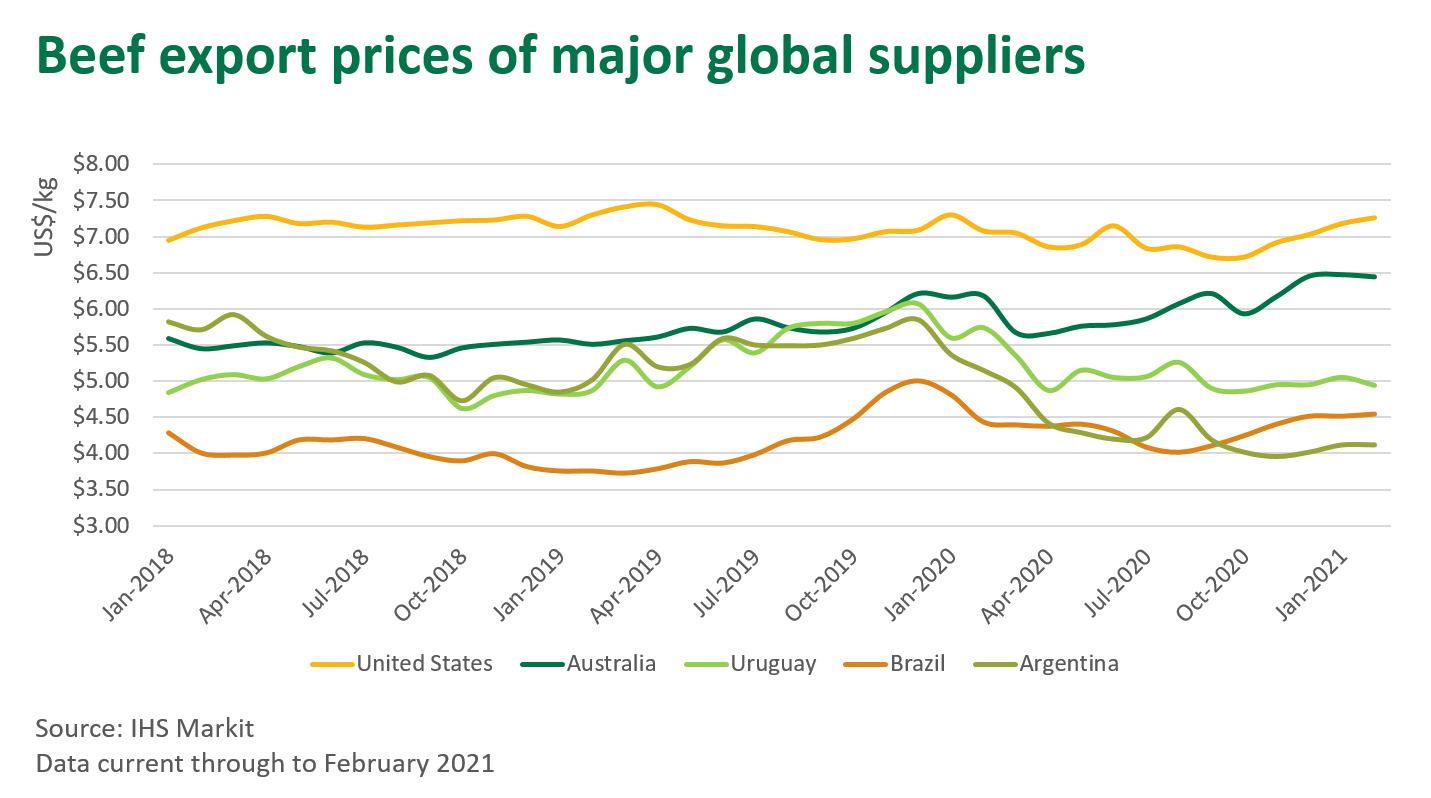 South American cattle slaughter contracting
Brazilian cattle slaughter has slowed considerably in the past four months, with estimates indicating that February slaughter was down 10% on year-ago levels, while January was also back 17% on the same month last year. Consequently, high cattle prices and lower slaughter have limited the supply of exportable beef, with trade volumes for the first two months of the year back 8% on 2020.
Regardless, Brazilian beef trade to China continues to grow, with exports up 30% on year-ago levels. Accordingly, exported beef trade to Brazil's other key markets (Hong Kong, Chile, Egypt) have recorded double digit losses for the year-to-date, with the exception of the Philippines, where exports are up 24% for the year-to-date.
Argentinian cattle slaughter is forecast to decline 3% in 2021 relative to 2020. Regardless, the weak Peso combined with enduring demand from world markets should result in Argentinian exports remaining fairly buoyant through the year. For the year-to-February, Argentinian beef exports are up 23% on 2020, with exports to China recording a 39% rise on 2020.
Uruguay cattle slaughter has lifted sharply in recent weeks, driven by higher prices across global markets. Uruguay beef exports are up 44% on 2020 volumes, however, it is important to note that COVID disruptions did impact Uruguay's export volumes early in 2020.
South American cattle slaughter (thousand head)
| | | | | | | |
| --- | --- | --- | --- | --- | --- | --- |
| | Dec 2020 | Jan 2021 | Feb 2021 | YTD 2020 | YTD 2021 | YTD % chg |
| Brazil* | 1,778 | 1,508 | 1,600 | 3,620 | 3,108 | -14.1% |
| Argentina | 1,214 | 1,001 | 1,039 | 2,191 | 2,041 | -6.8% |
| Uruguay | 191 | 179 | 173 | 297 | 352 | 18.2% |
| Paraguay | 168 | 146 | 183 | 282 | 328 | 16.2% |
| Total | 3,351 | 2,834 | 2,995 | 6,391 | 5,829 | -8.8% |
Source: Steiner Consulting. *Last month provisional data; federally inspected plants only.
Import demand across key markets remains buoyant
Chinese beef imports continue to sit well above year-ago levels, however, some of the buyer interest has eased in recent weeks – a typical trend following the end of the Chinese New Year period. Regardless, Chinese beef imports in 2021 are projected to lift to 2.8 million tonnes carcase weight (USDA forecast), an expected rise of 3% on 2020 levels. However, with the supply situation in both Brazil and Australia tightening, this will certainly challenge Chinese importers, likely resulting in other suppliers being leveraged to supplement trade.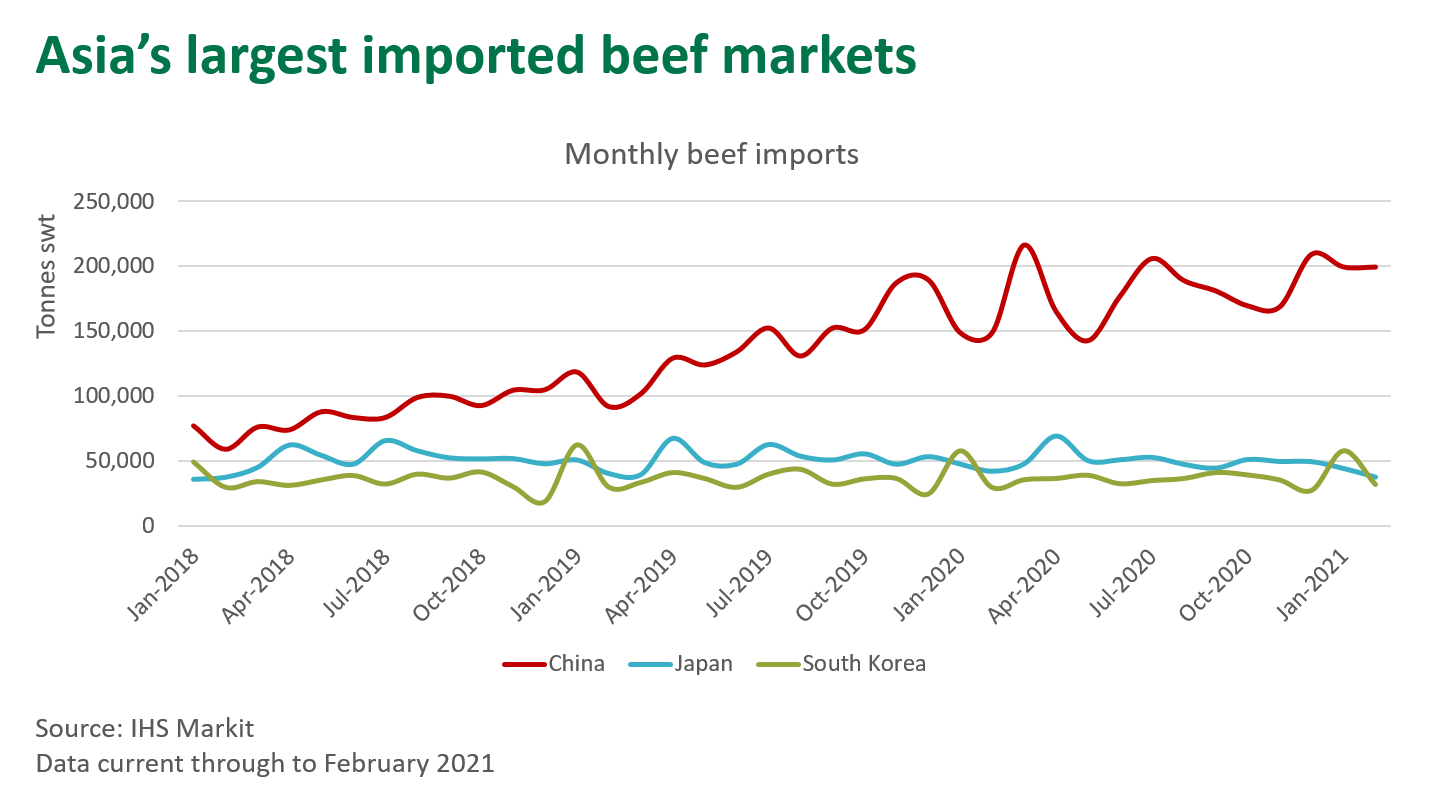 USDA forecasts also indicate that Japanese beef imports should remain aligned close to previous years, however, volumes were down 8% for the year-to-February. This decline is somewhat attributed to higher cattle prices in both the US and Australia, with export prices from both markets lifting modestly relative to levels seen last year.
Dissimilar to Japan, South Korean beef imports for the year-to-February remain steady with 2020, with volumes from the US and Australia remaining relatively aligned to year-ago volumes, despite the modest rise in export prices. Interestingly, imports of New Zealand and Canadian beef have lifted 52% and 71%, respectively (albeit off a low base), possibly due to a cheaper price point.
© Meat & Livestock Australia Limited, 2021